Olive Oil Lemon Cookies With Herbs– a wonderful recipe to make when you have a sweet tooth. An easy cookie recipe made with olive oil and rosemary, thyme, or basil, which go really well with lemon.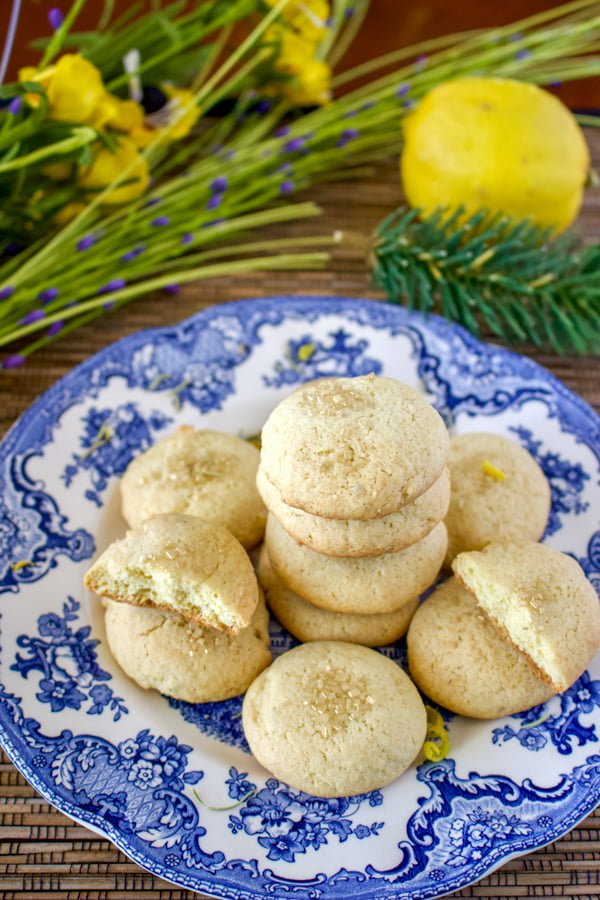 If life gives you lemons…you make cookies with them and add herbs, because it works perfectly.
Just so you know, if you are planning a party and think to make these cookies, make sure you hide a few of them before, as they will disappear fast.
This recipe of olive oil lemon cookies with herbs is a real hit.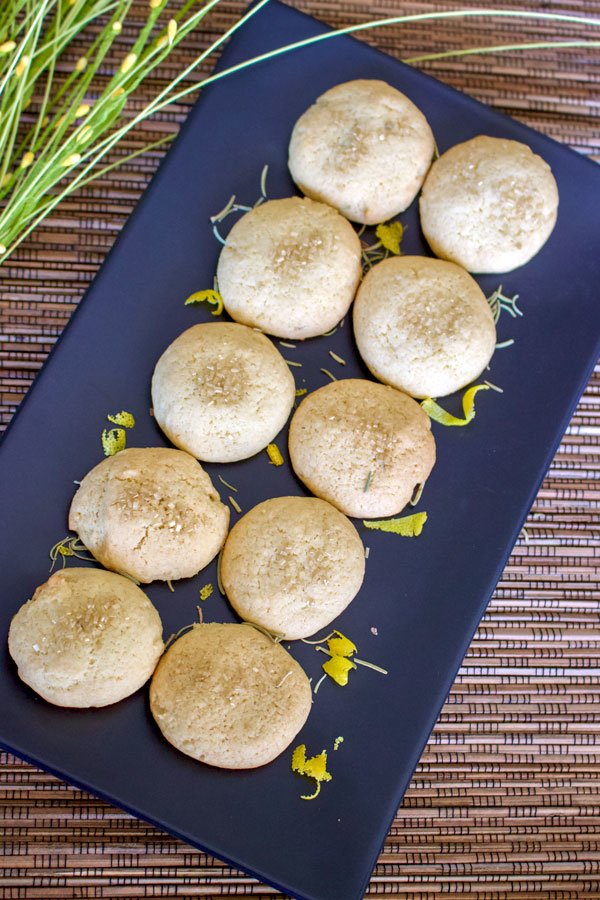 If you never had herbs in your cookies, you are here for a treat and an interesting experience.
The lemon goes very well with a lot of herbs and I personally like a cookie with a savory element to it.
As lemon and thyme, or lemon and rosemary go well together on chicken, for example, why it would not work on a cookie?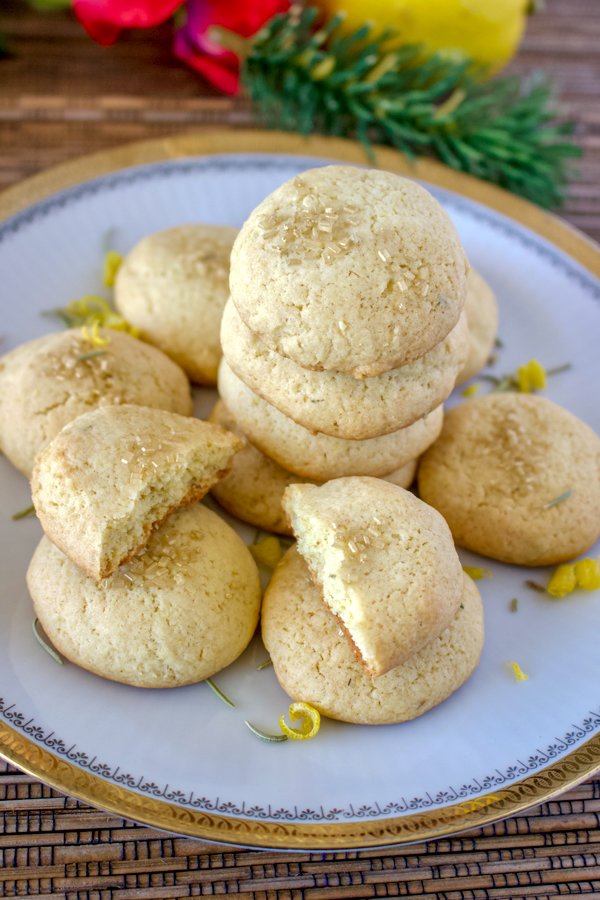 I made these cookies before and used both fresh and dried herbs. I don't always have access to fresh ingredients.
In frozen Minnesota, with the long winters we have, you don't always want to go out to the grocery store for a handful of rosemary or any other herb, so a pantry full of dried herbs and spices is a necessity to have around.
(Read here about how my pantry looks like)
This time, I used rosemary for this recipe, but you can also replace the rosemary with thyme, or basil.
This way, you can potentially have a different cookie every time, a win-win, if you ask me.
The recipe uses olive oil instead of butter—a big advantage, as you don't have to wait for the butter to be at room temperature.
Also, we all know the benefits of consuming olive oil. It is good for you.
I always have a bottle of olive oil in the house. Or more. I particularly like the real Spanish olive oil that comes from Andalusia.
It has an earthy, slightly bitter taste with a hint of wood that I really like. I use it for everything, from cooking, to frying, to salads, to baking.
For example, I make some killing Sizzling Chili Shrimp or Gambas al Pil Pil– a traditional Spanish appetizer that you can find in many restaurants that serve tapas.
I use that Spanish olive oil I was telling you about and it is amazing! You have to try it!
Getting back to these cookies, I totally say that you need to make them at least once. They are really easy to make, even if you are not an experienced baker.
Just make sure you don't bake the life out of them.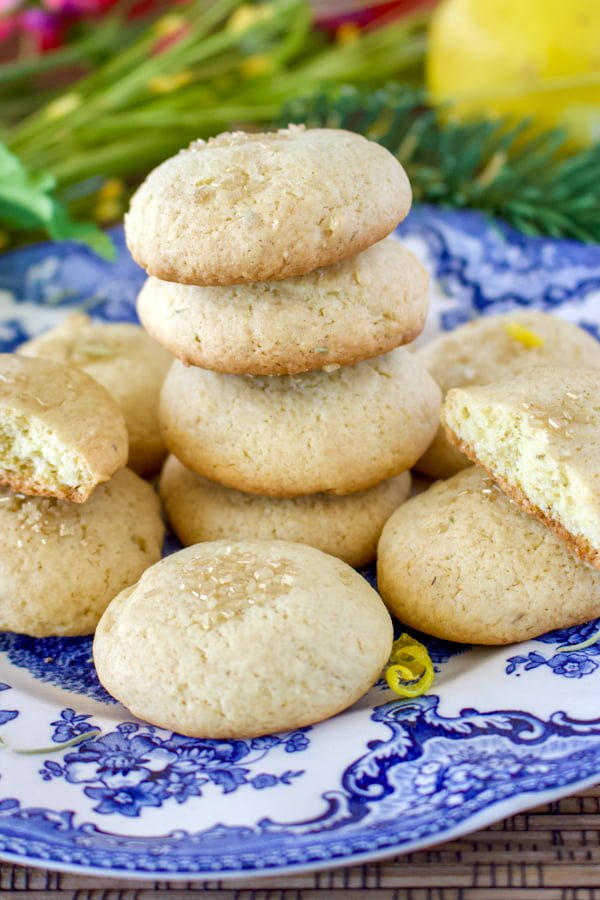 Set up the timer and remove them from the oven after maximum 13 minutes.
You want them white, not golden brown. You also want them to be slightly golden brown only around the edges.
This is how you make them perfect. Enjoy!
Do you want more cookie recipes?
Classic Oatmeal Raisin Cookies
Easy Dark Chocolate Walnut Cookies
Yield: 35 cookies
Olive Oil Lemon Cookies With Herbs
Olive Oil Lemon Cookies With Herbs- a wonderful recipe to make when you have a sweet tooth. This is an easy recipe, made with olive oil and herbs, like rosemary, thyme, or basil, which go really well with lemon. Perfect for parties, snacks, and late afternoons. Enjoy!
Ingredients
2 cups all purpose flour
1/2 teaspoon baking powder
1/4 teaspoon salt
3/4 cup granulated sugar
1/3 cup olive oil
Zest from 1 lemon
1 teaspoon finely chopped fresh herbs(see note below) OR 1/2 teaspoon dried herbs
2 eggs
Instructions
Preheat oven to 350F/180C. Line a baking sheet with parchment paper.
In a medium bowl, mix flour, baking powder, and salt. Set aside.
In a large bowl, using an electric mixer, beat together eggs and sugar until creamy and fluffy. Add olive oil, lemon zest, and herbs and continue to mix until smooth.
Slowly add the dry ingredients and mix until combined.
Use a tablespoon to measure the amount of batter, then roll into balls, placing them on the baking sheet about 1-inch apart.
Optional, sprinkle each cookie with a bit of granulated sugar.
Bake for 11-13 minutes. Remove the baking sheet from the oven and allow the sheet to cool for few minutes before transferring the cookies to a cooling rack.
They keep well for about a week in an airtight container at room temperature and up to 3 months in the freezer.
Notes
Spanish oil is preferred in this recipe, but regular vegetable oil(like sunflower oil) is acceptable.
Herbs you could use(do not mix them):
thyme
rosemary
basil
tarragon
savory
marjoram
oregano
Recommended Products
As an Amazon Associate and member of other affiliate programs, I earn from qualifying purchases.
Nutrition Information:
Yield:
35
Serving Size:
1
Amount Per Serving:
Calories:

66
Total Fat:

2g
Saturated Fat:

0g
Trans Fat:

0g
Unsaturated Fat:

2g
Cholesterol:

11mg
Sodium:

26mg
Carbohydrates:

10g
Fiber:

0g
Sugar:

4g
Protein:

1g
Note: "We are a participant in the Amazon Services LLC Associates Program, an affiliate advertising program designed to provide a means for us to earn fees by linking to Amazon.com and affiliated sites."