Delicious Hot Chocolate Spanish Style recipe to make during the cold season. Serve it with churros or other little favorite pastries.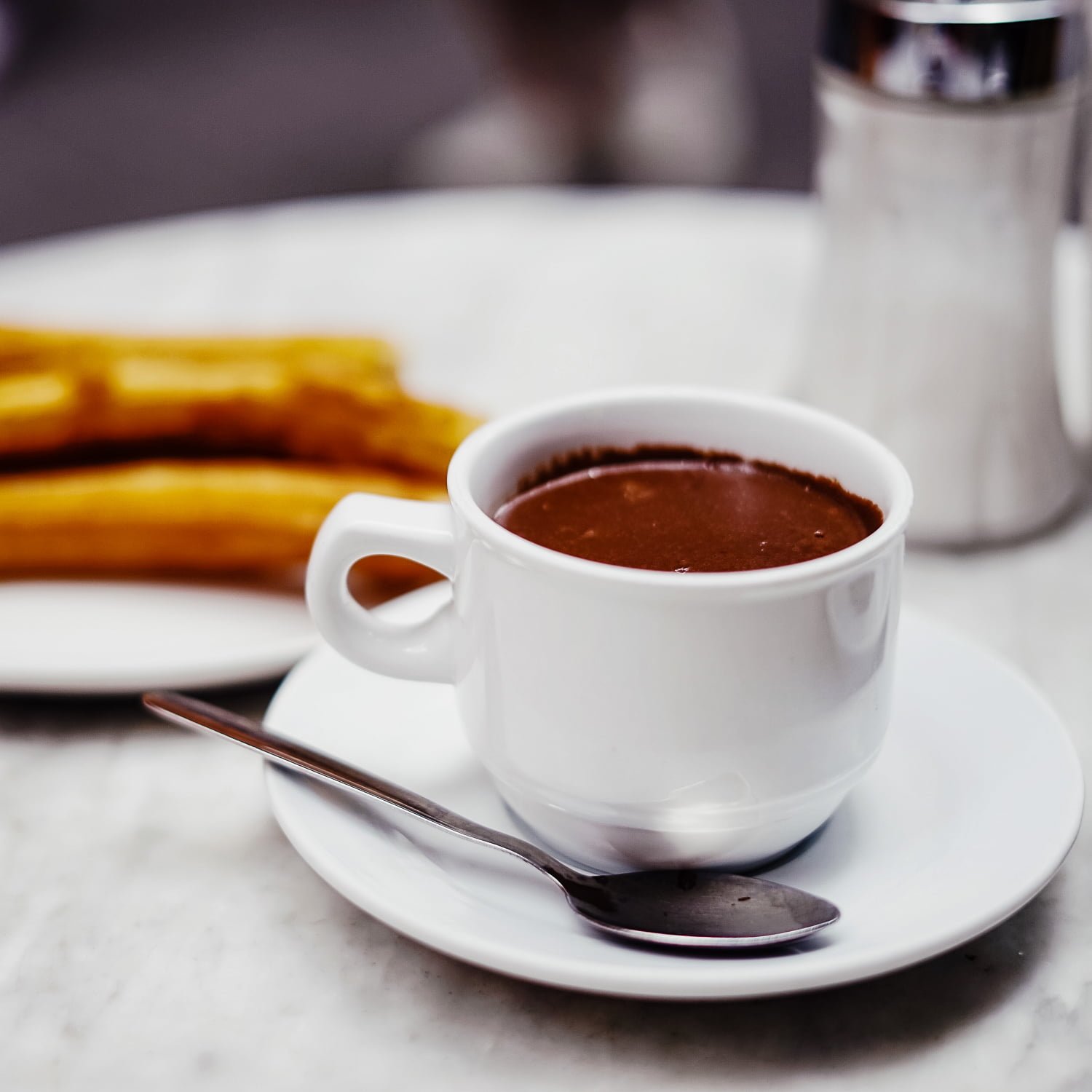 Credit photo: Oscar Nord
Spanish Hot Chocolate- Are you ready to make it?
If you visit Spain, you HAVE to try Hot Chocolate or Chocolate a la Taza. I mean, you really have to!
No restaurant or bar would not have it, and it is one of the most delicious things I tried while on vacation in Spain this year for the holidays.
You can order it any time of the day, and it is the perfect treat on a cold day.
As I live in Minnesota, you can imagine that there really is a need for hot chocolate around here. Boy, it's cold! Very cold!
Lucky me, I got some chocolate from Spain to declare myself happy for a while because I can whip a mug right now and share it with you.
I know you want it, especially the ones who live like me in the frozen tundra.
Credit photo: Erol Ahmed
The texture of the hot chocolate in Spain is thicker than other hot chocolates out there, and they always serve it with churro pastries that you can dip into your chocolate.
However, if you don't have churros, doughnuts, or any other favorite pastry would work great with it.
The Spanish people add a pinch of cornstarch into it to make it thicker. It is served super hot, and it is DELICIOUS!
Make sure you use high-quality chocolate. The difference is in taste and the quality of ingredients, as always.
So, as I was telling you earlier, my Spanish style hot chocolate is ready to be enjoyed. On the couch. Wrapped in a blanket.
I don't care anymore how cold it is outside! My hot chocolate will keep me warm, no matter what! What about you? Are you going to make some?
Interested in more Spanish recipes?
Carne Con Tomate (Meat in Tomato Sauce)
Spanish potato salad (Ensaladilla Rusa)
If you make this recipe, share it with the hashtag #thebossykitchen on Instagram, Facebook, and Twitter so we can all see what yoyou'reooking!
Or maybe you want to join The Bossy Kitchen community group to share your creations made from this blog or other sources. Everyone is welcome to join!
Pin this for later: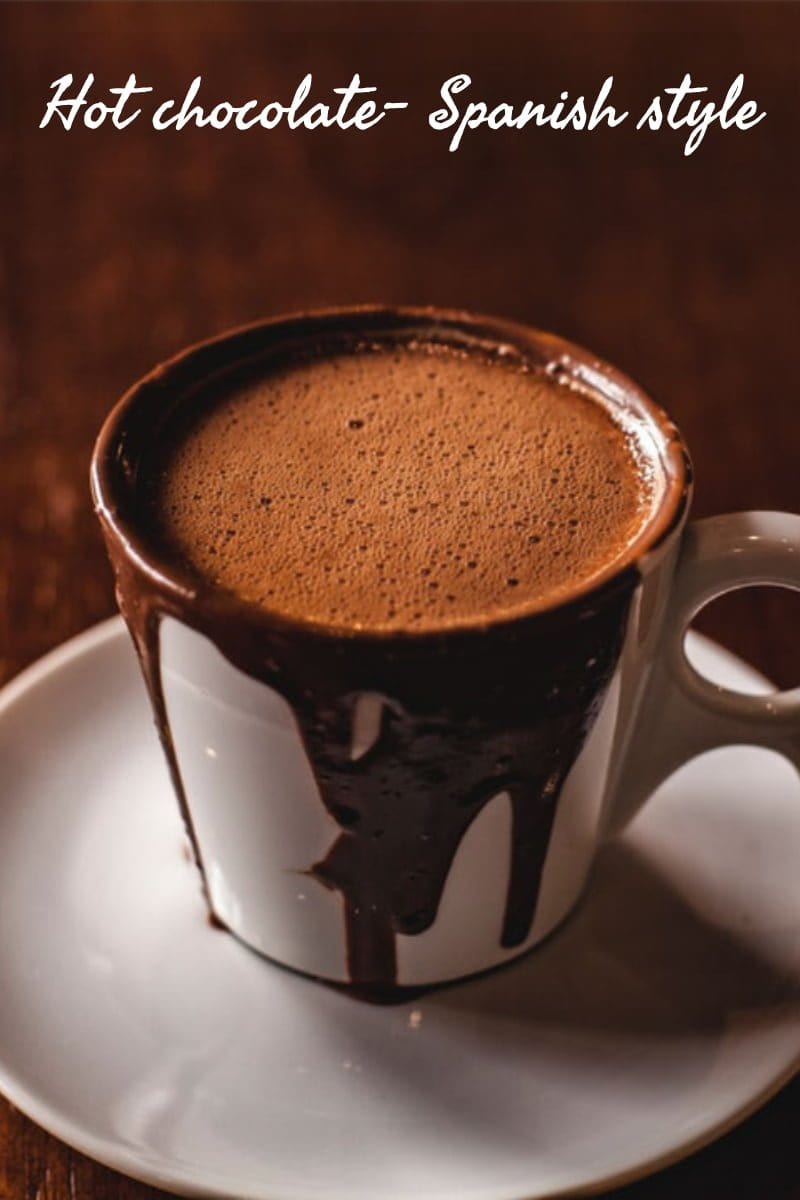 For this recipe, you will need some good quality chocolate( look for some European dark chocolate or Mexican one)- I used this brand and also a very pretty mug (so you can sip your hot chocolate in style).
Yield: 4 servings
Hot Chocolate Spanish Style Recipe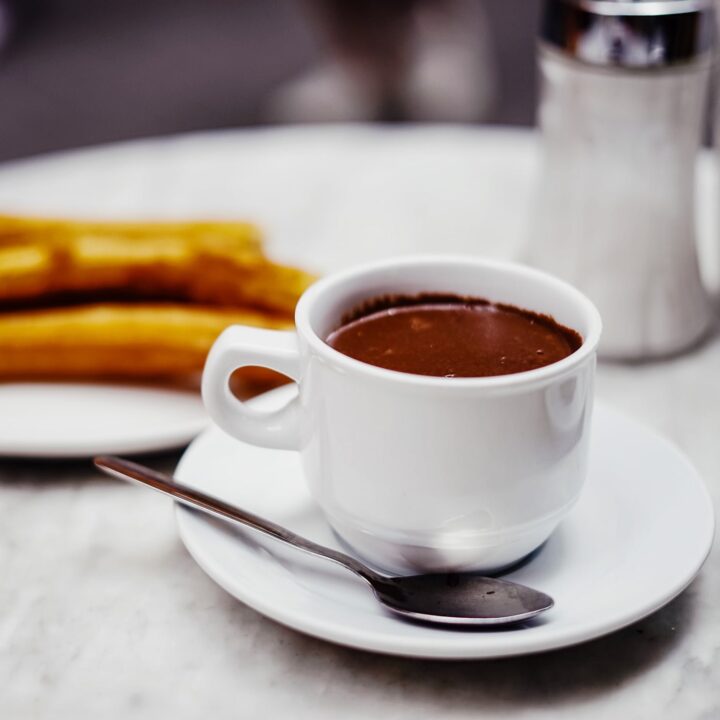 Delicious Hot Chocolate Spanish-style recipe to make during the cold season. Serve it with churros or other little favorite pastries.
Ingredients
For 2 cups of Hot Chocolate:
2 cups/500 ml whole milk
6 oz/175g dark or semi-sweet chocolate
1 teaspoon cornstarch or tapioca
sugar to your taste
Optional:
a pinch of cinnamon
a pinch of black pepper
Instructions
Dissolve the cornstarch into the milk.
Add sugar to your taste.
Chop chocolate.
Transfer the milk to a pot and warm it up on medium heat, mixing continuously.
Add the chocolate and let it melt.
Optional: Add the cinnamon and the black pepper.
Keep mixing. You should obtain a smooth thick mixture.
Pour it into cups and serve hot.
Nutrition Information:
Yield:
4
Serving Size:
1
Amount Per Serving:
Calories:

431
Total Fat:

17g
Saturated Fat:

10g
Trans Fat:

0g
Unsaturated Fat:

6g
Cholesterol:

13mg
Sodium:

61mg
Carbohydrates:

70g
Fiber:

3g
Sugar:

33g
Protein:

6g
Note: "We are a participant in the Amazon Services LLC Associates Program, an affiliate advertising program designed to provide a means for us to earn fees by linking to Amazon.com and affiliated sites."