This Classic Caprese Salad is an Italian recipe that you can make in the summer when the tomatoes taste the best. With easy-to-find ingredients, like creamy mozzarella, juicy tomatoes, fresh basil leaves, and extra virgin olive oil, this salad is easy to make and delicious.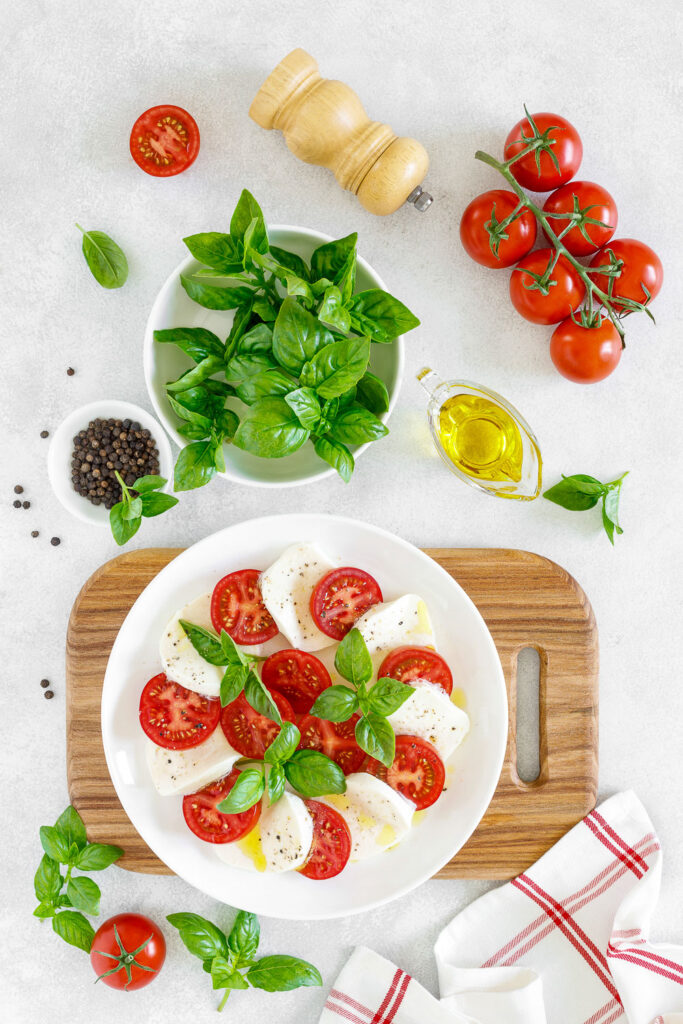 I love Caprese salad. It is healthy, easy to make, very colorful, and perfect during the summer, especially if you have juicy, ripe tomatoes.
Together with my Quick Tomato Cucumber And Pepper Summer Salad and this Cucumber Salad, I make this salad all summer long, using tomatoes from the Farmers Market. We like simple flavors and easy recipes that are sometimes the best.
Jump to:
What is Caprese Salad?
Caprese salad is the translation of the Italian "Insalata Caprese." It resembles the Italian flag colors, green, white, and red, just like the famous Margherita pizza.
This classic caprese salad recipe is a straightforward combination of tomatoes, mozzarella cheese, and basil leaves, all drizzled with extra virgin olive oil, salt, and pepper. As far as I know, and you might challenge me on this one, the original authentic caprese salad recipe doesn't have balsamic vinegar as an ingredient.
Notes on the ingredients
What are the ingredients in a traditional caprese salad?
There are just 4 ingredients in this simple Italian salad: fresh tomatoes, fresh mozzarella cheese, fresh basil and good olive oil. Let's discuss each one of them:
The best tomatoes for this salad are garden tomatoes or from the Farmers Market. These tomatoes actually get to see the sun, and they are also sweet and juicy.
In this salad, you can use any tomatoes that look good to you. Heirloom tomatoes are the best, but cherry tomatoes are also acceptable. The idea is to look for a juicy, sweet, flavored tomato and skip the ones from the grocery stores unless you know for sure that the tomatoes are delicious.
Because the recipe is so simple and has only four ingredients, you definitely need to ensure that the ingredients are excellent. Otherwise, we will end up with a sad salad.
If you use cherry tomatoes, slice them in half. If you use heirloom tomatoes, cut them about ¼" thick.
Mozzarella cheese is the choice for this salad. If you don't have it, well, you need to go to the grocery store and buy it. If you want to replace the mozzarella cheese, there are some options. Buffalo mozzarella cheese and burrata cheese both have creamier textures. The salad will be messy but delicious.
I do not recommend using low-moisture part-skim mozzarella cheese. It is dry and salty and not designed for this salad.
Use a sharp knife to cut the mozzarella cheese into ¼" thick slices. You want beautiful pieces that look presentable on the platter.
Basil leaves are one of the main ingredients in the Caprese salad. It is, after all, a mozzarella tomato and basil salad.
Some of you might not like basil, though, so you can replace this fragrant herb with rosemary or mint. Sometimes oregano is also sprinkled over.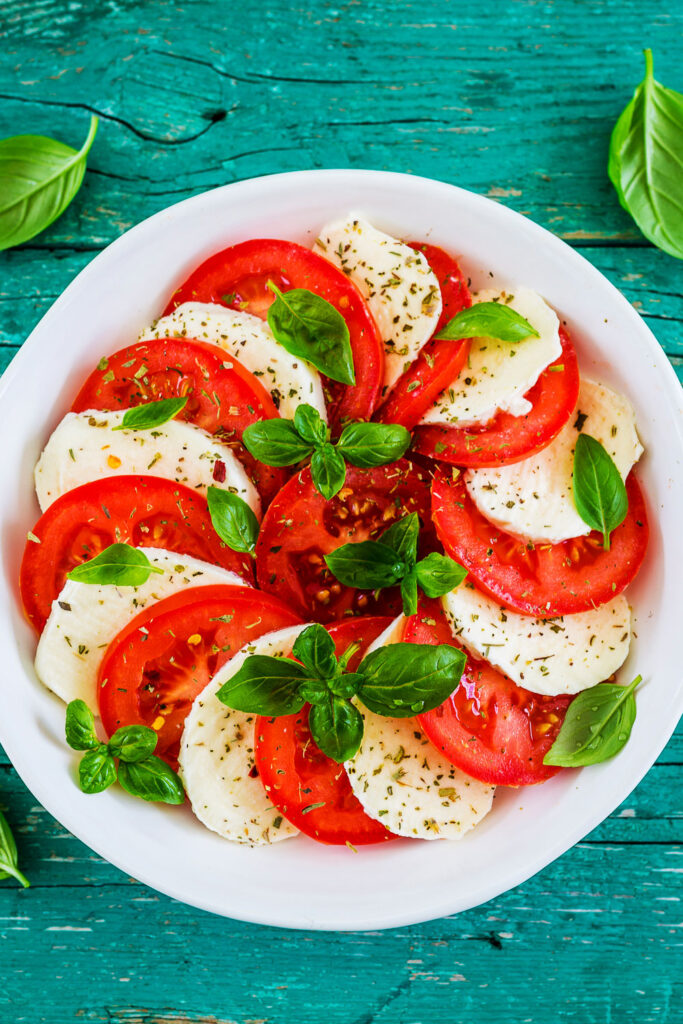 We all know that Italians use olive oil on almost everything they make. If you also travel around Europe, you learn that people have different types of olive oil in their pantries based on different needs.
Some olive oils are designed only for frying, baking, or cooking, while others are for salads and drizzling over pasta and other foods.
Use the best olive oil you can afford. Extra virgin olive oil is the best, but a cold-pressed or an olive oil blend is fine too.
Let's talk about balsamic vinegar
As I was saying before, the original recipe of this Caprese salad doesn't ask for balsamic vinegar. In my humble opinion, if the tomatoes are ripe and juicy, there is no need to add vinegar to them.
I had a conversation with a reader when I presented this Tomato Cucumber Feta salad recipe on social media about adding or not adding vinegar over the tomatoes.
The tomatoes have their own acidity, and all they need is a splash of extra virgin olive oil, salt, and pepper. I grew up eating tomato salad in the summer, and the only ingredients we added to it were oil and salt.
There is nothing better than dipping a good piece of bread into that glorious tomato juice from the bottom of the salad bowl.
I can only think about the taste, and my mouth is already watering.
However, if the tomatoes are not that great, they will need a little bit of balsamic glaze or a splash of your favorite vinegar. I think this is why Americans feel the need to add something more to this salad. The quality of tomatoes is not that great.
If you drizzle balsamic vinegar over the salad, keep in mind that a small amount goes a long way, as you don't want to overwhelm the taste of the tomatoes and cheese.
How to make
Step 1. Use a platter or a large plate to layer slices of tomatoes and mozzarella slices. Alternate them. Come with whole basil leaves and tuck them between the layers so you create this beautiful tri-color combination of tomatoes, cheese, and herbs.
You can also chiffonade the basil leaves and sprinkle them over the fresh mozzarella cheese and tomatoes.
Step 2. Sprinkle generously salt and black pepper over the fresh tomatoes and cheese. Drizzle olive oil over the salad and serve. How easy is that?
Tip: Add salt to the tomatoes right before you plan on serving the salad. Salted tomatoes start releasing their natural juices right away, and while the juices are delicious, the salad will not be as beautiful as you wanted.
Recipe Faqs
Is Caprese Salad a healthy salad?
Yes, this salad is healthy. Tomatoes are packed with vitamin C, potassium, iron, and other nutrients. Fresh mozzarella had lots of calcium that we all know is good for our bones and skin. Mozzarella cheese is packed with proteins and probiotics, and it is relatively lower in fat and calories.
Is Caprese Salad gluten-free?
Yes, this salad is gluten-free, vegetarian, low-carb, and suitable for the keto diet.
How do you serve Caprese Salad?
This Italian Caprese Salad is designed to be served cold, as an antipasto, or as a starter. It goes well next to a charcuterie board or, even better, served with a crusty baguette and a glass of wine for a light meal.
How to store leftover Caprese Salad?
Leftovers should go into an airtight container, in the refrigerator, for up to two days.
Can Caprese Salad be made ahead of time?
This salad tastes best when it is freshly made. The tomatoes tend to go sad after a few hours at room temperature.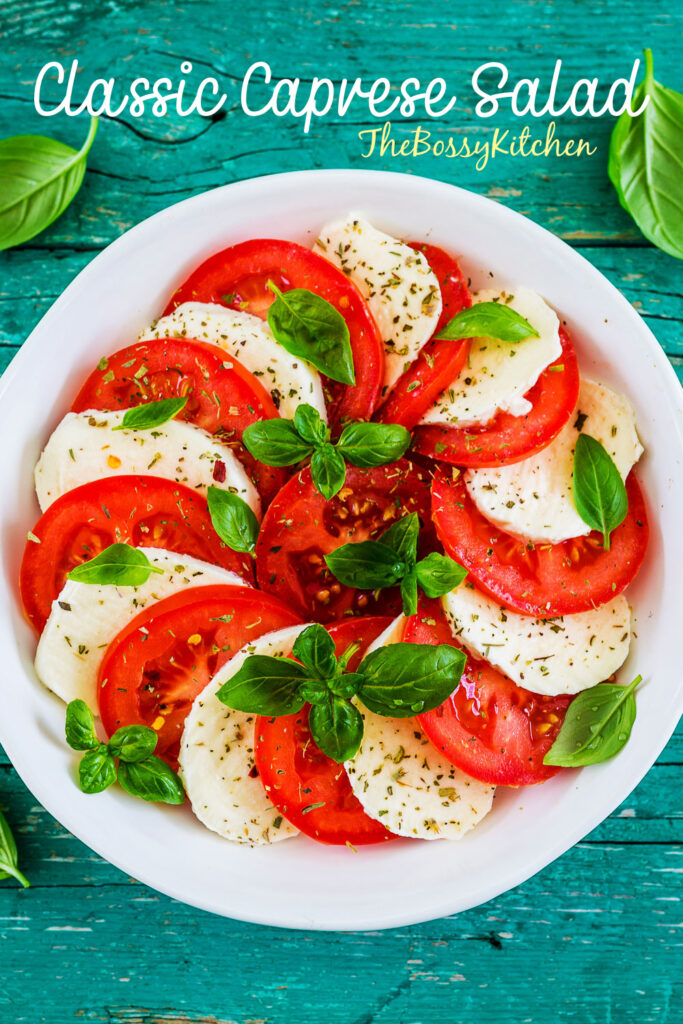 More recipes to love
Roasted Red Pepper Spanish Salad
Strawberry Arugula Salad With Pecans And Avocado
📖 Recipe
Classic Caprese Salad Recipe
This Classic Caprese Salad is an Italian recipe that you can make in the summer when the tomatoes taste the best. With easy-to-find ingredients, like creamy mozzarella, juicy tomatoes, fresh basil leaves, and extra virgin olive oil, this salad is easy to make and delicious.
Print
Pin
Rate
Ingredients
1 ½

pounds

mixed medium and large tomatoes

preferably heirloom sliced into ¼" thick

8

ounces

fresh buffalo mozarella or mozarella cheese sliced into ¼" thick

1

bunch fresh basil leaves

3

tablespoons

extra virgin olive oil

½

teaspoon

salt

¼

teaspoon

freshly ground pepper
Instructions
Slice the tomatoes into ¼" thick and do the same with mozzarella cheese.

Arrange the tomato slices on a platter and tuck slices of cheese in between the tomatoes.

Sprinkle salt and pepper on them.

Scatter the basil leaves on top of the salad or place them in between the layers of cheese and tomatoes.

Drizzle the extra virgin olive oil all over the salad and serve.
Notes
Variations to this classic caprese salad:
Drizzle balsamic vinegar over the salad
Slice peaches and layer them together with the tomatoes and mozzarella cheese.
Slice avocado and add it to the salad
Use buffalo cheese or burata instead of the classic mozzarella cheese
Use rosemary or mint leaves instead of basil
Drizzle a teaspoon of honey on top of the salad
This recipe of tomato salad with mozzarella and basil is gluten-free, keto, low-carb, vegetarian.
Nutrition
Serving:
1
g
|
Calories:
196
kcal
|
Carbohydrates:
5
g
|
Protein:
9
g
|
Fat:
16
g
|
Saturated Fat:
6
g
|
Polyunsaturated Fat:
1
g
|
Monounsaturated Fat:
8
g
|
Cholesterol:
30
mg
|
Sodium:
437
mg
|
Potassium:
299
mg
|
Fiber:
1
g
|
Sugar:
3
g
|
Vitamin A:
1204
IU
|
Vitamin C:
16
mg
|
Calcium:
203
mg
|
Iron:
1
mg