Okra with Chickpeas and Pork is an awesome recipe that can be made all year around. The dish can be made with fresh or canned chickpeas.
This is a perfect recipe for those cold nights when you come home tired and hungry for something that would warm up your belly and make you happy. Okra and chickpeas…with pork.
I know, okra and chickpeas together sounds kind of scary, as not a lot of people are familiar with them or know how to use them, but I am telling you that when I tried the recipe I was amazed how divine they complement each other.
I always keep chickpeas cans in my pantry (organic). It is a great shortcut to put a recipe together in no time when you don't really have the time to cook them from scratch.
I use them for making home made hummus, add them in different salads or for different heart warming recipes like this one here. Chickpeas have a lot of protein and as well lots of fiber like the majority of beans.
They are also very high in iron and calcium.
Now, okra is a great vegetable too, but unfortunately a lot of people are afraid to cook with it or just don't like the slimy texture when the seed pods are cooked.
The slime though is a usable form of soluble fiber and it thickens the sauce a great deal.
The vegetable is used wildly in many Eastern European countries, Mediterranean ones or West Asia. Some people cook the okra intact or stir fry it as it helps minimize sliminess.
Cooking with acidic ingredients such as a few drops of lemon juice, tomatoes, or vinegar may help as well.
Farmers Market is a great place to buy okra, but in winter, I use frozen bags from the grocery store.
I think my love for okra started when I was 12 years old and my family went on vacation to the Black Sea at the beach, for two weeks. My parents did not have a lot of money to stay at the hotel, so we camped a lot.
My mom got prepared with lots of supplies she needed to cook for a family of four, we packed half of the house in the car plus the kitchen sink, we added the tent on top of the kitchen ( just kidding) and went on vacation.
When we arrived at the beach we met a retired couple who owned a very small RV and was camping right next to our tent.
This couple was more prepared than us, as they had with them lots of canned meats and vegetables in jars. Some of them contained okra in tomato sauce.
The lady was throwing some chopped onions in the pan, together with some meat, and after tossing them together for few minutes she was adding a jar of okras and tomato juice, then sprinkle some parsley on top of that.
Voila, the lunch was ready! She was a great cook and loved to share her food, so I got to eat a lot of her meals on that vacation.
Boy, I will never forget that okra in tomato juice she used to make…Years after that vacation, I was obsessed with okra…
I am bringing this dish for you today, as a celebration of a vegetable that I always loved. I hope you will enjoy it as much as I did. I dare you to try it, it is easy to make and extremely delicious!
Yield: 6 servings
Okra with Chickpeas and Pork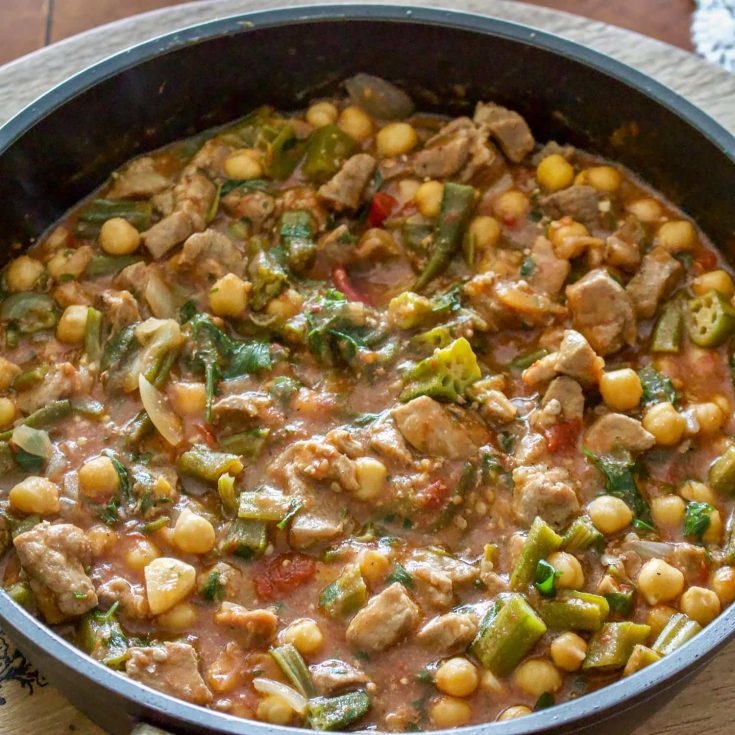 Okra with Chickpeas and Pork is an awesome recipe that can be made all year around. The dish can be made with fresh or canned chickpeas.
Ingredients
1 pound pork cut in small bite size pieces
1 handful of fresh parsley
2-3 green onions finely diced
1 pound okra , stem ends trimmed, cut in ½ inch pieces(fresh or frozen)
3 tablespoons olive oil
1 red bell pepper finely diced
3 garlic cloves minced
½ teaspoon ground ginger
½ teaspoon ground pepper
1 cup drained chopped tomatoes (or canned diced tomatoes)
¾ teaspoon ground cumin
1 (15 oz) can of chickpeas, drained and rinsed
¾ teaspoon salt(or adjust according to your needs)
½ cup vegetable broth or just water
Instructions
Heat the oil in a dish and add the pork meat to brown in a medium-high heat .
Add onion, okra, the bell pepper, garlic and mix everything with the meat. Cook, steering until soft for 3-5 minutes.
Add the ground ginger, ground pepper, ground cumin, salt and keep steering.
Add the vegetable broth or if you wanted less salty, just water.
Reduce heat to medium and partially cover.
Let it cook for another 10-15 minutes until okra is soft.
Add the chickpeas.
Add the chopped tomatoes and cook for another minute.
Taste for salt.
Sprinkle the parsley over the dish and serve warm.
Nutrition Information:
Yield:
6
Serving Size:
1
Amount Per Serving:
Calories:

355
Total Fat:

19g
Saturated Fat:

5g
Trans Fat:

0g
Unsaturated Fat:

12g
Cholesterol:

67mg
Sodium:

315mg
Carbohydrates:

21g
Fiber:

7g
Sugar:

6g
Protein:

27g