Whey Bread Recipe With Sprouted Spelt is a beautiful bread made with leftover whey from making cheese.
The crust is soft, the bread has a lot of flavor and keeps well for few days. It is a delicious bread that is relatively easy to make, especially if you have a stand-up mixer. Enjoy!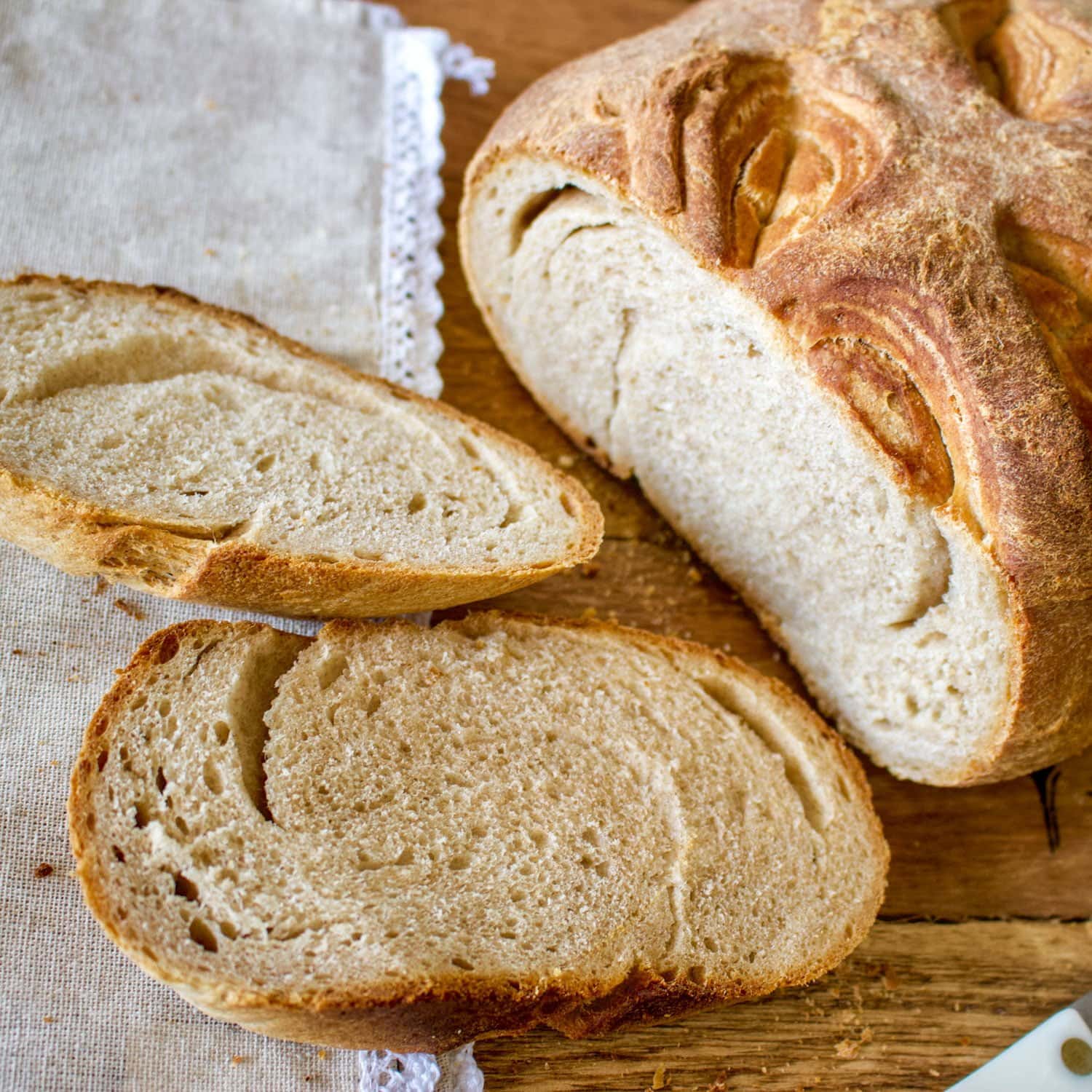 Some time ago, I rediscovered this recipe of whey bread while I was making farmer cheese.
I had a lot of leftover whey from making Farmer's cheese at home and did not know what to do with it. I remembered a bread that is still made in Romania by the shepherds and cheese makers who use whey in different ways.
This is a beautiful, delicious bread with a soft crust that is quite easy to make, especially if you have a stand-up mixer.
You might find the recipe unusual, but in many countries, this bread is made very often in villages or farms.
The whey is full of proteins, brings lots of flavor to the bread and helps the dough rising.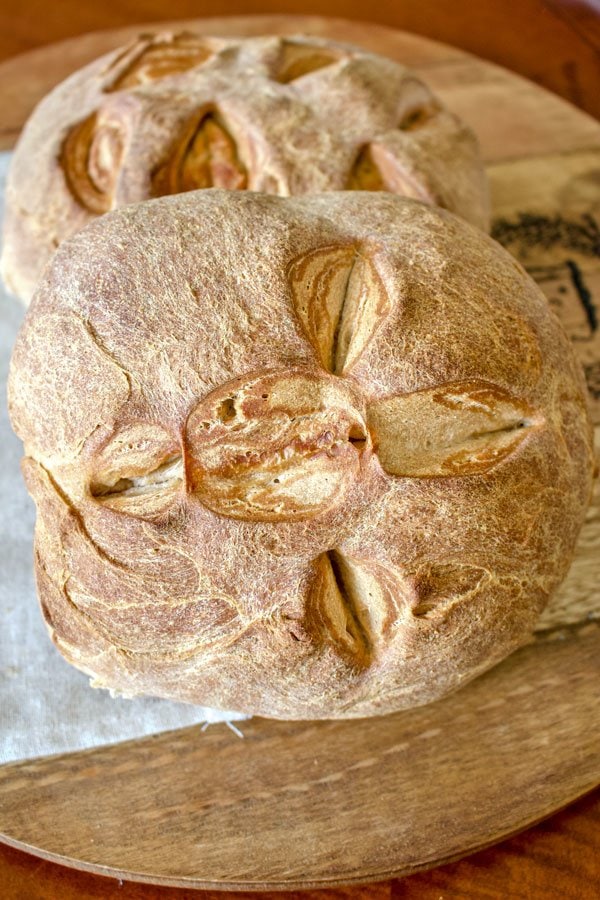 There is no point in wasting the whey, right? Anyway, I bake bread at least once a week, and if you ask me why I do that instead of buying a loaf of bread from the store, my reasons are these:
Jump to:
Why You Should Make Your Own Bread At Home
1. Homemade bread is the best. I personally love the smell of a fresh loaf of bread and I totally dislike the regular bread from the store. I like to know what I put in that loaf of bread.
For sure, bread at home is not going to contain any artificial flavors, corn syrups, and other chemicals that you cannot read on the labels in the stores. Also, there is nothing better than fresh bread made in the comfort of your own kitchen.
I personally like to choose recipes that do not require a lot of kneading (see here my favorite recipe to make weekly bread), although I heard that there is something therapeutic about that.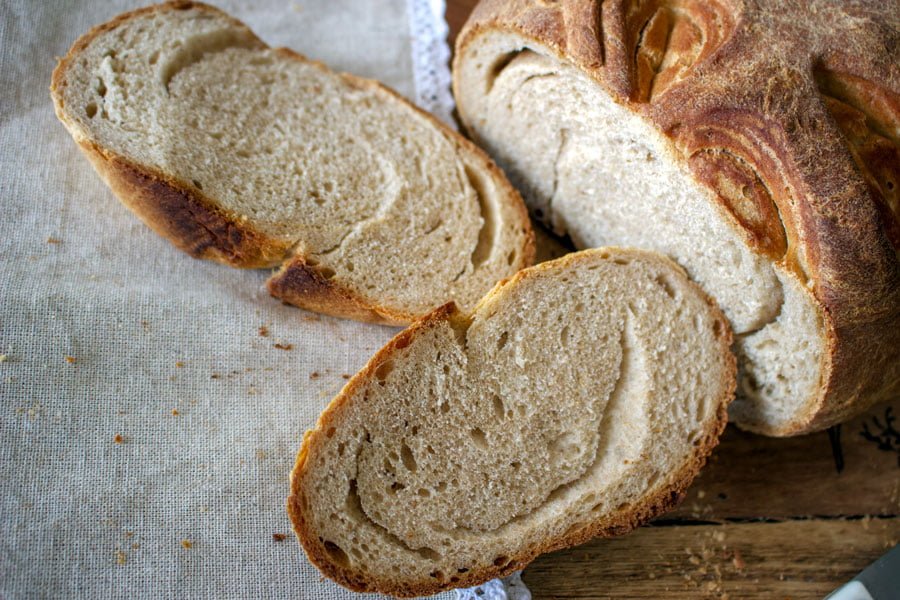 2. Feelings of accomplishment- When you are holding a slice of warm bread in your hand, one that you made yourself, you'll know the feeling.
You will also get more energy from a slice of homemade bread than you can from any other kind of food. The bread you make at home can be packed with things that are good for you or things that are not so good when you want to take a break.
3. It might even help you lose weight if you are smart about it.
4. The bread you bake will be completely your own. It will reflect your personality, and nobody else's because of the multitude of variables you influence while working the dough.
Everything is important, from how generous or light your hand is when measuring ingredients, or how long you spend kneading the dough, the temperature in the kitchen, the size and the age of your oven, or even the relationship you have with it to the mood you're in at the time you bake.
All these factors will make the final product to be entirely your own.
5. Learning to make a simple bread will give you satisfaction that it is worth considering. Your first loaf may not be that beautiful, but baking every once in a while will make you succeed on more than one level.
Even if it doesn't look pretty, the smell and taste alone are enough to transport you. (Try this Basic American-Irish Soda Bread)
Did I convince you to make your own bread, or are you still thinking?
While you are still pondering if you want to try or not, you have to know that every respectable basic bread should have a maximum of 5 ingredients: flour, yeast, water(in our case, we will replace the water with whey), salt, and sugar.
You can basically make bread with only 3 ingredients, flour, water, and yeast. We add salt and sugar to this recipe because the salt gives flavor to the bread, and the sugar helps to "wake up " the dry yeast.
You can adjust either to suit your taste or diet.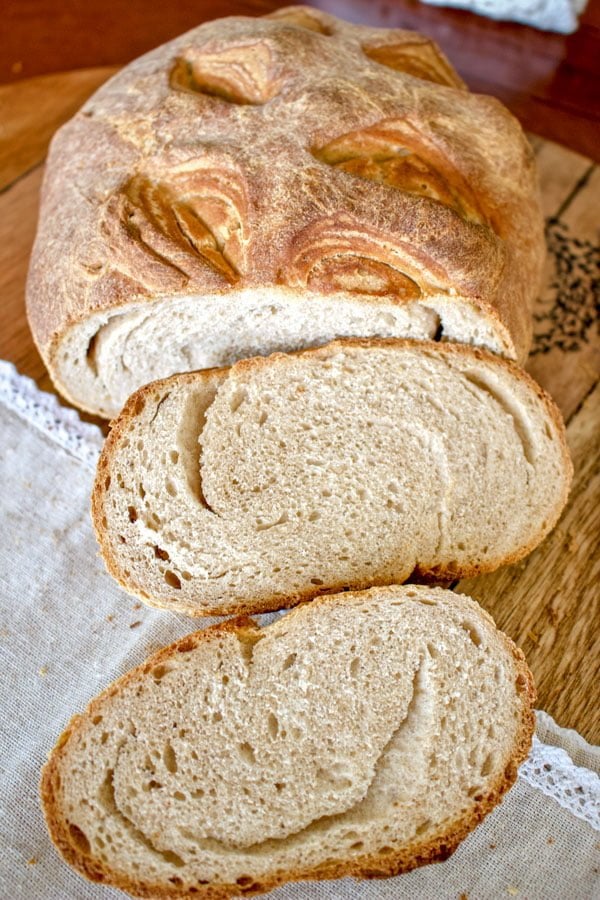 Kneading the dough
Kneading the dough is not my favorite part, and I will tell you why. It is supposed to be the most pleasurable and satisfying part of the whole process, BUT ONLY if you are kneading on a surface that is at a comfortable height for you.
Traditional counter height, 36 inches, is fine for someone who is quite tall.
If you are short, like me, it is important to find a surface low enough so you can use your whole body when you're kneading, and not just your arms. Probably a 29 or 30 inches table might be better for you, or somewhere in between.
I don't have that, and by the time I finish kneading the dough, I have back pain. Therefore, this dough is kneaded in a stand-up mixer.
A note about the sprouted spelt flour
Sprouted spelt is an ancient grain that has less gluten in it. It is full of protein, minerals, and vitamins and is great for baking. Your bread will be darker in color and rich. The sprouted spelt flour is also easier to digest, which makes it an ideal flour for a healthier diet.
Overall, this bread is not only delicious but, between the whey and the spelt flour, also packed with protein, vitamins, and minerals.
Finally, here you have the recipe and the instructions to make this bread. I hope you will try it! You will definitely not be sorry! Enjoy!
More recipes to love
📖 Recipe
Whey Bread Recipe With Sprouted Spelt
Whey Bread Recipe With Sprouted Spelt is a beautiful bread made with leftover whey from making cheese. The crust is soft, the bread has a lot of flavor and keeps well for a few days. It is a delicious bread that is relatively easy to make, especially if you have a stand-up mixer. Makes two loaves. Enjoy!
Print
Pin
Share
Grow
Saved!
Rate
Ingredients
4 ½

cups

all purpose flour

4 ½

cups

sprouted spelt flour

1

tablespoon

salt

1

tablespoon

sugar

1

tablespoon

instant dry yeast

3

cups

whey

110F/43C warm

Oil for handling the dough on the table
Instructions
Place the flour, salt, dry yeast and sugar in a stand-up mixer bowl.

With the dough hook attached, start the mixer on very low speed to mix the ingredients.

Slowly pour the warm whey little by little over the mixture waiting for the flour to absorb the liquid.

Increase the speed of the mixer to medium and knead the dough for about 10 minutes.

The dough will be a little bit sticky, which is ok.

Stop the mixer.

Form the dough into a nice, round ball and place it in a greased bowl, turning it over so the top has a thin film of grease on it as well. This helps keep it soft so that, as the yeast begins to grow and produce carbon dioxide bubbles, it can expand.

Cover the bowl with a damp towel or a piece of plastic wrap. It's a good idea to grease the underside of the plastic so that it won't stick if the dough comes in contact with it.

Let the dough rise anywhere from 1 to 2 hours depending on warmth and humidity or until it doubles in size.

Preheat oven to 425F/220C.

Place the dough on an oiled surface. Use some oil on your hands, as the dough might be still sticky.

Cut the dough in half to shape it into two round loaves.Tuck the cut edge of each piece into the center of the dough so it is no longer exposed.

Place the loaves on a baking sheet that has been covered with parchment paper. You can slice the surface of each loaf with a sharp knife to create a pattern.

Place the baking tray in the oven and bake the bread for about 55 minutes.

When they come out of the oven, while still very hot, brush them with a little bit of water to give them a shine.

Place the loaves of bread on a metal rack to cool. Do not cover them with kitchen towels. The bread needs to breath and cool on its own.

Only when the bread is completely cool, wrap it in a clean kitchen towel and place it on the counter.

The bread can be frozen as well for later use.
Nutrition
Serving:
1
g
|
Calories:
174
kcal
|
Carbohydrates:
27
g
|
Protein:
13
g
|
Fat:
1
g
|
Saturated Fat:
0.2
g
|
Polyunsaturated Fat:
0.1
g
|
Monounsaturated Fat:
0.02
g
|
Cholesterol:
17
mg
|
Sodium:
234
mg
|
Potassium:
50
mg
|
Fiber:
3
g
|
Sugar:
1
g
|
Vitamin A:
27
IU
|
Calcium:
36
mg
|
Iron:
2
mg
Tried this recipe?
Please leave a comment on the blog or like us on Facebook!