Note: "We are a participant in the Amazon Services LLC Associates Program, an affiliate advertising program designed to provide a means for us to earn fees by linking to Amazon.com and affiliated sites."
This recipe was initially planned to honor St. Patrick's Day that people all over the world celebrate in March, every year. I ended up falling in love with it and decided that together with the beer bread, or the no knead bread recipes that I make very often, this basic old fashion American-Irish soda bread is  going to be one of my treasures.
I found this recipe in a very old book. I did some research, first in my old American books I own, starting with the oldest one I have from 1895 and to my surprise, I could not find an Irish soda bread at all. I am pretty sure this bread was made in the 19th century, I just could not find it in my cooking books.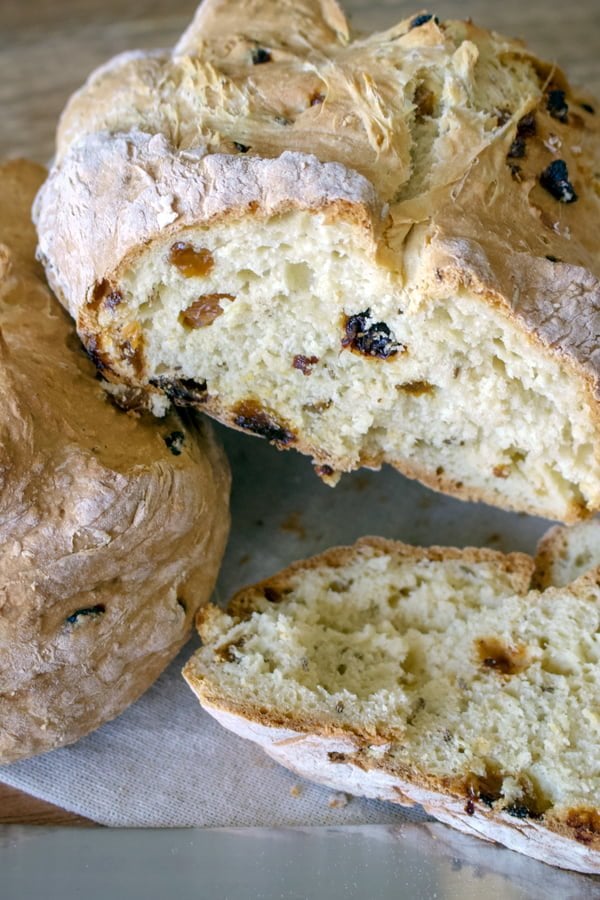 I was hoping that the 1930 edition of my Settlement Cookbook would have one, but there is none, at least under the Quick Breads chapter where I looked. I moved then to The Gourmet Cookbook from 1960. Bingo! This is what I was looking for, an old-fashioned American-Irish recipe that stands the test of time.
For sure, I did not want a "tea cake", I wanted a bread to be served daily and not a dessert. This recipe was the one.
Few observations regarding the recipe:
Basically, what I understand from all this research, is that if your Irish soda bread has eggs, sugar, or milk, it's called "cake", not "bread". No offense, but by definition, this is true!
I was not trying to be a purist here, but I had the feeling that the Irish did not even put raisins or caraway seeds in their bread, this must be an American thing.  After a lot of time spending on the internet doing research, I was right. The original, traditional Irish soda bread is made with only four ingredients: flour, baking soda, salt and buttermilk.
This recipe from 1960 is trying to not upset anybody. It is an improved version of the traditional Irish bread, but it is still a bread. You can eat it with mild cheddar cheese, a soup, a salad, but it also goes well with butter and jam and a cup of coffee. It also has baking powder and also raisins and caraway seeds, as the usual American addition to the recipe.
It is a little bit denser than a yeast bread, with a mild sweetness from the raisins, which I found pleasant.
This recipe is very easy to make, uses clean ingredients and it is perfect with your traditional cabbage and corned beef.
This recipe proved to be everything I needed and more. We had it fresh, out of the oven with a little bit of butter, and also for dinner with soup, cheese and apples. It was divine! I was really not able to tell that the bread is not made with yeast.
I hope you make it for St. Patrick's Day celebration! And if you don't have the time for tomorrow, make it whenever you need some fresh bread. If you do not like the raisins or the caraway seeds, leave them out, no big deal! You only need an hour and 10 minutes from start to finish to make it and the results are wonderful! Ok, I will stop talking now and let you decide for yourself! See you next time!

Basic American-Irish Soda Bread
Author:
The Bossy Kitchen
Recipe type:
Quick Breads
Instructions
If you are going to sour regular milk instead of using buttermilk, start this process first.
Add the vinegar or the lemon juice to a large measuring cup and then add the milk. Let rest 5-15 minutes.
Preheat oven to 350F/180C.
In a big bowl, sift together flour, baking powder, salt and baking soda.
Add raisins or currants and caraway seeds.
Stir well and add about buttermilk, to make a soft dough.
Turn the dough onto a lightly floured board and knead gently for a minute, or until it is smooth and not sticky.
Divide the dough in half and shape into round loaves.
Place on a very lightly buttered baking sheet and bake for 50-55 minutes or until the loaves are a delicate brown.
The bottom of the baked bread should have a hollow sound when tapped.
Cool before cutting.