Easter Sunday Traditional Romanian Recipes To Enjoy- is a collection of Romanian recipes for Easter. From appetizers to dessert, there is something for everyone to choose from, make and enjoy with family and friends!
Easter is celebrated in many countries and if you are like me, you will cook like a storm for this wonderful event. Food connects me with my birth place, Romania, a place where traditions are still very strong. As I miss family and friends around holidays, I tend to cook traditional foods that help me connect emotionally and spiritually with my ancestors and my loved ones back in my native country.
Do you know that in Romania, Easter is celebrated for three days and preparations take place the entire week before the Easter Sunday? (Almost 81% of the Romanian population is Christian Orthodox  and belongs to the Romanian Orthodox Church.) Pretty cool, right?
The most important tradition for Easter is to colored eggs. Initially, the eggs were always colored in red, but over time, people started to use also other colors. Like many countries in Eastern Europe, painting eggs is considered an art. In many villages, painting the eggs takes time and lots of skills. These skills are passed from generation to generation.
The eggs are the center of the table and they look beautiful.
Besides the eggs, there are a multitude of foods that we put on the table, so I thought you might be interested to see few of the things I make for Easter every year.
Here they are:
Appetizers:
We like the cheese straws. I could make tones of them and they will disappear in no time. I collected many recipes over the years and these are some of them. They go perfect with beer, as a snack, on a lazy Sunday and great for any holiday.
Cheddar cheese straws, Cheddar cheese straws with cumin like this ones:
This Beef Salad(Salata de Boeuf), that is always popular for Easter and Christmas: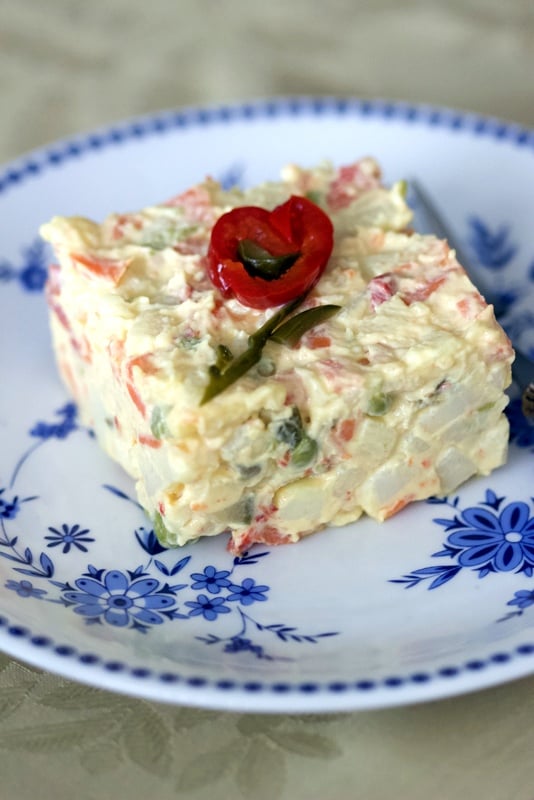 I like meat pies. I enjoy these two different recipes,  Meat and Potatoes Pie with Feta cheese
and this simple and delicious Meat pie made in puff pastry. I make either one of them around Easter.
If I don't make the Beef Salad that is so traditional in Romania, I might make this Spanish potato salad that I serve with the meat pie and a colored egg.
Or you can make a more Classic potato salad, if you prefer.
There are also other appetizers on the table, like platters with cheese and cold cuts, olives and fresh vegetables,
deviled eggs,  pigs in the blanket or little meatballs (yum, the meatballs are to die for!). I know, we are that crazy! We are very much like the characters from the "My big fat Greek wedding"! Remember the scene with the dinner when Toula's mom was still peeling tones of potatoes before dinner with the in-laws? That would be me!
Sometimes I make my famous Chicken schnitzels and serve them as appetizers too. This is a perfect finger food, as you can just grab few of them and walk around.
Soup would be the next item on the table.
Traditionally, Romanians eat lamb for Easter, so many people would serve a sour lamb soup to their guests. However, I am not a big fan of lamb, so I make the Traditional Romanian meatball sour soup that we like so much.
I try to use lots of vegetables and greens for the Easter. After all, Easter is also the symbol of Spring when the nature comes back to life, so the next item on the table would be, of course, a salad.
Salads:
Try my collection of wonderful salads that are also suitable for vegans, vegetarians or the ones who follow a gluten free diet. Here is an example of gluten free salad: Quinoa Tabbouleh Salad
This Grilled Eggplant and Bell Pepper salad is really good.
Or this Romanian Garlic Green Bean Salad that goes well with all kinds of roasted meats.
Meat and side dishes:
Creamy spinach is one of my favorites,
together with roasted vegetables, like carrots
or these simple roasted potatoes.
If you have new potatoes, this recipe is wonderful- New potatoes with dill and butter!
Otherwise, try the classic recipe of Cheesy Potatoes!
Sometimes I make the stuffed grape leaves:
Roasted meats? Hmmm….this is always a tough choice. I am not a fan of ham, but I am a fan of pork. I find ham a little bit too salty for my taste. I like to usually control a lot of things in the kitchen (remember, The Bossy Kitchen? I am a bossy cook too) and the salt is one of them. I also don't make a lot of turkey either, besides Thanksgiving and even then, because we have small crowds at the table, I end up making chicken or a small turkey breast.
I sometimes make a roasted chicken for Easter, or chicken thighs and legs in vanilla butter (if you never tried these, you don't know what you are missing).
If I go for pork, then I have few options, like Roasted Bacon Wrapped Pork Tenderloin
Ahhhh….and if you still want food after this feast, it is time for dessert!
Desserts:
No matter what kind of dessert we have, we always have coffee with it. In the Romanian culture, coffee is always served after the meals. It is believed that the coffee helps the digestion, so here you have my easy Turkish coffee recipe that I grew up with.
If I have guests, I try to make few cookies or bars that are sitting on the table for people to enjoy with their coffee. Browse to both collections and see if you can find anything you might like. I love the Jam And Walnuts Rugelach 
or the Walnut and Rose Hip Jam Bars.
If you are looking for a gluten free, fancy dessert, you can try the Orange-Almond Flan:
If you enjoy ice cream, this Mango ice cream is to die for! Very refreshing and delicious after a copious meal!
If you prefer cake, as many Romanians make also for Easter, here you have some ideas: A no bake cheesecake 
or a Charlotte Russe Cake– a very European recipe!
That's it, my friends! Of course, these are only some ideas that you can use! The blog has many other wonderful recipes that are easy to make and delicious! I just want you to know that we eat a lot of leftovers and in Romania, because Easter celebration lasts for 3 days, people cook more than for just one meal.
They visit each other, not only on Sunday Easter, but also the following Monday or Tuesday. And there is always food. In many ways, we are overdoing it, I know, compared with other cultures. However, people love food, no matter where they are, so I hope you find something on my blog for you to enjoy with your family and friends! And Happy Easter everyone!