These cheddar cheese straws with black caraway seeds are great as a snack or appetizer. Perfect to be served with beer on a Sunday night game.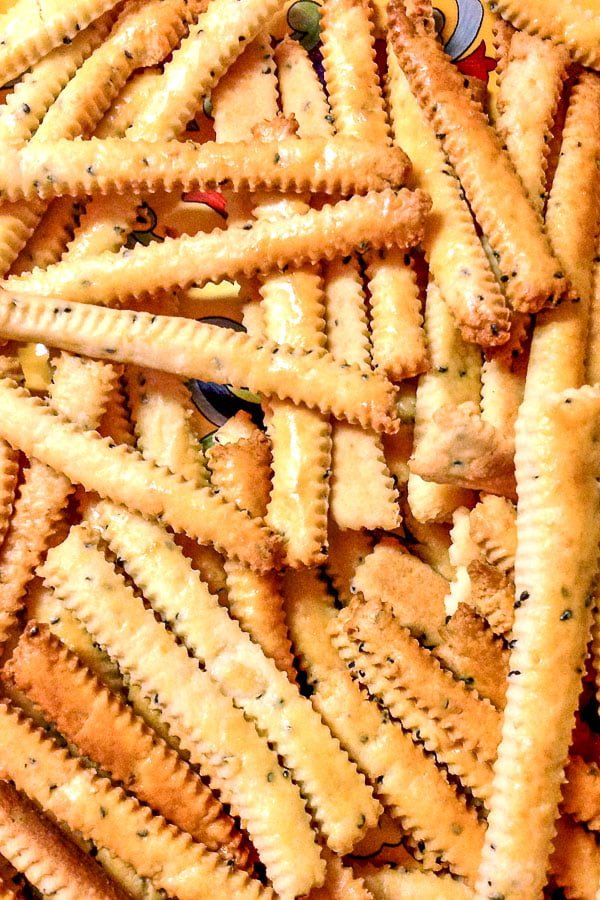 I love cheese straws. I have different recipes, all collected over the years. Different textures, different seeds, different types of cheese, the possibilities are endless.
The cheese straws are awesome as snacks or appetizers and go really well with beer.
Doing some research about this recipe that, based on my knowledge, is very Romanian, I discovered that these could be very southern.
Cheese straws seem to make an appearance at every family gathering in the south of the United States, and they are indeed a staple in southern entertaining. Who knew?
I grew up with these cheese straws made for any occasion. Romanians love cheese straws, and there are tons of recipes out there.
This recipe, in particular, is one of my favorites, though, because the cheese straws have the taste of the ones I used to eat while growing up.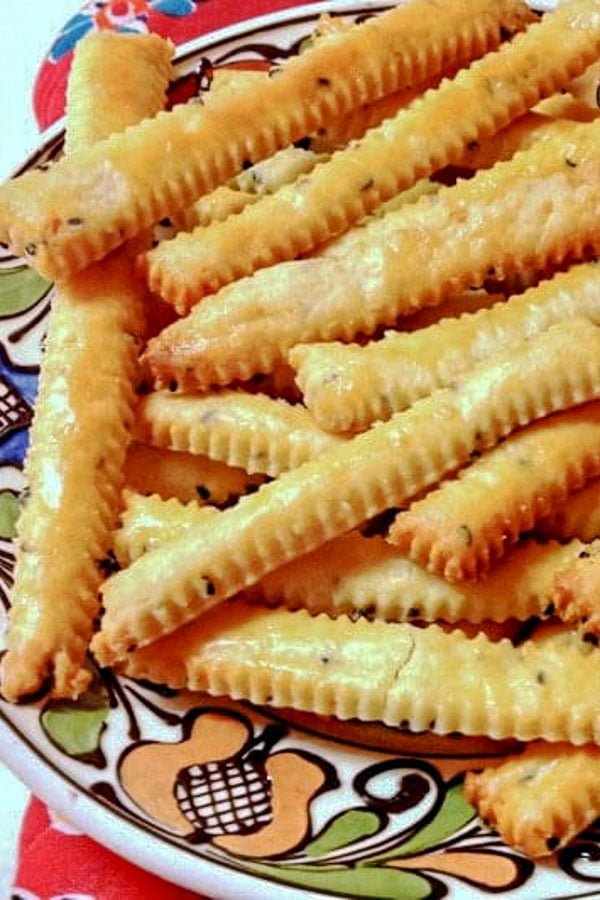 They might look like bread sticks but they are closer to a pastry or a savory snack.
Because they are so incredibly addictive, I try to make them only once in a while; otherwise, I want to stuff my face with them and not stop until they are gone.
What kind of ingredients you will need?
The recipes for cheese straws are usually very basic and use ingredients most people have already in the pantry.
Flour, butter, cheese, sometimes sour cream, sometimes mustard, all kind of seeds, like poppy seeds or caraway, herbs, etc.
Most of these recipes can be made in a food processor if you have one. If you don't own a food processor, buy as soon as possible, as it is a lifesaver in the kitchen.
However, you can make the dough by hand really easy, like our grandmothers used to do.
In this recipe, I used black caraway seeds. If you do not find black caraway seeds, you can use regular caraway or poppy seeds.
What kind of cheese to use when you make cheese straws:
Cheddar cheese is my choice for this recipe, but a mixture of Parmesan and Cheddar is great too.
Even a mixture of Gruyere and Parmesan works really well. Hand grated cheese is preferred over packaged pre-shredded cheese.
What about the butter? Should be cold, room temperature or melted?
There are recipes out there of cheese straws that require the butter to be cold. There are other recipes that require melted butter.
For this recipe, in particular, you need the butter to be room temperature but not melted, so it is soft enough to ensure that the mixture will be smooth and not gritty.
What kind of seeds or herbs to use?
The black caraway seeds are a modern addition to this recipe, and the "peppery" taste of them brings a beautiful flavor to the recipe.
If you cannot find black caraway use regular one. Poppy seeds are very popular as well.
Some people like to use chopped herbs, like rosemary or thyme and skip the seeds. Sesame seeds are good too.
Can I bake them in a different shape?
Yes. The dough is usually rolled out on the table and it is cut in strings.
If you prefer some other shapes, use cookie cutters or a pizza/pasta cutter to shape the dough as you wish.
Coins, triangles, hearts or special shapes for special occasions are definitely fun to try.
Can I freeze the dough?
Yes, you can. The dough can be frozen for up to 3 months: Shape the dough into 2 rectangles, about 1 inch thick, wrap each piece in plastic wrap, and place them in a sealable bag.
When ready to bake, remove the dough from the freezer, thaw it until pliable, and then proceed with recipe.
It is a nice way to make the dough in advance for emergencies, when people come over and you need a snack.
Can I freeze the cheese straws after baking them?
Yes, you can. Let the cheese straws cool completely. Store them in an airtight container separating layers with parchment paper or aluminum foil.
Before serving, remove them from the container and let them come to room temperature. Voila!
I hope you will enjoy them.
Suggestion: Serve them with cold beer (great for watching a game on a Sunday afternoon) or a glass of wine.
Some other recipes for Cheese straws:
Cheese straws with feta and poppy seeds
Cheddar Cheese Straws with Cumin
Yield: 60 cheese straws
Cheddar Cheese Straws With Black Caraway Seeds
These cheddar cheese straws with black caraway seeds are great as a snack or appetizer. Perfect to be served with beer on a Sunday night game.
Ingredients
3cups/ 14 oz/ 400 g organic all purpose flour
2 cups/ 7 oz/ 200 g shredded cheddar cheese
14 Tablespoons/ 7 oz/ 200 g unsalted butter room temperature
6 Tablespoons organic sour cream
1 large egg for brushing the dough
1/2 Tablespoon salt
1 Tablespoon black caraway seeds(or regular caraway, poppy or sesame seeds)
Instructions
Preheat oven to 350F/180C.
In a mixing bowl, add flour, salt, butter at room temperature, shredded cheese, sour cream, and black caraway seeds.
Mix well until all the ingredients come together as a dough.
Cut the dough into three parts.
On a floured surface, spread the dough with a rolling pin, brush the surface with egg and cut straws with a pizza or a pasta cutter.
Bake them at 350F/180C for about 20 minutes until nice and golden.
Serve cold.
Recommended Products
As an Amazon Associate and member of other affiliate programs, I earn from qualifying purchases.
Nutrition Information:
Yield:
30
Serving Size:
1
Amount Per Serving:
Calories:

166
Total Fat:

10g
Saturated Fat:

6g
Trans Fat:

0g
Unsaturated Fat:

4g
Cholesterol:

29mg
Sodium:

185mg
Carbohydrates:

15g
Fiber:

1g
Sugar:

0g
Protein:

4g
Note: "We are a participant in the Amazon Services LLC Associates Program, an affiliate advertising program designed to provide a means for us to earn fees by linking to Amazon.com and affiliated sites."