These cheddar cheese straws with black caraway seeds are great as a snack or appetizer. Perfect to be served with beer on a Sunday night game.
Jump to:
Why Do I Like This Recipe
I love cheese straws. I have different recipes, all collected over the years. Different textures, different seeds, different types of cheese, the possibilities are endless.
The cheese straws are fantastic as snacks or appetizers and go well with beer.
Doing some research about this very Romanian recipe, I discovered that these cheese straws could be very southern as well.
Cheese straws seem to make an appearance at every family gathering in the South of the United States, and they are indeed a staple in Southern entertaining. Who knew?
I grew up with these cheese straws made for any occasion. Romanians love cheese straws, and there are tons of recipes out there.
This recipe, in particular, is one of my favorites, though, because the cheese straws have the taste of the ones I used to eat while growing up.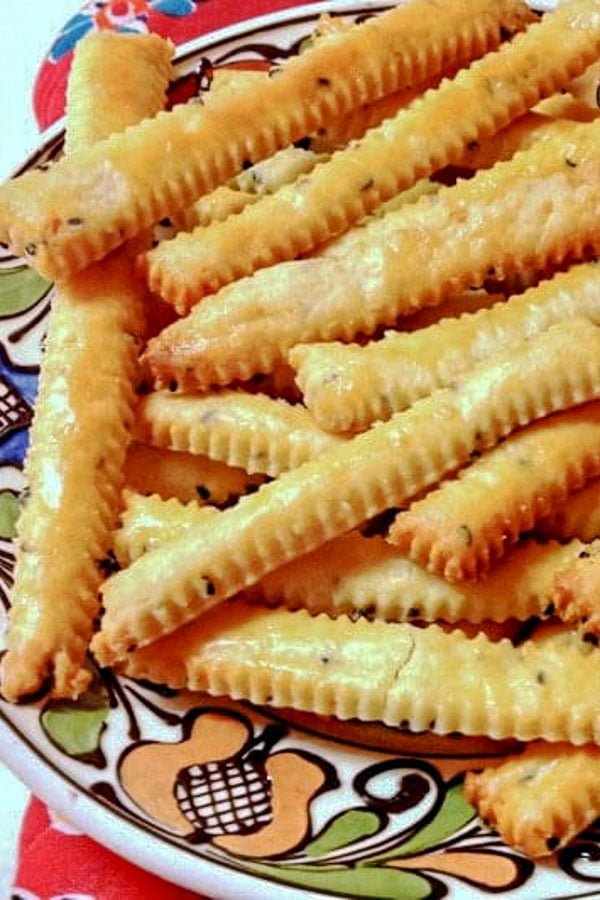 They might look like breadsticks, but they are closer to a pastry or a savory snack.
Because they are so incredibly addictive, I try to make them only once in a while; otherwise, I want to stuff my face with them and not stop until they are gone.
Ingredients
The recipes for cheese straws are usually very basic and use ingredients most people already have in the pantry.
Flour, butter, cheese, sometimes sour cream, sometimes mustard, all kind of seeds, like poppy seeds or caraway, herbs, etc.
Most of these recipes can be made in a food processor if you have one. If you don't own a food processor, buy it as soon as possible, as it is a lifesaver in the kitchen.
However, you can make the dough by hand really easily, like our grandmothers used to do.
In this recipe, I used black caraway seeds. If you do not find black caraway seeds, you can use regular caraway or poppy seeds.
What kind of cheese to use?
Cheddar cheese is my choice for this recipe, but a mixture of Parmesan and Cheddar is also excellent.
Even a mixture of Gruyere and Parmesan works well. Hand-grated cheese is preferred over packaged pre-shredded cheese.
What about the butter?
Should it be cold, room temperature, or melted?
Some cheese straw recipes out there require the butter to be cold, and some others require melted butter.
For this recipe, in particular, you need the butter to be at room temperature but not melted, so it is soft enough to ensure that the mixture will be smooth and not gritty.
What kind of seeds or herbs to use?
The black caraway seeds are a modern addition to this recipe, and their "peppery" taste of them brings a beautiful flavor to the recipe.
If you cannot find black caraway, use a regular one. Poppy seeds are very popular as well.
Some people like to use chopped herbs, like rosemary or thyme, and skip the seeds. Sesame seeds are good too.
Can I bake them in a different shape?
Yes. The dough is usually rolled out on the table, and it is cut into strings.
If you prefer other shapes, use cookie cutters or a pizza/pasta cutter to shape the dough as you wish.
Coins, triangles, hearts, or unique shapes for special occasions are definitely fun to try.
Can I freeze the dough?
Yes, you can. The dough can be frozen for up to 3 months: Shape the dough into two rectangles, about 1 inch thick, wrap each piece in plastic wrap, and place them in a sealable bag.
When ready to bake, remove the dough from the freezer, thaw it until pliable, and then proceed with the recipe.
It is an excellent way to make the dough in advance for emergencies when people come over and you need a snack.
Can I freeze the cheese straws after baking them?
Yes, you can. Let the cheese straws cool completely. Store them in an airtight container separating layers with parchment paper or aluminum foil.
Before serving, remove them from the container and let them come to room temperature. Voila!
I hope you will enjoy them.
Suggestion: Serve them with a cold beer (great for watching a game on a Sunday afternoon) or a glass of wine.
Some more recipes to love
Cheese straws with feta and poppy seeds
Cheddar Cheese Straws with Cumin
Cracked Black Pepper And Ham Scones
Blueberry Bread Pudding With Cheddar
Chicken Stew With Black Olives
📖 Recipe
Cheddar Cheese Straws With Black Caraway Seeds
These cheddar cheese straws with black caraway seeds are great as a snack or appetizer. Perfect to be served with beer on a Sunday night game.
Print
Pin
Share
Grow
Saved!
Rate
Servings:
60
cheese straws
Ingredients
3

cups

all purpose flour

2

cups

shredded cheddar cheese

14

tablespoons

unsalted butter at room temperature

6

tablespoons

organic sour cream

1

large egg for brushing the dough

½

tablespoon

salt

1

tablespoon

black caraway seeds

or regular caraway, poppy or sesame seeds
Instructions
Preheat oven to 350F/180C. Lightly grease a cookie sheet.

In a mixing bowl, add flour, salt, butter at room temperature, shredded cheese, sour cream, and black caraway seeds.

Mix well until all the ingredients come together as a dough.

Cut the dough into three parts.

On a floured surface, roll out the dough to ¼ inch or 5 mm thick. Brush the surface with egg and cut straws with a pizza or a pasta cutter, about 3x½ inch or 7.5x1cm strips. Place them on the prepared baking sheet.

Bake them at 350F/180C for about 20 minutes until nice and golden.

Serve cold.
Nutrition
Serving:
1
g
|
Calories:
65
kcal
|
Carbohydrates:
5
g
|
Protein:
2
g
|
Fat:
4
g
|
Saturated Fat:
3
g
|
Polyunsaturated Fat:
0.2
g
|
Monounsaturated Fat:
1
g
|
Trans Fat:
0.1
g
|
Cholesterol:
14
mg
|
Sodium:
85
mg
|
Potassium:
14
mg
|
Fiber:
0.2
g
|
Sugar:
0.1
g
|
Vitamin A:
131
IU
|
Vitamin C:
0.03
mg
|
Calcium:
31
mg
|
Iron:
0.3
mg
Tried this recipe?
Please leave a comment on the blog or like us on Facebook!