This chicken stew with black olives is a Romanian recipe traditionally made with rabbit meat. It might remind you of the Italian chicken cacciatore recipes. As rabbit meat might not be available everywhere, chicken is the next option to keep the flavors intact.
Jump to:
Why Do I Like This Recipe
It's another frigid day here in Minneapolis, with low temperatures and snow on the ground. You don't have to persuade me to stay inside. It is definitely a comfort food kind of day, so I decided to bring a childhood memory back to life.
This is one of the first recipes I fell in love with while growing up. I was probably only 7-8 years old when I discovered my grandmother's rabbit stew with black olives.
Because rabbit meat was probably cheap and wildly available, my Romanian grandmother used to make this dish quite often, and us, her grandchildren, used to eat it quite often.
Rabbit meat is common in Europe, and there are tons of recipes in German, French, and Italian cuisine for it.
Romanian cuisine also has many recipes that use rabbit meat because rabbits are easy to raise, butcher, and prepare.
Rabbit meat, which is all white meat, is lower in fat, cholesterol, saturated fats, sodium, and calories than beef, chicken, and pork. It is also higher in protein.
This recipe reminds me of the Italian chicken cacciatore recipes, which are peasant dishes that are usually made with what's on hand.
Notes & Tips
As a dish that follows what's available, this recipe will ask for black olives, but sometimes green ones are used.
I would say, like in many of my recipes on this blog, use your favorite ones, as long as they are real, quality, brined olives and not those things that come in a can or a jar with a uniform hole where the seed used to be and taste of nothing.
The flavors in this chicken stew with black olives are diverse and interesting together, and I am surprised now when I think about it, how young I was, and how much I loved this stew made by grandma.
There is wine involved, but during the cooking process, the alcohol evaporates, and the flavors infuse the entire dish. There are also thyme, lemons, and bay leaves that make the dish so interesting.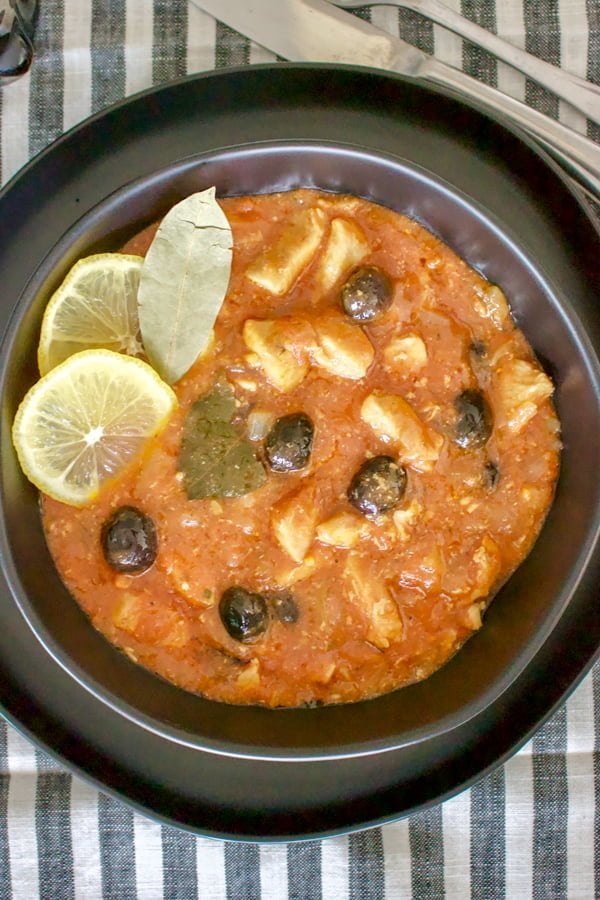 I remember dipping pieces of bread in the sauce and stuffing my mouth with that goodness with so much pleasure! At some point, I remember dropping the fork and using my hands to clean up the plate with pieces of bread.
My grandmother was not happy with my wild behavior, but I know that secretly she loved seeing me how much I loved the stew.
As I mentioned before, the recipe I am sharing with you today is made with chicken, not rabbit. I do not have access to rabbit meat where I live, so the chicken is my choice for it.
As a rustic dish that uses what is available, any chicken parts you like are perfect for this dish. My grandmother used to make this recipe with bone-in meat. I made it this time with chicken breast because this is what I had available.
Buy or make good rustic bread. Here is my recipe of bread I make all the time, the recipe for lazy people who love to eat well: The No-Knead Bread!
You will not be sorry!
Enjoy! I can assure you this dish is fantastic and one of my family's absolute favorites.
Suggestion
Here you have another idea of chicken stew, flavored with cinnamon. Awesome flavor and taste!
Yield: 6 servings
Chicken Stew With Black Olives
This recipe of chicken stew with black olives is a Romanian recipe that traditionally is made with rabbit meat. It might remind you of the Italian chicken cacciatore recipes. As rabbit meat might not be available everywhere, chicken is the next option in terms of keeping the flavors intact.
Cook Time
1 hour
20 minutes
Total Time
1 hour
40 minutes
Ingredients
2 pounds chicken(any part of chicken is good, bone-in or no bone- drums, thighs, breast)
2 medium onions chopped
1 cup water(or chicken broth)
1 cup tomato sauce
1 cup white wine
3-4 slices of lemon(remove the skin and the white part)
20-25 medium black olives
Instructions
Season chicken with salt, pepper.
Place a heavy pan on the stove on medium heat and drizzle it with oil.
If you use chicken parts with the skin on, place chicken skin side down and do not move it until it reaches a deep golden brown and it's easy to turn. Flip the chicken on the other side and brown it as well. Remove the chicken and set aside.
Add to the pan the chopped onion.
Saute the onion until becomes translucid and develops flavor. Add the water(or chicken broth) and lower the heat to medium low. Return the meat to the pan and let it simmer until the chicken is tender.
Meanwhile. preheat oven to 350F/180C.(We will finish the stew in the oven later)
Add to the pan the olives, bay leaves, thyme, black peppercorns and the slices of lemon and continue to simmer everything for few more minutes.
Meanwhile, mix together tomato paste, wine and mustard.
Pour the mixture over the chicken.
Season with salt and pepper(We did not add salt at the beginning, because the olives are already salty).
Place the pan in the oven and bake it for about 20 minutes, so the tomato sauce forms. It is ready when you see the oil rising on top of the sauce. If you feel that the sauce is too thick, a little bit of water or broth can be added.
This stew, originally, is served cold as a main dish(great in summer) but can be served also warm.
Serve it with rustic bread to dip in the sauce.
Nutrition Information:
Yield:
6
Serving Size:
1
Amount Per Serving:
Calories:

593
Total Fat:

37g
Saturated Fat:

8g
Trans Fat:

0g
Unsaturated Fat:

26g
Cholesterol:

191mg
Sodium:

484mg
Carbohydrates:

10g
Fiber:

3g
Sugar:

3g
Protein:

48g