This is a collection of the best coffee cakes made by your favorite bloggers. As the weather is changing and the temperatures drop,  I thought it would be nice to create a collection of coffee cake recipes for you to enjoy.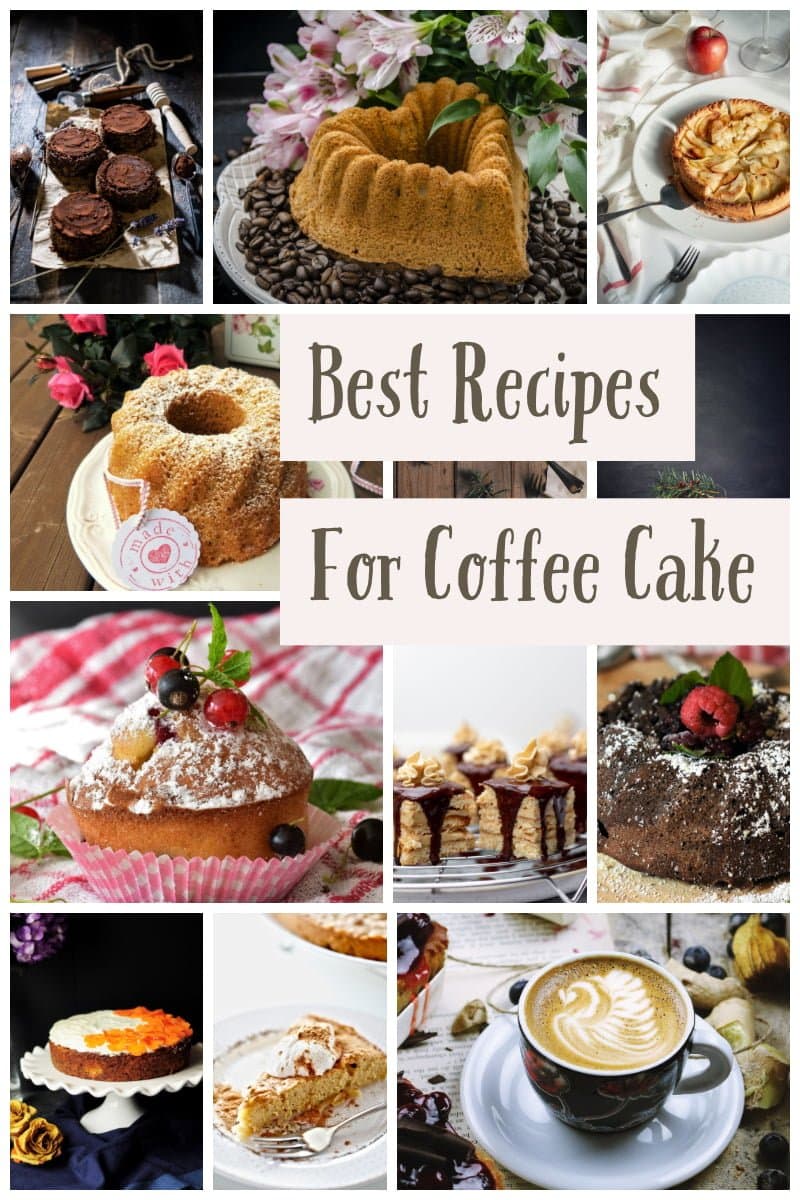 Get in the kitchen and bake at least one recipe for the weekend. Have it for breakfast or a snack with a cup of coffee. Life is too short not to have cake once in a while.
And if you are looking for gluten-free recipes, I also created another article with a collection of gluten-free coffee cakes, just for you! See? There is no excuse now not to bake something for the weekend. 🙂
What is a coffee cake? Does it have coffee in it?
In the United States, a coffee cake is not a cake made with coffee but a cake served with coffee. You might find that British coffee cakes are made with coffee, but we will not talk about them today.
How are coffee cakes made? What ingredients go into these recipes?
Most coffee cakes start with the same basic ingredients.
Flour is the major ingredient. All-purpose flour is the one that has the most gluten of household flours and is most commonly used.
Self-rising flour is another type that you can use successfully if the recipe requires it. It is an all-purpose flour to which baking powder and salt have been added.
If you need to substitute self-rising flour for regular all-purpose flour, make sure to omit an appropriate amount of baking powder and salt.
One cup of self-rising flour contains the equivalent of 1 ½ teaspoons of baking powder and ¼ teaspoon salt.
Sugar adds flavor, aids in browning, and increases tenderness. Coffee cakes contain a higher proportion of sugar than biscuits and muffins, for example.
Fats(usually butter or oil) help with the flavor, tenderness, and also browning. Cooled, melted butter, and cooking oil may be used interchangeably.
Liquids add moisture. Commonly used liquids include milk, water, fruit juices, etc.
Measuring ingredients, baking containers, and tips
To make a delicious coffee cake and not only, accurate measurements are critical. Using the right standard measuring utensils for dry and liquid ingredients is mandatory. If the recipe gives you the ingredients measured in grams or ounces, you need to use a scale.
A scale is an essential tool in the kitchen, and there are so many affordable options out there. I really encourage you to get one.
When you measure flour, be sure to level off the cup with a straight-edge spatula or a knife. Do not pack or shake flour down in the cup. You will end up with way too much flour for your coffee cakes.
Some ingredients do need to be packed for accurate measuring. One of these is brown sugar. Firmly pack the sugar into the measuring cup to retain the cup's shape when turned out.
Measure liquids in a glass measuring cup. With the cup sitting on a flat, level surface, pour the liquid in, and read the measuring mark at eye level.
Baking in the right container: Use the size and type of container called for baking the coffee cakes. Whenever a baking pan is called for, try to use a metal container.
If a baking dish is specified, you can use a glass or ceramic one. Coffee cakes baked in glass baking dishes require lower temperatures than those baked in metal containers. Reduce the oven temperature by 25F when substituting a glass dish for a metal pan.
Allow the coffee cakes to cool in pans for about 10 minutes before removing them. The secret is the moisture that allows the cakes to come out more easily and remain intact. Cool them on a wire rack.
How To Store
Most coffee cakes and sweet breads are at their best when served hot from the oven.
If you have leftovers, store them for a short period of time in a cool, dry place, like your kitchen countertop.
Wrap them tightly in foil or clear plastic wrap or place them in a plastic bag.
Reheating them will enhance the flavor.
How to freeze them
Freeze coffee cakes tightly wrapped in a moisture-proof wrap. Thaw them at room temperature or in the oven at 250-300F for a few minutes until hot.
And now, let's enjoy some of the best coffee cake recipes out there:
Best Recipes For Coffee Cake
This is all, my friends! I hope you find a great recipe to bake this weekend and honor the day! After all, life is too short not to have cake once in a while, right?
More recipes to love