This age-old recipe for preserving spicy peppers in vinegar, handed down from the past, requires only two ingredients: spicy peppers and plain, cold vinegar.
These pickled peppers can last for years in jars and serve as a flavorful addition to soups and stews.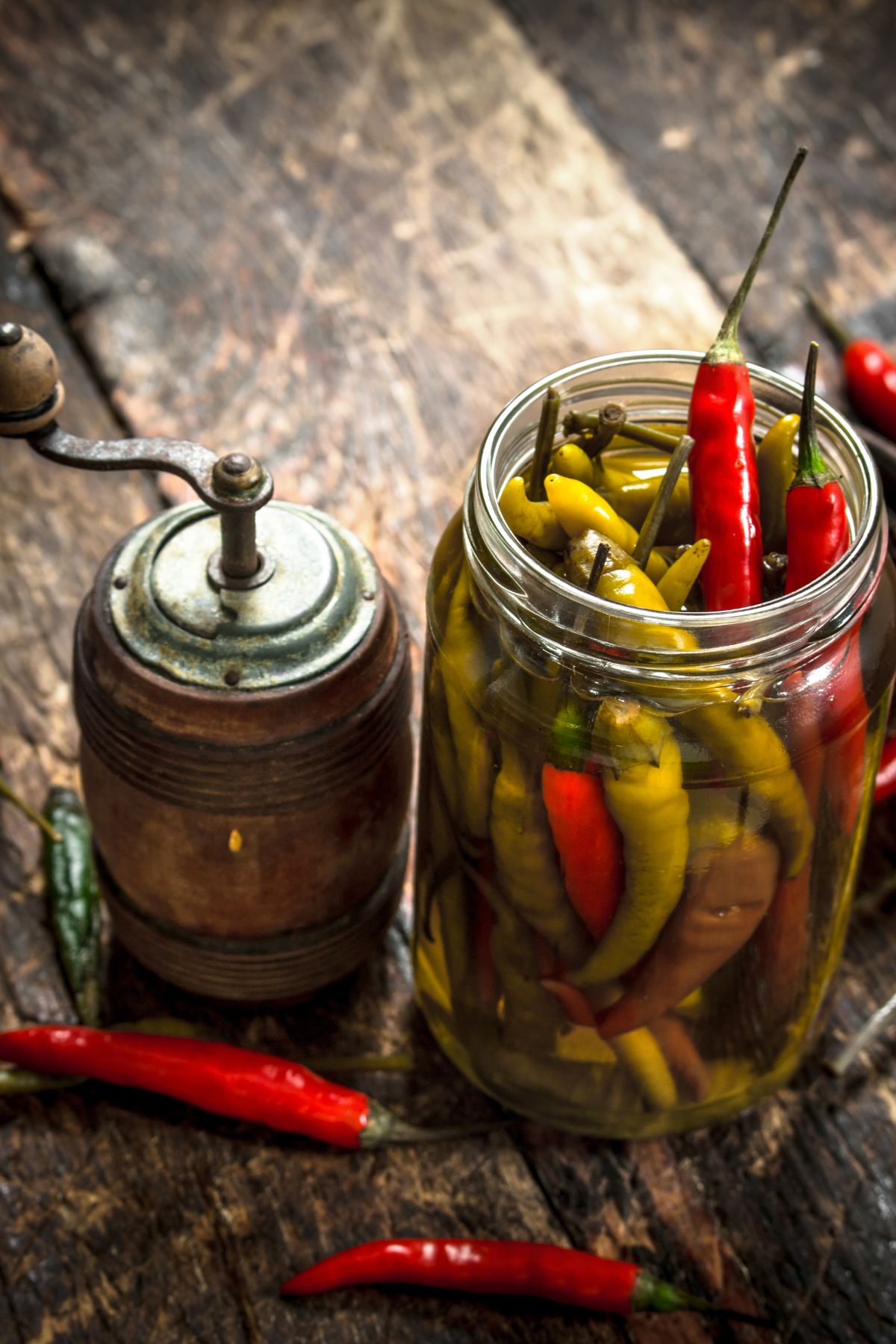 This recipe is part of my canning collection. If you like this recipe, you might also like this article about How To Salt Preserve Herbs, where I show you a great technique to preserve beautiful dill or other herbs for the cold season.
Also, this Red Peppers in Mustard Sauce recipe is a great way to preserve red peppers and serve them with rosted meats in winter.
Jump to:
Preserving Spicy Peppers
Perhaps you've grown a multitude of spicy peppers in your garden or bought a bunch from a Farmer's Market, and now you're unsure of how to use them.
The most efficient way to manage them is by preserving them. You may be wondering how to do this - I'll guide you through one of the simplest recipes available.
As the cool breeze of September sets in and the Farmer's Market brims with a variety of vegetables, it's an ideal time to preserve fruits and vegetables.
Being from Minnesota, it's crucial to make the most out of the short summers we have. The Farmer's Market opens its doors in June and closes by early October. Therefore, if I wish to preserve vegetables for the winter months, now is the time.
Each year varies depending on the locally available vegetables. I enjoy preserving a variety of items, such as cucumbers, cauliflower, red peppers, carrots, and green tomatoes.
For some, I use vinegar, and for others, brine is a healthier alternative due to the probiotics obtained through natural fermentation.
Note:
This particular recipe for preserving peppers is meant for spicy peppers that serve as condiments for winter soups and stews. It is NOT intended for bell peppers, cauliflower, carrots, beans, or cucumbers. If these peppers aren't meant for condiment use, you might need to seek other preservation methods as this recipe might not suit your needs.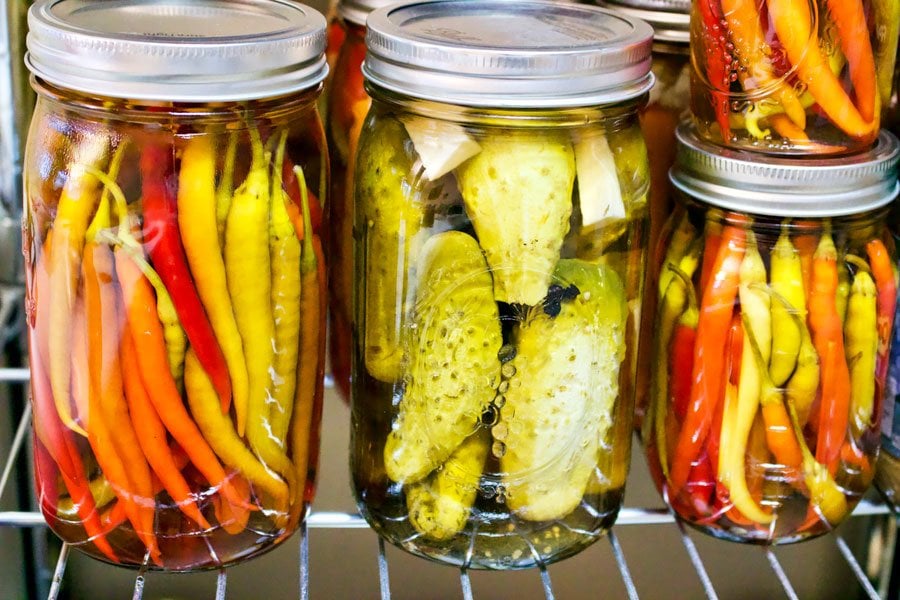 Preserving these spicy peppers in vinegar is one of the most straightforward recipes for canning.
Its simplicity requires almost no instructions. It is a time-honored method of preserving these peppers for winter use, adding a kick to soups and stews.
What kinds of peppers are suitable for this simple recipe?
There's a myriad of spicy peppers suitable for this recipe. I've listed a few:
Jalapeno pepper, Fresno chili pepper (not the Fresno Bell pepper), Serrano pepper, Habanero pepper, Cayenne pepper, Thai (Bird's eye chili peppers), Aleppo peppers, Shishito peppers, Tabasco peppers, Ghost peppers, Hungarian Wax peppers, Dutch Red chili peppers, Peri-Peri peppers, and Scotch Bonnet peppers.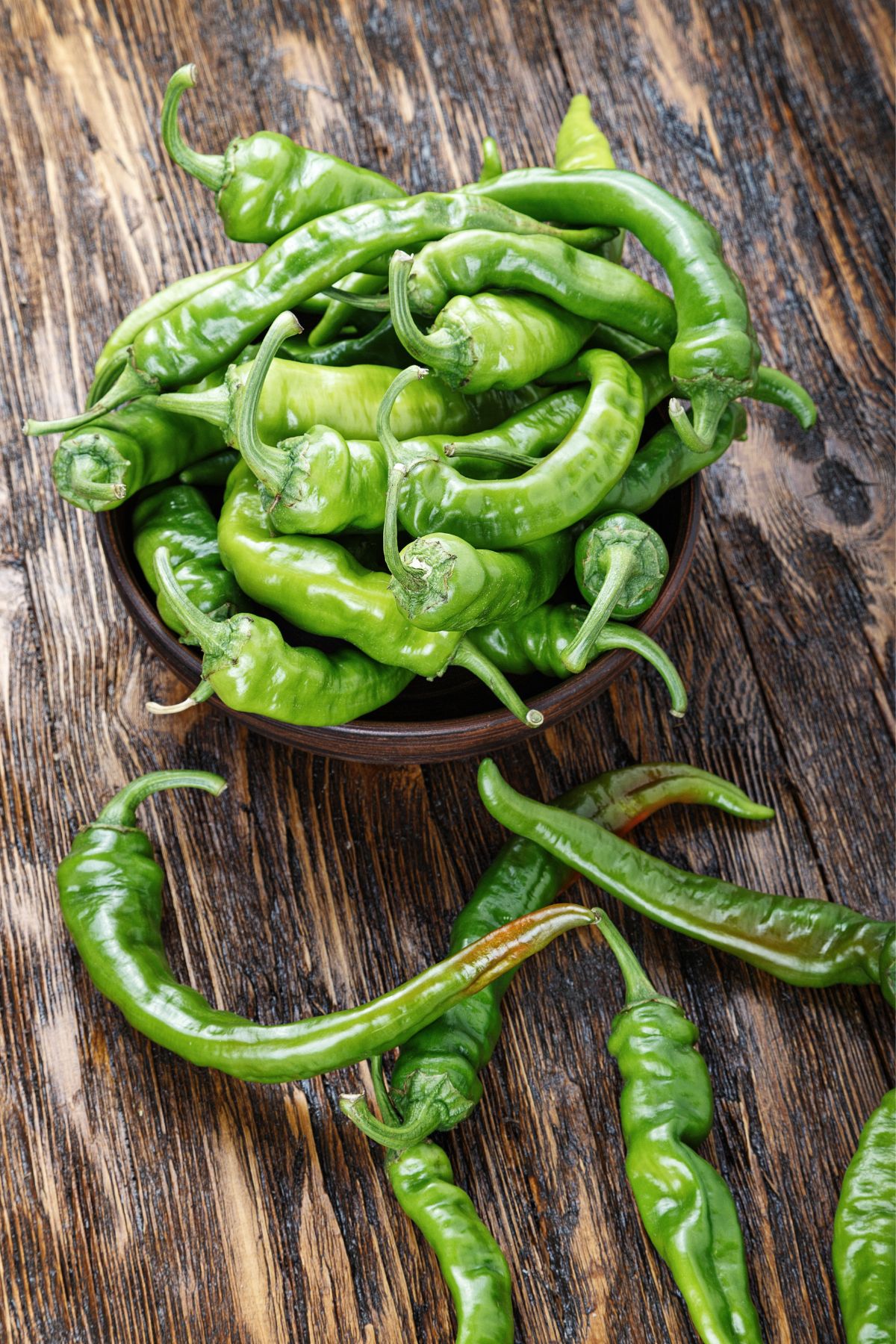 The jars don't require a water bath, as vinegar effectively eliminates botulism. Ensure the vinegar you use has a minimum of 5% acetic acid.
I follow this process every autumn to preserve spicy peppers. My daughter particularly enjoys them in soups like traditional Saxon potato tarragon soup, during winter.
For those who can handle the heat, these peppers are a fantastic addition to any soup or stew.
Stored properly, the preserved peppers can last for years on the shelves, unless consumed within a season.
The vibrant and colorful jars make great holiday gifts for family and friends.
A Few Notes Before You Begin
Several readers inquired about the preservation process for this easy recipe.
Start by ensuring the jars are clean. Wash them with warm water and soap or run them through a dishwasher cycle. Sterilize them thoroughly. Here is a link explaining the sterilization process.
When sterilizing lids, avoid placing them with the jars in the same pot. I clean them with warm water and soap, dry them well, then submerge them in boiling water for the last 2 minutes.
If any lids seem old or rusty, replace them. While recent guidelines no longer recommend boiling lids, I suggest submerging them in hot water for a few minutes before use for added safety. (Refer to this link for further guidance.)
The peppers and their stems should be fully covered with vinegar. Use vinegar with at least 5% acidity. Do not dilute the vinegar unless specified in the recipe.
Vinegar effectively combats botulism, so it's crucial to follow the recipe accurately.
The peppers should be washed and cleaned with their stems left intact. While you can trim the stems, there's no need to remove them completely.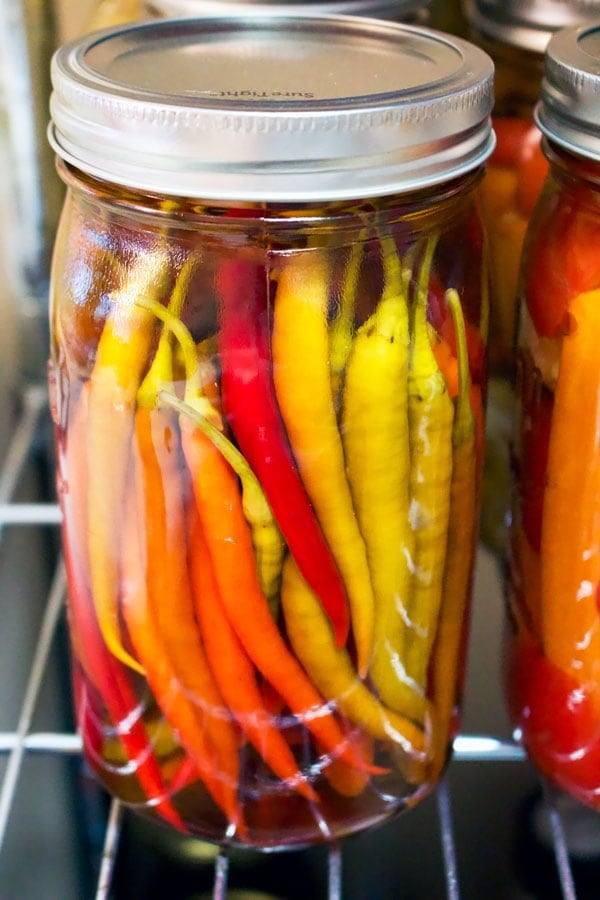 Common Queries From Readers
Here are answers to some of the most frequently asked questions:
Once done, do you put them in a pressure canner or boiling water bath?

No, the jars do not need either process, as the vinegar prevents fermentation. The peppers can be preserved for years without any issues. Simply sterilize the jars before filling them.
When you sterilize the jars, do you put the lids in with boiling water?
When I sterilize the lids, I do not put them together with the jars. I clean them in warm water with soap and dry them well, then I boil some water and add them for the last 2 minutes to sit in that hot water. 

The new guideline is not even to boil the lids, but for my peace of mind, I think you should place them in hot water for at least a few minutes before you use them. (Here is the link for that: https://www.freshpreserving.com/canning-lids-101.html).
Can you use old canning lids, or should you purchase new ones for the canning?
Old or rusty lids should be replaced for better results.
How much vinegar to add to the jars?
The peppers and their stems should be completely submerged in vinegar.
Does it matter if I slice the peppers into rings with this method?
No, it doesn't matter. Just ensure all peppers are submerged in vinegar.
Do you heat the vinegar before pouring it over the peppers?
No, the vinegar isn't heated.
Should the jars be stored in the fridge?
No, store them in a cool pantry, cellar, or unheated basement.
Would it be possible to add peppers to the jar of vinegar as I pick them? I don't have enough peppers to fill a jar, but more than I can eat before they go bad.
This is a canning method, not quick pickling. I do not recommend it. You would end up with different stages of the pickling process as you keep adding peppers to a jar with older peppers already marinating inside.
You also create a great environment for bacteria to develop because you keep opening the sterilized jar to add more peppers.
Solution: I would look for a smaller jar to preserve a small batch of peppers or find other ways to preserve just a few of them (you could dry or freeze them, for example).
Can I use distilled white vinegar instead of white wine or apple cider vinegar?
Any vinegar that has 5% acidity or more can be used.
I wonder if you can add cauliflower and carrots with the hot peppers before adding the vinegar.
You can, but I do not recommend it. Your cauliflower and carrots will be very spicy as they will take the taste of the peppers. I would keep the recipe as it is.
How do you keep the peppers from floating in the jar?
They will not float if you put them right next to each other and as many as they fit without breaking them. Pack them tightly without crushing them.

I am going to try your recipe, but I would like to add some spices and garlic. Should I boil the vinegar and spice mixture before pouring over the peppers when adding spices?
Adding extra ingredients will change the recipe. Please find a recipe that includes these additions. No, you do not need to boil anything.
Is there anything special I need to do with the peppers? I know that I have to wash and clean them, but I was curious if they need to soak first.
Follow the recipe, please. It will tell you exactly what you need to do.
Do you have a recipe for "Hot Giardiniera"?
If it's not already on the site, then it's not available.
I understand that it's not in your recipe, but would it be okay to add something like garlic or oregano to this?
Please stick to the recipe for the best results.
Should the opened jar be refrigerated?
Yes, opened jars should be refrigerated. Unused jars can be stored in a cool pantry. They can last a long time.

Vinegar is a great preservative. I throw them away in the summer if they end up sitting in the fridge for a few months and make a new batch when the hot peppers are available at the Farmers Market.
Final word:
I know many of us are used to the canning process where the jars seal completely, creating that distinctive 'pop' sound when you open them later. However, this recipe doesn't work quite like that.
Since we are using cold vinegar and not processing the jars in a hot water bath, they won't seal in the way jars do when you are doing traditional canning.
The vinegar essentially acts as a preservative, allowing the peppers to last for years without that vacuum seal.
Just make sure your jars are clean and you close them tightly. Rest assured, even without the 'pop,' your peppers will be well-preserved, ready to add a splash of heat to your dishes even years down the line!
What to serve with these peppers
Complement these peppers with these hearty soups and stews:
Soups:
Chicken Soup With Sour Cream And Garlic
Stews:
Interested in more preservation recipes?
Enjoy!
📖 Recipe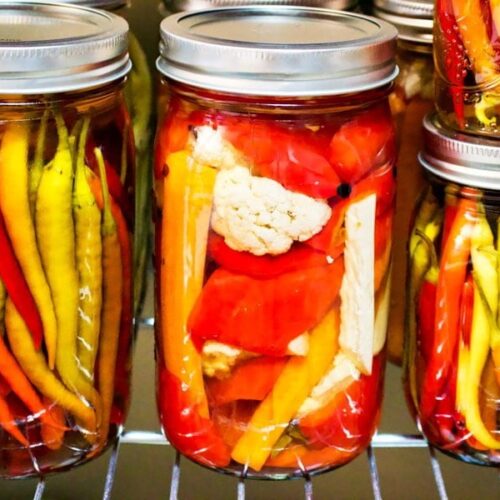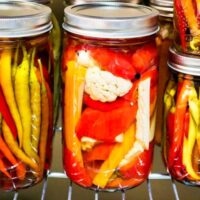 Canning Hot Peppers in Vinegar - Easy Recipe
Learn how to pickle hot peppers in vinegar- a recipe that comes from the old times. These hot peppers preserved this way last many years in the jars. This is probably one of the easiest recipes out there. We consume in winter these hot peppers, as a condiment, in soups and stews.
Print
Pin
Share
Grow
Saved!
Rate
Servings:
2
jars of 16 oz each
Ingredients
1

pound

hot peppers

14

ounces

white wine vinegar or apple cider vinegar with at least 5% or more acidity

sterilized jars and lids
Instructions
Clean the jars. The jars need to be sterilized by boiling them for 10 minutes in a pot of water on the stove.

Wash and clean the hot peppers. Remove leaves, dirt and any bad peppers.

When the sterilizing time is up, remove and drain hot sterilized jars one at a time.

Fill and pack the jars with peppers, as many as they fit tight inside.

Pour vinegar over them to fill up the jars. Add lids, and tighten screw bands.

The peppers need to sit in vinegar for at least one month before they are ready to be consumed.

Great with soups or as a condiment in stews. They last in a cool place for years.
Notes
What kinds of peppers are suitable for this recipe?
Jalapeno pepper
Fresno chili pepper (not to be confused with the Fresno Bell pepper)
Serrano pepper
Habanero pepper
Cayenne pepper
Thai (Bird's eye chili peppers)
Aleppo peppers
Shishito peppers
Tabasco peppers
Ghost peppers
Hungarian Wax peppers
Dutch Red chili peppers
Peri-Peri peppers
Scotch Bonnet peppers
Nutrition
Serving:
1
g
|
Calories:
132
kcal
|
Carbohydrates:
22
g
|
Protein:
4
g
|
Fat:
1
g
|
Saturated Fat:
0.1
g
|
Polyunsaturated Fat:
1
g
|
Monounsaturated Fat:
0.1
g
|
Sodium:
30
mg
|
Potassium:
875
mg
|
Fiber:
3
g
|
Sugar:
13
g
|
Vitamin A:
2159
IU
|
Vitamin C:
326
mg
|
Calcium:
46
mg
|
Iron:
3
mg
Tried this recipe?
Please leave a comment on the blog or like us on Facebook!