How To Salt Preserve Herbs For Winter-This is the easiest method for preserving herbs you grow in the garden. The leaves will stay fresh for months and can be used in cooking or baking with no problems.
If you grew up like me in a place where people used to eat in season and also canned fruits, vegetables and meats for winter, you might know already how to preserve herbs for the cold season. Most people today would dry or freeze their herbs, but do you know that there is another way of preserving these beautiful aromatic herbs?
Preserving in salt:
This is an old time method of preservation. We often think using salt in the context of the pioneers and people who did not have refrigeration or freezers in the past. However, this method is still an excellent method of food preservation that it is used everywhere, especially in the food industry.
However, for this process, I recommend either sea salt or kosher salt, but canning & pickling salt will work too. Using table salt is acceptable, but it should not contain iodine, it is not good for canning.
****If you make the recipe, share it with the hashtag #thebossykitchen on Instagram, Facebook and Twitter  so we can all see what you're cooking!
Or maybe you want to join The Bossy Kitchen community group where you can share your creations made from this blog or your favorite recipes!
I will show you today how I preserved dill, but there are other herbs suitable for this method: parsley, rosemary, basil, celery leaves, chives etc.(Here you have a guide for using herbs on a daily basis)
How To Preserve Herbs in Salt for Winter:
This is by far the easiest method for preserving herbs you grow in the garden. In a clean glass jar add a layer of salt to cover the bottom. Clean, wash and dry the herbs, remove all the thick stems and discard them.
Add herb leaves in layers, alternating with the salt, until the container is full. Refrigerate. The next day, you will notice that the leaves lost volume, so the jar is filled only half now. Keep adding salt and new fresh herbs until you fill the jar up again. Refrigerate.
Here is a jar I started yesterday. This morning, the volume of the dill went down and the jar looked like this:
I kept adding salt and fresh dill until I filled up the jar again. You will notice that there is dill juice on the bottom of the jar. This is ok, as that juice will preserve the dill for the following months.
The leaves will stay surprisingly fresh and flavorful for months. To use, just remove the amount of herbs you need. Brush off the salt or rinse under cold water.
Make sure you add less salt than the recipe says, as the herbs are already salty. As an added bonus, the salt will become flavored over time and can be used in cooking too. Consider using it in spaghetti sauce, fish, soup, savory baking, bread or rubs. Luckily, there are no hard and fast rules, so experiment with your own herbal salt blends and enjoy!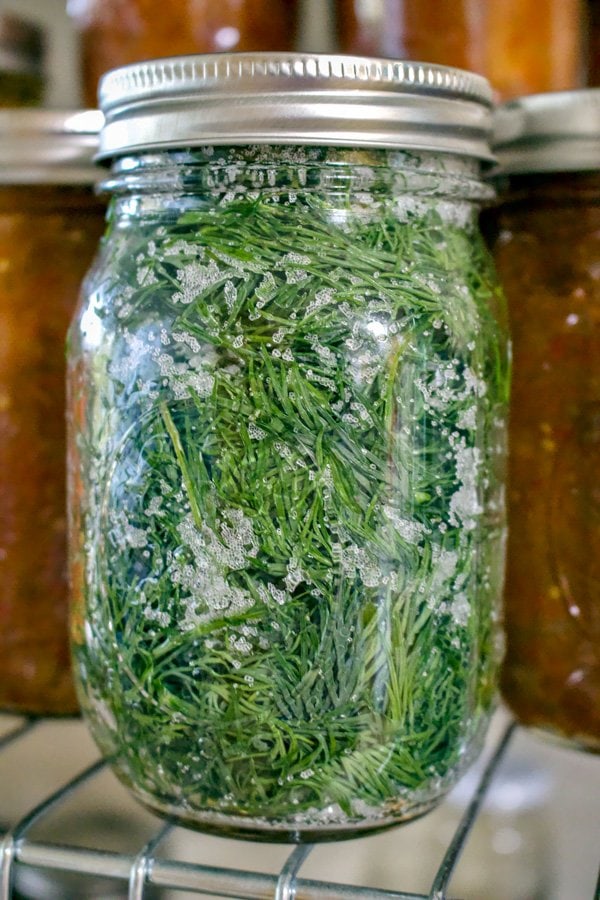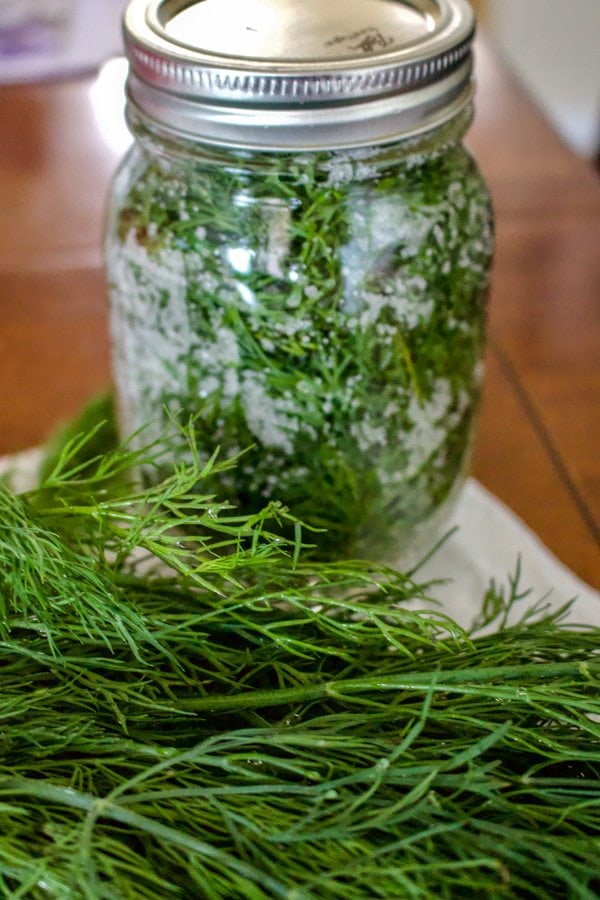 Do you want to freeze the herbs instead? Here is a post where you can learn how to do it!