Easy, delicious homemade mango honey ice cream, a summer dessert that will make everybody smile. Made with real fruit, milk, honey and heavy cream WITHOUT an ice cream machine, this dessert is easy and perfect for the warm weather.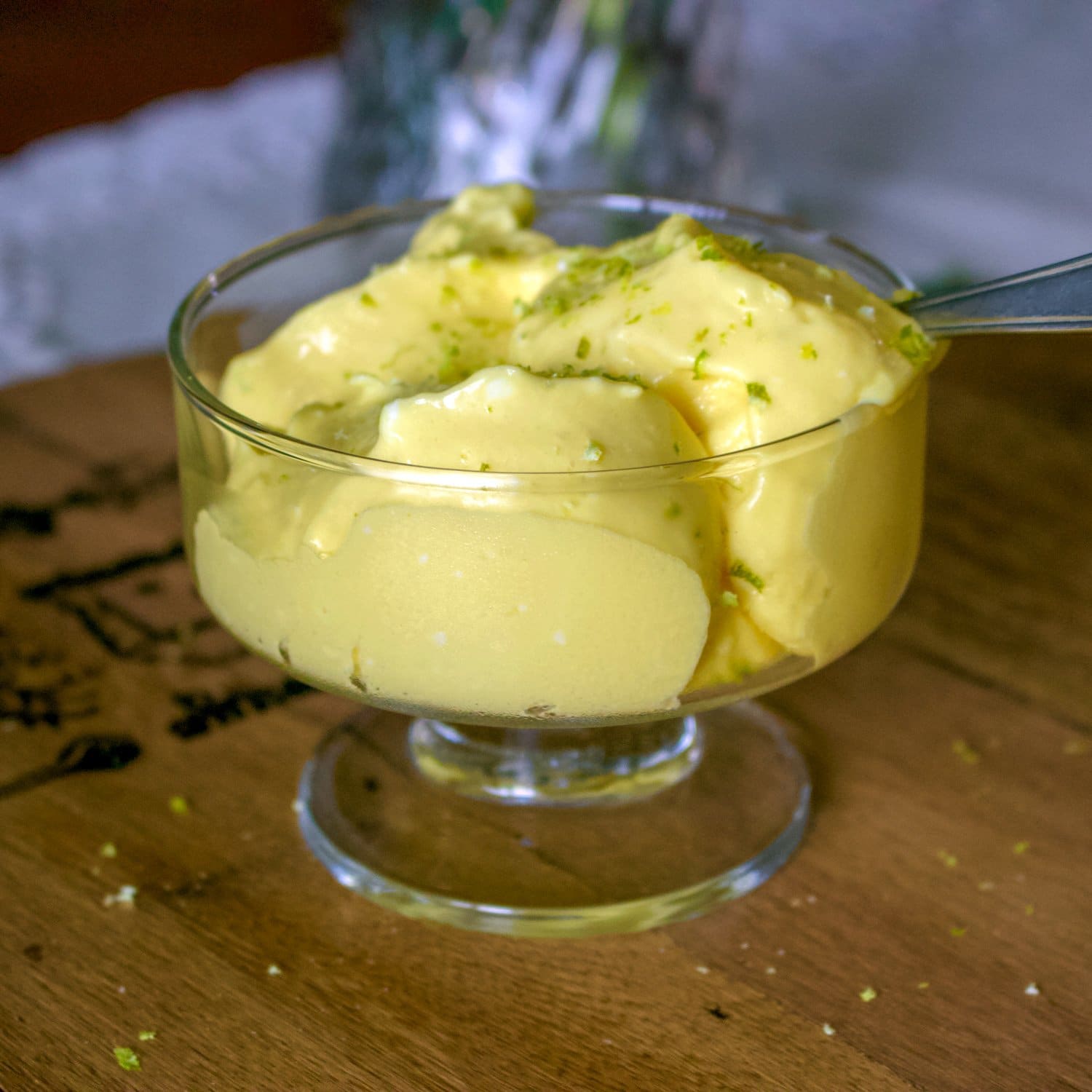 I love a good dessert and this homemade mango honey ice cream one in particular fits my agenda.
The history of ice cream is linked with that of gastronomy and refrigeration. Did you know that the Chinese knew the art of making iced drinks and desserts long before the Christian era?
They taught this art to the Arabs, who began making syrups chilled with snow, called sharbets (hence the words "sherbet" and "sorbet").
Fast forward through the history, ice creams started to be made with milk, cream and eggs only around 1650 by a French cook(of course!), and stayed popular until today.
Today is easier and easier to make and enjoy ice cream at home. This activity in the summer is one of the most fun activities.
Ice cream is such an easy dessert, but so full of flavors and versatile!
I love mango and for this recipe, you will definitely need to use the best quality mango fruit you can find out there.
This recipe uses real fruit, real heavy cream, milk and honey and I have to tell you that I really fell in love with it.
Choose mangoes that are very ripe and in perfect condition. Cut them in two, remove the stone and put the pulp into a blender to make mango puree. Then, continue with the recipe.
I do not own an ice cream machine and if you are like me, that should not stop you to make the recipe. You will just need a little bit of patience and a vertical blender.
The recipe is light, not very sweet, but, oh, so full of flavor! With an ice cream machine or without, a home made ice cream beats by far the store bought one.
For this recipe I used organic whole milk, organic heavy cream and raw honey. I heated up the milk, heavy cream, sugar and honey on the stove until it reached 82C/180F.
I removed and poured the mixture over the mango puree and the lemon juice.
I used a vertical hand blender to blend everything well. I cooled the bowl on ice, then placed the mixture in the fridge for about 2 hours.
After that, it was ready to be either placed in an ice cream machine and churned or placed in the freezer.
As I do not have a machine, I placed it in the freezer and mixed once in a while to avoid the ice pellets formation.
Tip: Use the same base and add other fruits instead of mango. Strawberries, raspberries, peaches, nectarines or anything else you like.
It is delicious! As much as I love ice cream, I don't make it enough. I should, because nothing beats home made desserts. Enjoy!
Yield: 4 servings
Handmade Mango Ice Cream
Easy, delicious homemade mango honey ice cream, a summer dessert that will make everybody smile. Made with real fruit, milk, honey and heavy cream. Tools to use: A vertical hand mixer or a blender, medium bowl, medium saucepan, a scale to measure ingredients.
Total Time
8 hours
25 minutes
Ingredients
20 oz mango puree(about 2 big ripened mangos)
3 1/2 tablespoons lemon juice
2/3 cup heavy cream
1 cup whole milk
3/4 cup granulated sugar
3 1/2 tablespoons raw honey
Instructions
Peel the mango and remove the stone from inside.
Puree the fruit and add the lemon juice over.
In a saucepan add milk, heavy cream, sugar and honey.
Place the saucepan on the stove and heat up the mixture to 180F/82C. Do not boil.
Remove the saucepan and pour the milk over the fruit puree.
Blend the mixture together until smooth.
Place the bowl with the mixture on ice and cool down.
When cooled, place the bowl in the fridge for 2 hours.
If you use an ice cream maker, place the mixture in the machine and follow the instructions on the ice cream maker.
If you do not have one, place the mixture in the freezer and mix every 15-20 minutes until it starts to freeze.
Nutrition Information:
Yield:
4
Serving Size:
1
Amount Per Serving:
Calories:

461
Total Fat:

17g
Saturated Fat:

10g
Trans Fat:

0g
Unsaturated Fat:

5g
Cholesterol:

51mg
Sodium:

43mg
Carbohydrates:

79g
Fiber:

2g
Sugar:

76g
Protein:

4g
Note: "We are a participant in the Amazon Services LLC Associates Program, an affiliate advertising program designed to provide a means for us to earn fees by linking to Amazon.com and affiliated sites."