Buttermilk Honey Cookies are a unique and delicious treat that combines the sweetness of honey with the tangy flavor of buttermilk.
These soft and chewy cookies are golden brown and filled with hints of cinnamon, nutmeg, and cloves.
This buttermilk honey cookie is an excellent recipe from The Cookie Book, a collection of cookie recipes from 1936, put together by Nellie Watts.
The "Cookie Book" includes a variety of cookie recipes, as well as information on basic baking techniques and tips for successful cookie-making.
It also contains advice on using basic pantry staples to make various cookie recipes, reflecting the economic constraints of the Great Depression era.
In general, cookies are easy to make and have the advantage of keeping for a much longer time than most other types of baked goods.
Properly stored, some cookies will keep for several months, especially the ones containing fruit, honey, or molasses or the ones with a dry, crisp texture.
Jump to:
What are buttermilk cookies?
Buttermilk cookies are a type of cookie that is made with buttermilk as one of the main ingredients.
Buttermilk is a slightly acidic liquid that gives the cookies a subtle tangy flavor and helps to create a tender, moist crumb.
These cookies are typically soft and cakey in texture rather than crispy or crunchy, and they can be found under different names:
Sour milk cookies: In some places, buttermilk is also known as sour milk.
So, cookies made with buttermilk can also be referred to as sour milk cookies.
Tea cakes: In the southern United States, buttermilk cookies are sometimes called tea cakes.
These cookies are often flavored with vanilla and have a soft, cake-like texture.
Amish sugar cookies: These are buttermilk cookies that are popular among the Amish community.
They are usually made with flour, sugar, butter, buttermilk, and baking powder and have a simple, sweet taste.
My recipe for honey cookies requires buttermilk.
The buttermilk gives the cookies a slightly tangy and sour taste, while the honey provides a rich and sticky sweetness.
The texture of these cookies is soft and tender, with a slight crunch on the outside.
They are perfect for a sweet snack or a dessert that is both satisfying and comforting.
Enjoy them with a glass of milk or a cup of tea for a perfect end to a meal.
Buttermilk Honey Cookies are rolled cookies.
What are rolled cookies?
These cookies are made from a dough that is rolled and spread on the table, then cut into different shapes and baked.
One of the greatest assets of rolled cookies is that they may be cut into any shape or size.
What ingredients do you need?
(For the ingredients and instructions, please scroll to the bottom of the article to get a printable recipe card)
Unsalted butter is best for making cookies. It has a sweet, slightly nutty taste and a firm texture.
The temperature of the butter is very important.
Creaming the butter with sugar requires the butter to be at room temperature. This is very important if you are beating by hand.
This is the most common type of sugar in the US.
If you are out of the US and want to make these cookies, caster sugar is the most frequently used sugar in cookie-making, as it has a finer grain and is ideal for creaming with butter.
Honey adds flavor and moisture and acts as a binding and also browning ingredient in the recipe.
It has a distinct flavor that can add a unique taste to cookies.
Honey also retains moisture in baked goods, so the cookies will be softer and tender, with a chewy texture.
It is important to note that honey can also add extra sweetness to a cookie recipe, so make sure you adjust the amount of sugar in the recipe accordingly.
Adding too much honey can also make the cookies too soft and sticky, so it's important to use it in moderation and measure it correctly.
Large eggs are the standard for baking in the US. Eggs are used to enrich the cookie dough and bind dry ingredients.
They are often included in rolled doughs, like our cookie dough, because they prevent the mixture from spreading too much during baking.
Eggs should also be at room temperature.
Buttermilk is slightly acidic and helps activate the raising agent, in our case, the baking soda.
Most cookie recipes use plain (all-purpose) flour as it has a low gluten content, resulting in a crumbly texture.
Can I replace all-purpose flour with X type of flour?
Theoretically, you can replace all-purpose flour with any other type of flour, but you will have to adjust the rest of the ingredients.
For example, if you choose whole wheat flour, you will have to increase the amount of liquid, as this flour absorbs more liquid.
I did not use gluten-free flour in this recipe, so I am not able to advise you on how to adjust the ingredients.
We already discussed the importance of baking soda in this recipe. It is usually used together with an acidic liquid, like buttermilk.
Make sure you use baking soda and not baking powder, as they are quite different.
We are using ground cinnamon, ground nutmeg, and ground cloves.
Salt brings out the flavor in sweet baked goods, so please do not skip it.
Expert Tip
If you forget to take the butter out of the refrigerator in advance, soften it in the microwave for 10-15 seconds, but keep an eye on it, as butter can go from cold to melted in just a few seconds.
There are more smart ways to soften the butter, and you can find them all here.
How to make these cookies
Step 1. Cream the butter with sugar.
Most cookies start with creaming the butter with sugar.
This can be done with an electric mixer, whisk, or food processor. Use what you have available.
Note:
While you can use a wooden spoon that does a perfectly great job, a mixer will definitely make the process easier and faster.
Use a large mixing bowl. The creamy mixture should look well blended with a fluffy, light texture.
Make sure the butter is at room temperature.
Step 2. Add honey.
Combine honey with the creamed mixture.
Step 3. Beat egg and buttermilk together.
Pour the mixture over the butter and keep mixing.
Step 4. Sift dry ingredients in a large bowl.
Mix flour, baking soda, salt, and spices together and add them slowly to the wet ingredients.
Combine to obtain a smooth dough.
Step 5. Chill the dough.
Wrap the dough in foil or cover the bowl with it and chill for at least 30 minutes.
You will be amazed at how nice this dough will become after being in the fridge for some time.
Step 6. Preheat the oven and line a cookie tray with parchment paper.
Step 7. Shape the cookies.
Roll dough about ¼ inch thick on a lightly floured surface using a rolling pin.
Cut cookies about 2 ½ inch diameter. I used a heart-shaped cookie cutter. Place them on the cookie tray.
Note about baking trays:
Choose good quality baking sheets.
The heavier ones are better, as they won't buckle in high temperatures, distort the shape of the cookies, or develop hot spots, which might cause burning.
Avoid baking sheets that are very dark as they absorb more heat, which means cookies burn more easily.
Dark baking sheets are intended for other kinds of baking, such as bread-baking.
Step 8. Bake the cookies.
These cookies do not need more than 10-12 minutes in the oven.
Because of the honey and spices, these cookies are going to be a little bit darker when they come out of the oven.
After more than 15 minutes in the oven, the cookies will get harder and brown, which is not what these cookies are all about.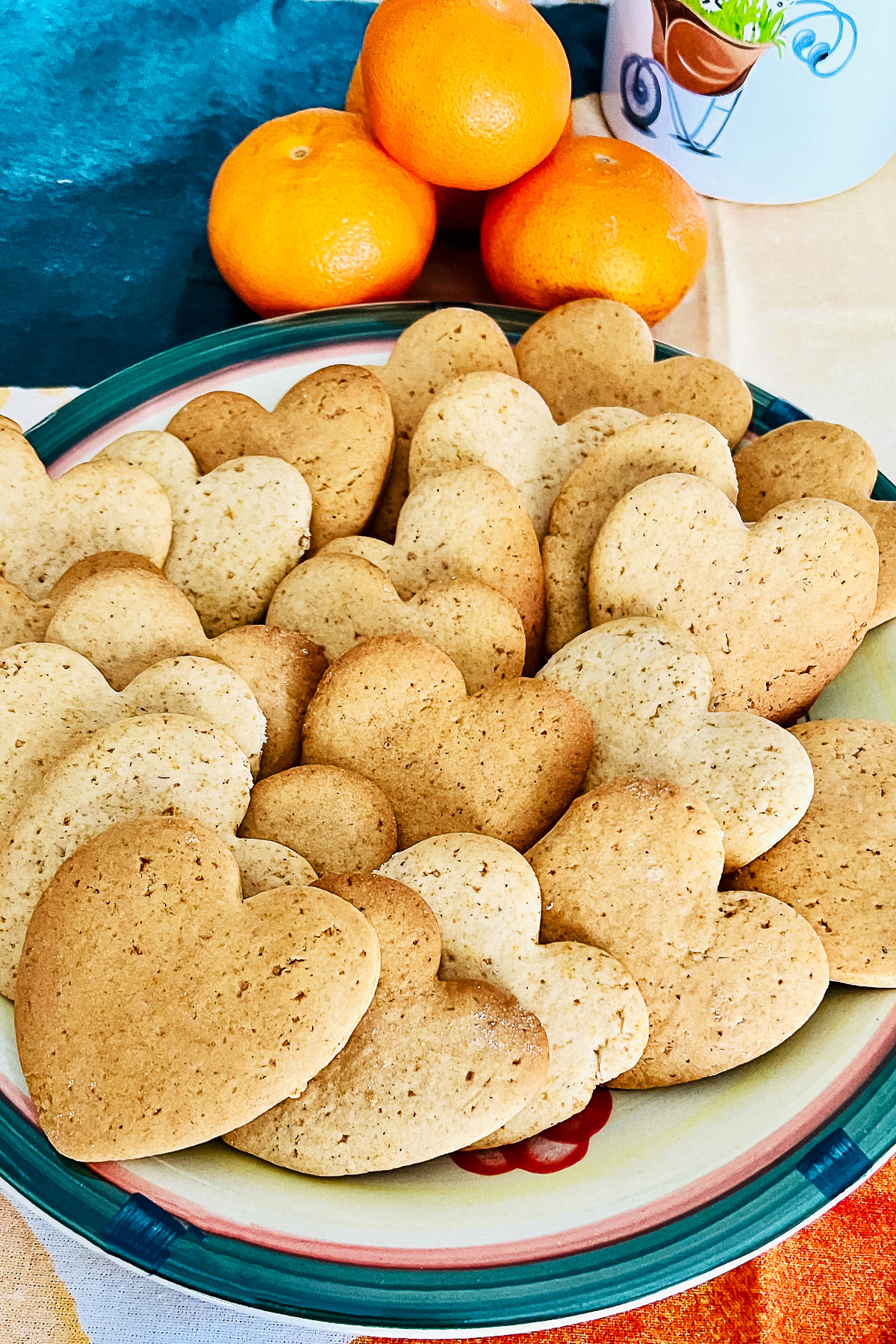 Remove the cookies from the tray and cool them on a wire rack.
How to store
At room temperature: It is essential to keep these cookies sealed in an airtight container.
To restore the texture of the cookies in case they get hard is to add a slice of brown bread to the container. Replace the bread daily. (Grandma's advice).
Frozen: Baked cookies can be frozen successfully.
They should be packed into an airtight container, with waxed paper in between layers.
You can also use a freezer bag, but make sure you freeze them flat, with waxed paper in between the layers.
To thaw, leave the cookies at room temperature for about 30 minutes.
Faqs
The dough is very soft and won't hold its shape.
Cause: It could be too much liquid or fat or too little flour. Maybe the dough has become too warm.
Remedy: Always measure ingredients carefully. Chill the dough for 30 minutes before baking. If it is still too soft, work in a little extra flour.
The cookies are dry and too crisp on top.
Cause: The oven was too hot, or the cookies were baked for too long.
Remedy: If you have concerns about the temperature of your oven, use an oven thermometer. Check cookies a few minutes before the end of baking time.
The cookies are burnt on the base but not on the top.
Cause: Baking too low down in the oven or at too low a temperature might be one problem. The baking sheet may be poor quality, or you may have used salted butter for greasing.
Remedy: Check the oven temperature and bake the cookies on the middle shelf. Avoid thin or very dark baking sheets.
Can I store the cookie dough overnight in the refrigerator or freeze it?
No, as this dough contains baking soda that reacts with the buttermilk.
The chemical reaction between them produces carbon dioxide bubbles that make the cookie rise during baking.
Cookie doughs containing raising agents must therefore be shaped and baked as soon as possible.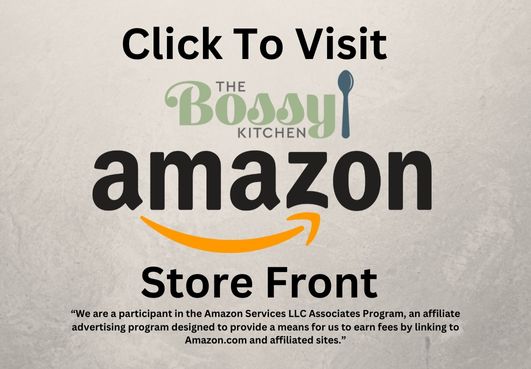 Conclusion: This old recipe is going to be a keeper in my books.
The dough was easy to work with, and the cookies were absolutely delicious.
This is a humble, simple recipe that everyone will enjoy.
Happy baking!
More rolled cookie recipes
Check out the web story for this recipe: Sour Milk (Buttermilk) Honey Cookies
More recipes to love
Tasty Sweet and Savory Buttermilk Recipes
44 Christmas Cookies & Bars From Around The World
Irish Soda Bread (No Yeast Bread)
Easy Oatmeal Peanut Butter Cookies
📖 Recipe
Buttermilk Honey Cookies Recipe
Honey cookies with buttermilk are a unique and delicious treat that combines the sweetness of honey with the tangy flavor of buttermilk. These soft and chewy cookies have a golden brown color and are filled with hints of cinnamon, and nutmeg.
Print
Pin
Share
Grow
Saved!
Rate
Ingredients
⅔

cup

unsalted butter

room temperature

½

cup

granulated sugar

1

cup

honey

1

large egg

½

cup

buttermilk

5

cups

all-purpose flour

1

teaspoon

baking soda

½

teaspoon

cinnamon

½

teaspoon

nutmeg

½

teaspoon

cloves

½

teaspoon

salt
Instructions
Cream butter and sugar together in a large bowl. Use a hand mixer or a whisk.

Beat egg and add it to the buttermilk. Pour the mixture over the butter.

In a different bowl, sift together the dry ingredients: flour, baking soda, cinnamon, nutmeg, cloves, and salt. Combine with the wet ingredients to obtain a smooth dough.

Wrap it in foil and chill for at least 30 minutes.

Preheat oven to 350F. Line a cookie tray with parchment paper.

Roll the dough about ¼ inch thick and cut cookies about 2 ½ inch diameter.

Bake at 350F for about 10-12 minutes. It makes four dozen cookies.
Nutrition
Calories:
103
kcal
|
Carbohydrates:
18
g
|
Protein:
2
g
|
Fat:
3
g
|
Saturated Fat:
2
g
|
Polyunsaturated Fat:
0.2
g
|
Monounsaturated Fat:
1
g
|
Trans Fat:
0.1
g
|
Cholesterol:
10
mg
|
Sodium:
52
mg
|
Potassium:
23
mg
|
Fiber:
0.4
g
|
Sugar:
8
g
|
Vitamin A:
88
IU
|
Vitamin C:
0.04
mg
|
Calcium:
7
mg
|
Iron:
1
mg
Tried this recipe?
Please leave a comment on the blog or like us on Facebook!