Note: "We are a participant in the Amazon Services LLC Associates Program, an affiliate advertising program designed to provide a means for us to earn fees by linking to Amazon.com and affiliated sites."
Rose Petals Butter Cookies are the perfect way to add a little elegance to your holiday cookie platter, or any event in your life when cookies are required. It is a recipe that will bring joy to the ones who will try it. Easy to make, these cookies have hints of rose petals, rose water and butter.
There's something about rosewater that brings an exotic, romantic air to every recipe it touches. To some of us, the fragrance of roses brings also memories of childhood, that are warm and fuzzy.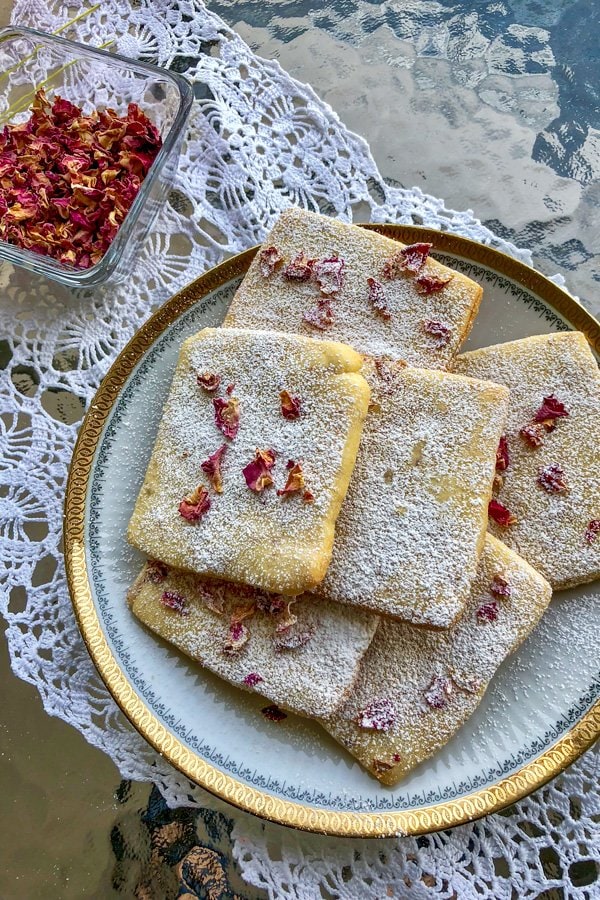 My maternal grandmother had a rose garden and every year she used the roses to make rose petals preserves for the cold season. I grew up with the perfumed rose petal preserves and remember that she used to say that not all roses are the same and not all of them are good for preserves. She knew her stuff!
Grandma Elisabeta is not around anymore, but the memories of her food she used to make for her family are going to stay with me for ever. I also keep a jar of rose petals in the house at all times, just so I can feed once in a while these little memories of her and her rose garden.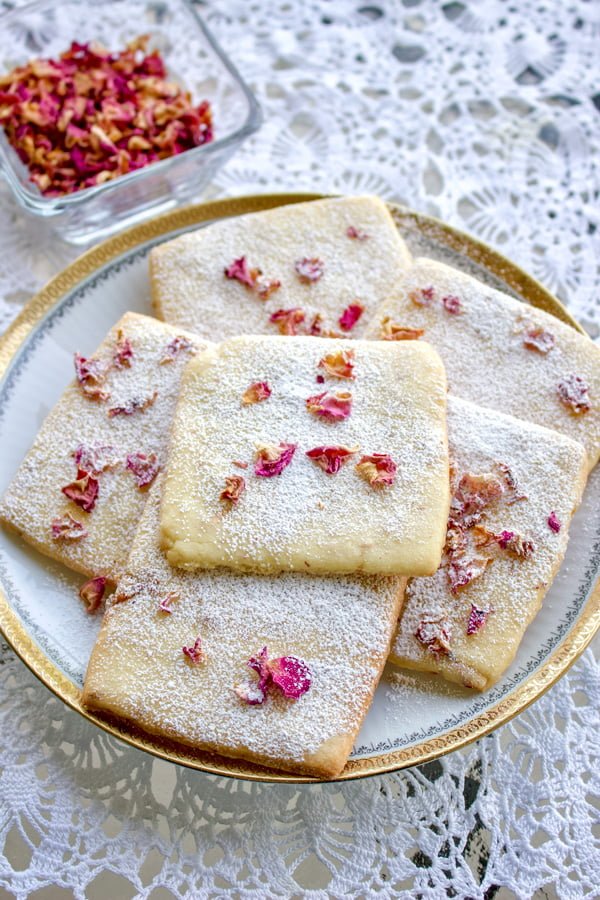 These cookies can be made with either butter or margarine, but to keep the flavor intact, butter is the way to go. I am not a fan of margarine anyway, and I would personally never use it in baking, but I know that many of you out there might choose differently, so I am ok with it. Just don't tell me, please! 🙂
Many cookie recipes require the butter to be very cold when cut into the flour, especially the shortbread cookie ones. This recipe doesn't require that, the butter is room temperature and it is mixed first with the powdered sugar. Not only is this easier, but the recipe takes just few minutes to make and it results in a cookie that is crisp and buttery and holds its shape beautifully.
As a matter of fact, the ones who tasted this recipe told me that the cookies are crisp but also hold their shape really well, which I think it is because of the butter being soft when the recipe is started.
It is also a really, really good cookie and even the ones who cannot recognize the rose petal flavor, will agree that the cookies are at least really tasty.
Rose Water:
Rosewater may seem like an exotic ingredient, but it is quite easy to find in many grocery stores and Middle Eastern shops. If you don't have access to a store that carries it, you can also order it online here.
Rose Petals:
If you cannot find them in grocery stores(hint: I found mine at World Market store, but I know that you might not have one where you live) buy the dried rose petals here.
My love for cookies and herbs is not new. If you like baking with rosemary, thyme or lavender, you can try some of these recipes:
Olive Oil Lemon Cookies With Herbs .
Chocolate Cookies With Earl Grey Ganache
Enjoy!
Rose Petals Butter Cookies
Author:
The Bossy Kitchen
Ingredients
1 cup/150 g powdered sugar
10.5 tablespoons/5.29oz/150 g unsalted butter at room temperature
1 large egg
1 teaspoon rose water
2 cups/250 g all purpose flour
1 teaspoon baking powder
¼ teaspoon salt
1 teaspoon edible rose petals
Instructions
Beat with a hand mixer the butter and the sugar together until smooth and fluffy.
Add the egg and rose water and keep mixing.
Incorporate flour, baking powder, salt and crushed rose petals.
Shape the dough into a ball with your hands, wrap it in plastic foil and refrigerate it for 30 mins.
Meanwhile, preheat the oven at 350F.
Remove the dough from the refrigerator. Using a rolling pin, roll dough to a ½ inch thickness. Cut cookies any shape you want with a cookie cutter.
Re-roll the scraps and continue cutting the dough into cookies until you finish the batch.
Place the cookies on a baking tray and bake them at 350F for 12-14 minutes or until they are golden brown around the edges. They should remain white on top.
Remove from the oven, allow them to cool on the tray for 5 minutes, then place them on a cooling rack. They keep fresh for few days in an air tight container.