Note: "We are a participant in the Amazon Services LLC Associates Program, an affiliate advertising program designed to provide a means for us to earn fees by linking to Amazon.com and affiliated sites."
Sweet cabbage with pork is a recipe I grew up with. Cabbage is a very popular vegetable in Romania and it is used all year around. In the winter, we preserve the cabbage in brine and use it for stuffed cabbage rolls, but in the summer we make salads or simply cook it with meats.
We also make sweet stuffed cabbage rolls, using the blanched sweet cabbage leaves. Cabbage goes really well with pork and my favorite way to make it is with smoked pork. Any part of the pork works, so use what you like. If you like the meat with a little bit of fat on it, like a pork shoulder for example, then use that. For this recipe, pork chops are good too.
HOW TO MAKE SWEET CABBAGE WITH PORK:
Start by preheating the oven to 350F. We will finish the dish in the oven after we cook it for a while on the stove-top. Make sure you use an oven safe pot/pan since it will be used on both surfaces.
My grandmother used lard for this dish, so if you are brave enough and lard doesn't scare you, feel free to use it. It is delicious. Heat up the oil or lard in a large pan, on medium heat.
Add the bite sized chopped meat and brown it on all sides. Chop the onion and add it to the meat. Sauté the onion until it becomes translucent.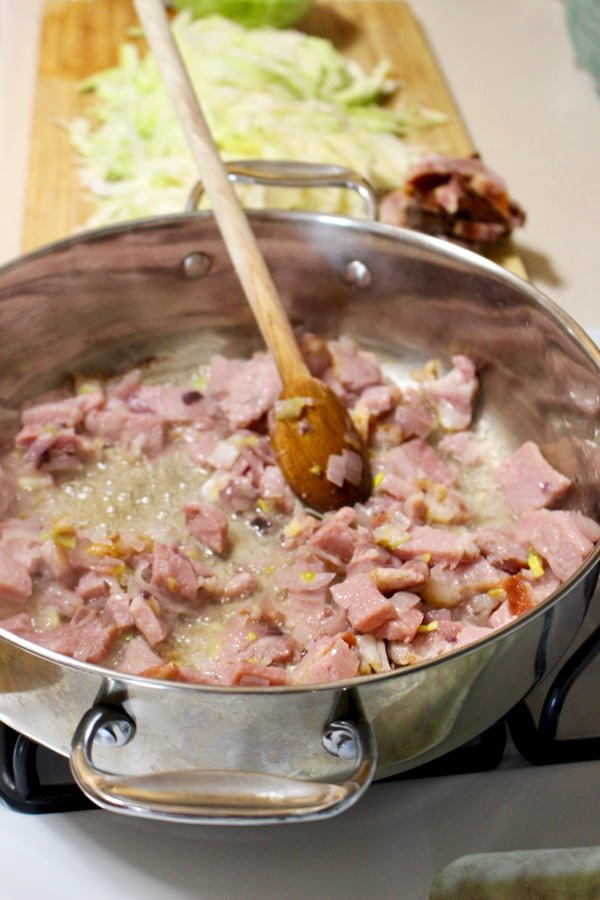 Add the shredded cabbage and stir well. Cabbage contains lots of water and takes a lot of space at the beginning of the cooking process, therefore you need a big pan.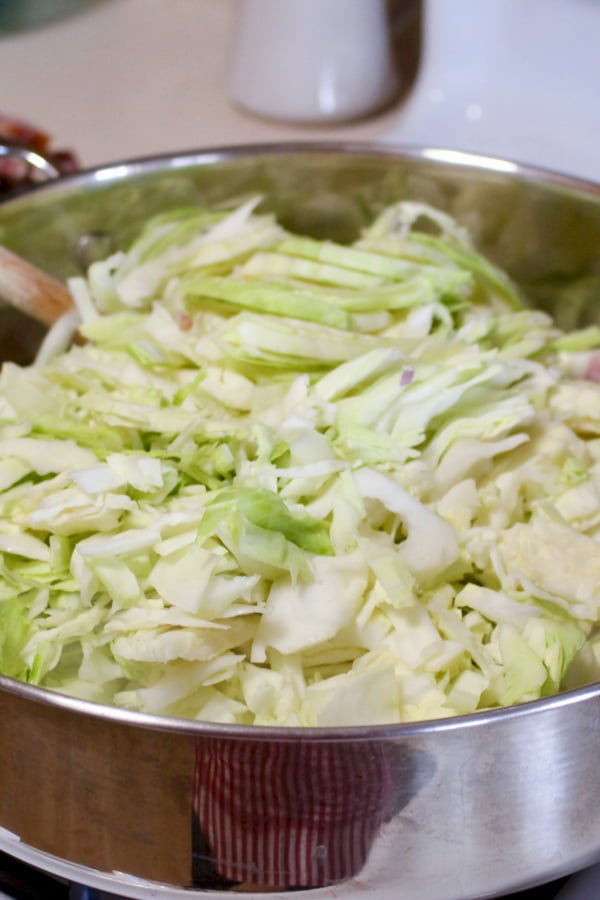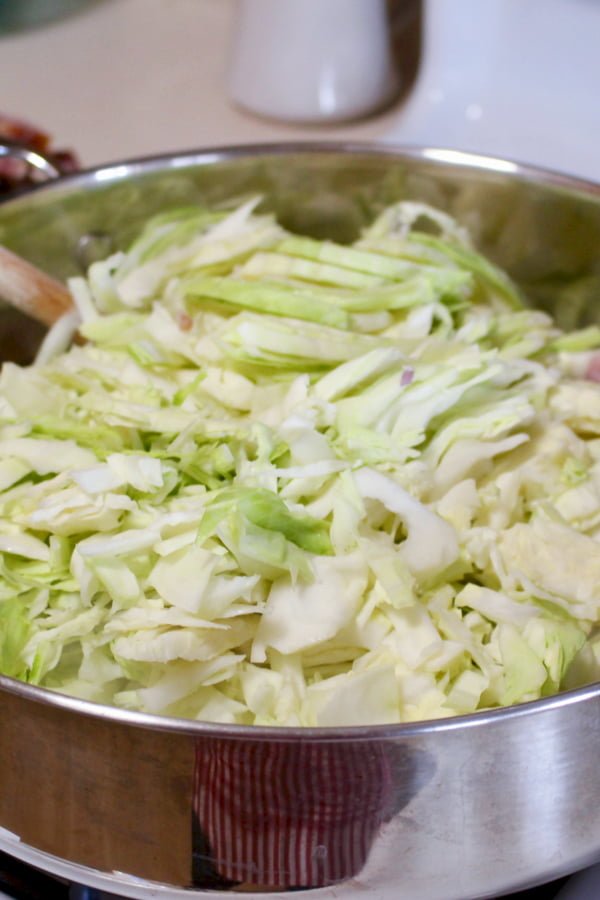 After the cabbage loses some volume add a little bit of water, tomato sauce, thyme and bay leaves. Then, add salt and pepper to taste.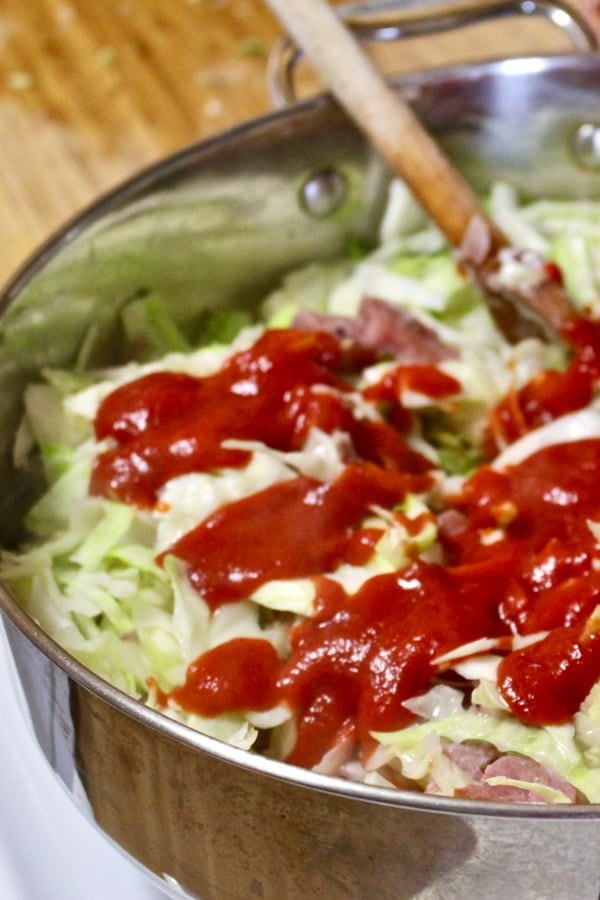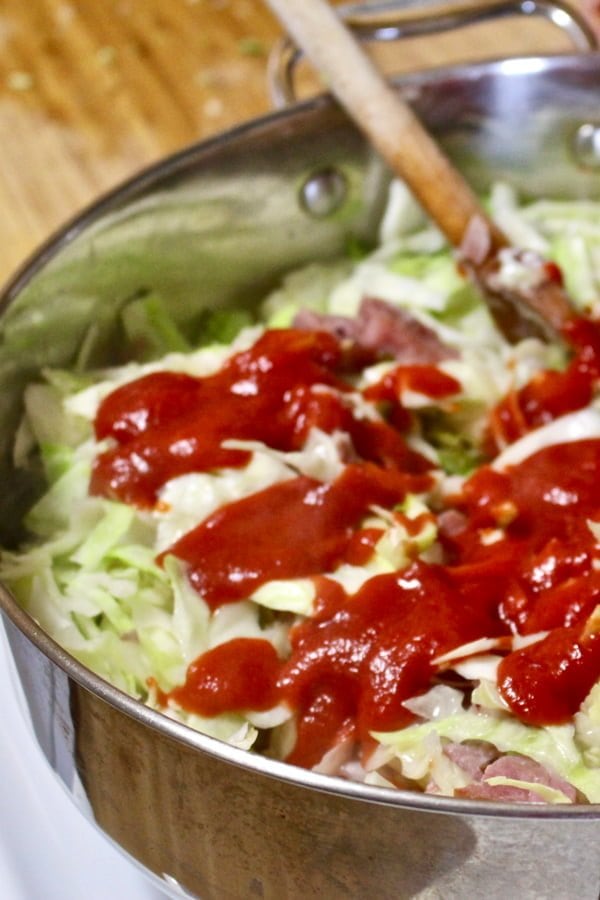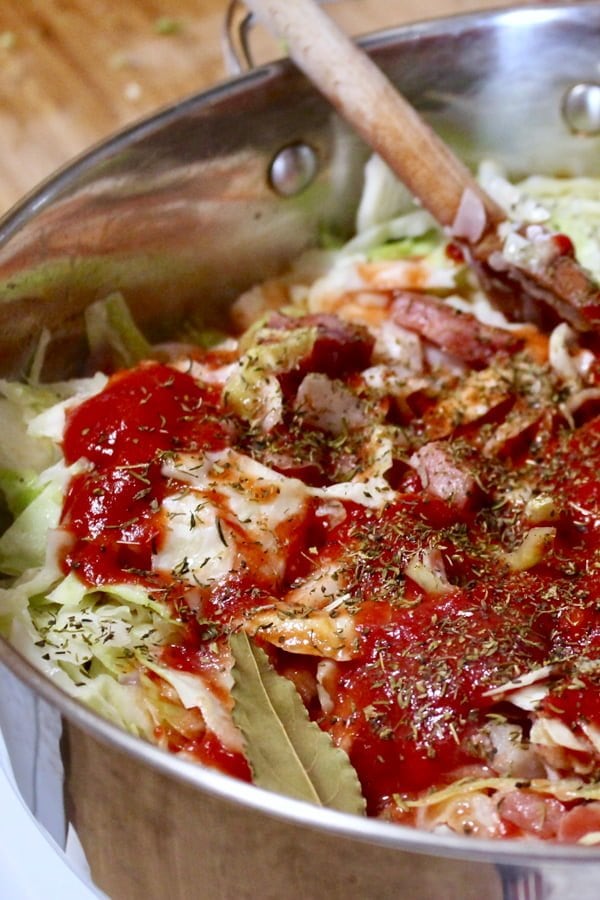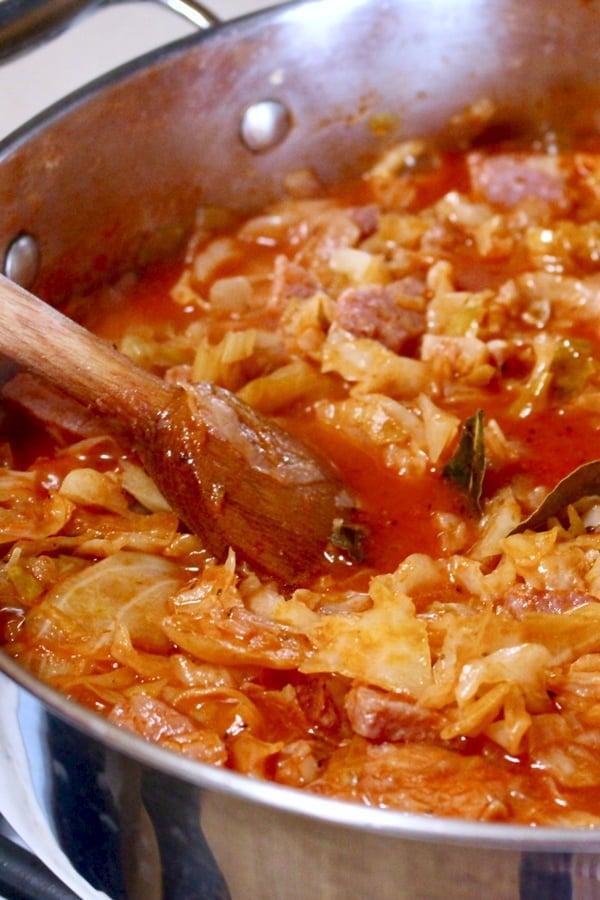 Let it all simmer on medium heat on the stove until the meat is cooked and the cabbage is soft. Place the pan in the oven and forget about it for about 45 minutes to an hour. The goal is to reduce the liquid in the pan and also caramelize the surface of your cabbage a little bit.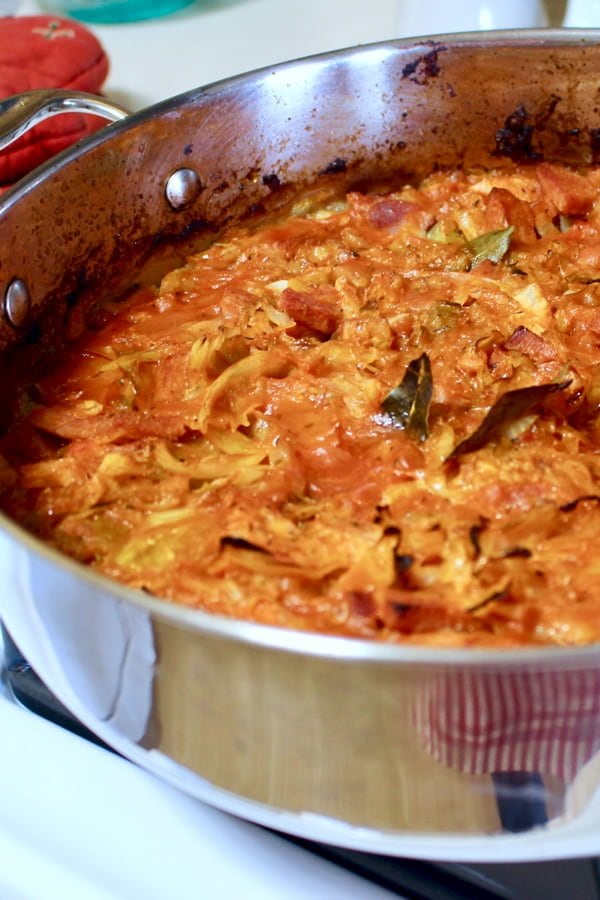 It will make your house smell so good and if your family is anything like mine, you will see them emerge from their respective rooms wondering around the oven trying to see what you are cooking.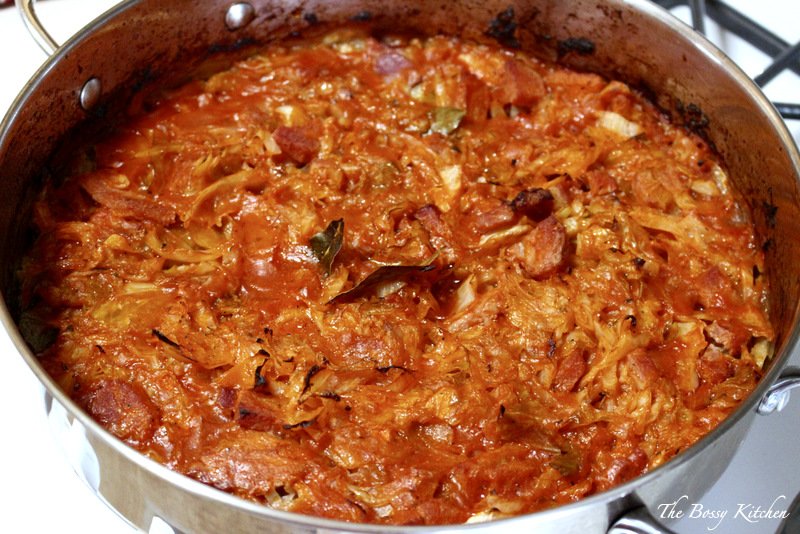 Serve it with crusty bread, hot peppers if you like and some sour cream. My family LOVES to put sour cream on it because it gives it more of a creamy and sour flavor.
It does feed a crowd. We always make more, because we love to pack the leftovers for work the next day. It is perfect for a Sunday meal in the family! Nothing better than sweet cabbage with pork and if you use some smoked meat, you will really fall in love with it!
Enjoy!
If you make the recipe, share it with the hashtag

#thebossykitchen on Instagram, 

Facebook

 and Twitter 

so we can all see what you're cooking!

If you like cabbage, you might like also this recipe of Cabbage Puff Pastry Triangles.


Sweet Cabbage With Pork

Author:

The Bossy Kitchen

Ingredients
16 oz pork meat
1 large onion chopped
1 medium cabbage shredded
2 bay leaves
½ tsp thyme
3-4 Tbsp vegetable oil or lard
salt and pepper to taste
4-5 Tbsp tomato sauce
1 cup water
Optional:
crusty bread
sour cream
hot peppers
Instructions
Preheat oven to 350F.
Heat the oil or the lard in an oven safe pan on the stove top on medium heat.
Add the bite sized chopped meat and brown it.
Then, chop the onion and add it to the pan. Saute it until translucent stirring frequently.
Add the shredded cabbage and stir well.
After the cabbage loses some volume add a little bit of water, tomato sauce, thyme and bay leaves. Then you can add salt and pepper to your taste.
Let it simmer on medium heat on the stove until the meat is cooked and the cabbage soft.
Place the pan in the oven and bake at 350F for 45-60 minutes.
Remove when the sauce is reduced to half and the cabbage is caramelized on top.
Serve it with crusty bread, with sour cream on top and hot peppers, if you would like