This Red Cabbage with Pork and Red Currant Jelly Recipe can be made year-round, and it is a great choice for those days when you just want to make a quick, easy, and nutritious meal.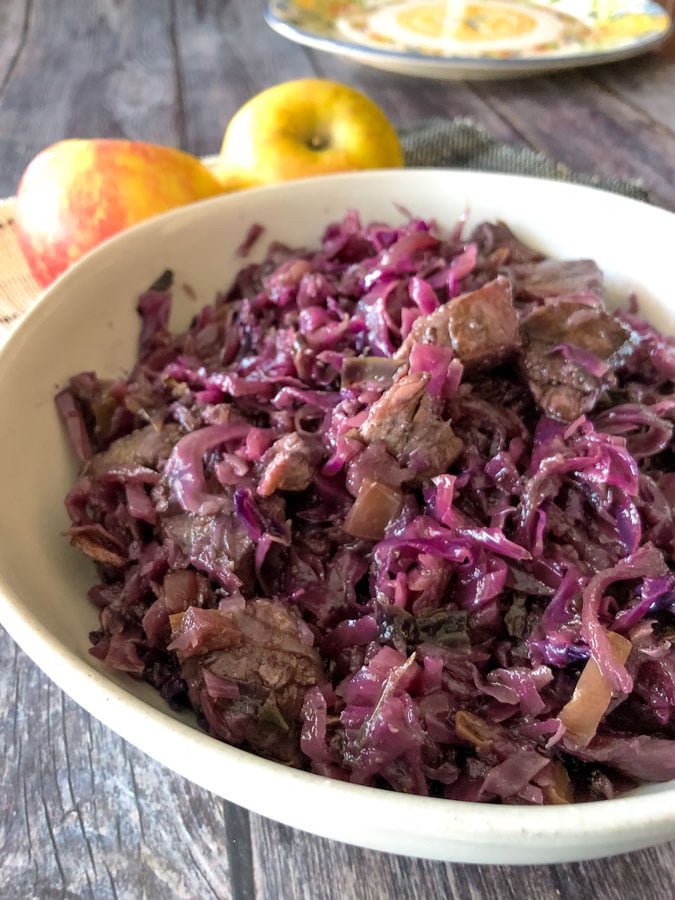 Celtic red cabbage with pork and red currant jelly is one of my family's favorite meals.
I originally saw this recipe in the Celtic Folklore Cooking book that I personally found it very interesting. The author gathered her recipes from her various trips to the British Isles, where she searched for people who still cook in the Celtic tradition.
Jump to:
What is the Celtic Cuisine?
Celtic Cuisine is the cuisine of six European territories: Brittany, Cornwall, Wales, Scotland, Ireland, and the Isle Of Man. Celtic cooking is a wholesome cuisine, simple and tasty, that reflects the quality of the ingredients in the region, from fresh meats, seafood, dairy, fruit, and vegetables to awesome bread.
I feel comfortable cooking Romanian food for my family, but I also try to learn about other cultures and cook dishes that change my family's flavor palate.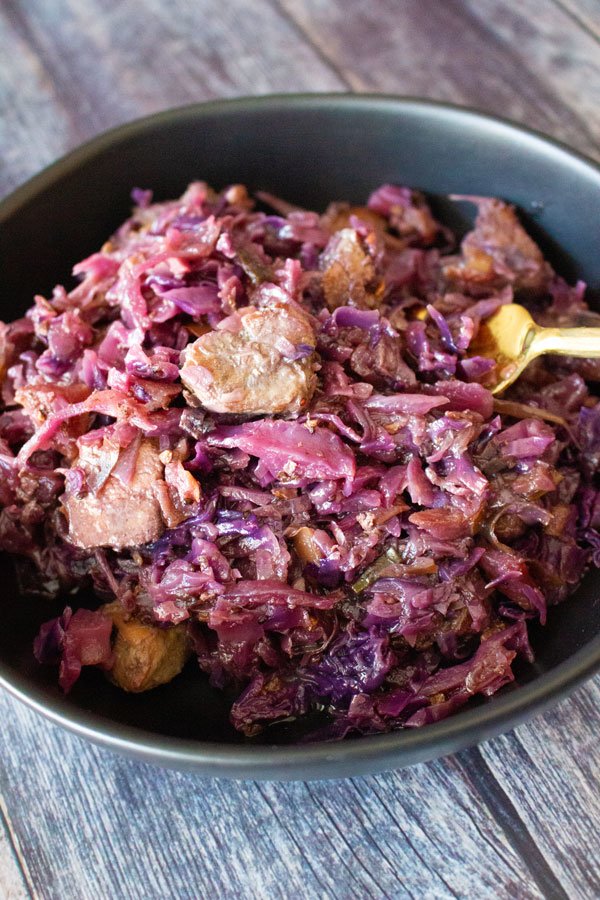 Now, I have a confession to make.
While I do try to expose my family to different flavors, truthfully, one of the reasons why I even found this book is because I was watching Outlander show with my husband, and instead of being transfixed by the love story and the adventures of Claire and Jamie, I was trying to figure out what people in the 18th century were eating.
Once a food blogger, always a food blogger, I guess. So once the episode ended and my husband was grabbing a snack, I started searching for books about Scottish cooking and came across this book.
I recommend just even checking it out at the local library and getting some ideas because it is worth it.
Why You Will Like This Recipe
I liked the recipe so much that now I make this red cabbage often with pork or without because it's cheap and easy to make.
With a small red cabbage, a couple of apples, an onion, and some meat plus some spices and the wonderful red currant jelly (David Lebovitz has a wonderful article if you are interested in how to make this amazing jam), you have yourself one easy dish.
These are all things that I have in the kitchen regularly. In my house, we also try to eat Sweet Cabbage with Pork quite often because, again, it is easy to make and pack for lunch.
This red cabbage with pork recipe is different than the Romanian version we usually make for dinner in the house because it has the red currant jelly that you add to the dish towards the end.
It gives it an interesting tangy flavor that I have never had in a cabbage dish before. Also, the red cabbage just has a different, dare I say sweeter flavor when cooked than its sibling, the regular white cabbage.
The combination might sound unusual, but it works and is absolutely delicious.
My husband is a carnivore, and any time I cook something, he looks to see if there is meat in it. In this house, we could never be vegetarians because we think pork is the best vegetable you can have. (yeah, we are that bad!)
We try to eat as many vegetables as possible, but I always try to have some sort of meat either in the dish itself or on the side. This recipe was no exception.
According to the book, the traditional Celtic way to make this Red Cabbage dish is without any meat, but since I knew my husband would ask about the protein before he even took a bite of this flavorful dish, I added some pork.
You can skip the meat if you would like, but I think chunks of pork or beef go well and give it another flavor dimension that it did not have before. Just make sure you cook the meat longer than the cabbage because they have different cooking times.
This dish is also great with roasted duck or goose, especially around holidays if you feel fancy.
Cabbage has been a key part of Celtic food for a long time. They used it in salads, either raw or cooked, because they understood it was a healthy vegetable that helped keep them well.
Legends say that cabbage is the first vegetable a newly married couple would plant in their garden for health and prosperity.
It is high in vitamin C, which makes it great for the colder season when other fruits and veggies are not available. (Have you tried my red cabbage salad?)
How to make this recipe
Since I made my recipe with meat and the cooking times are different, I started by cutting the pork meat into smaller chunks, just big enough for a bite, and threw it in a pan where I had already warmed up some olive oil.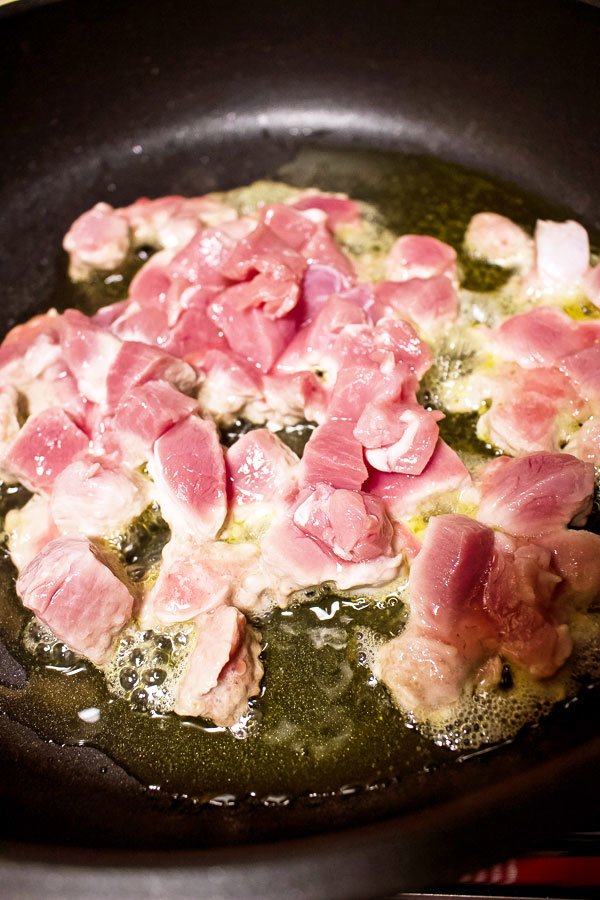 While it was sautéing, I started chopping the onions and slicing the cabbage and apples very finely.
Let me stop here and tell you that the way you cut your cabbage is perfect for this recipe. Some people use a mandoline slicer. Others cut big chunks and then figure out a way to make them into smaller chunks. You cut it the best way you can. there is no wrong way.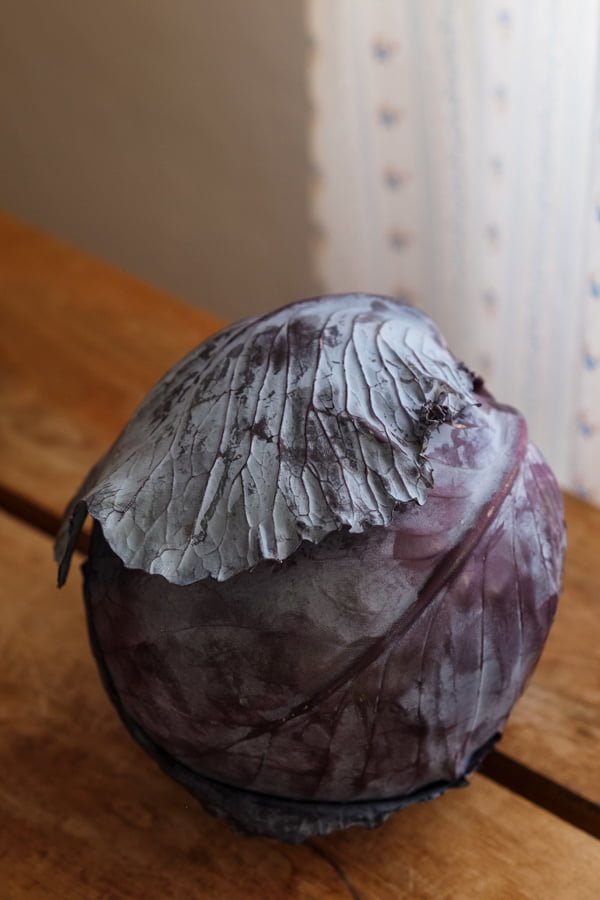 I learned to slice cabbage from my mom. I cut it in half, then cut out the core, and then put the cabbage the flat side down and thinly slice it with a knife like I would with an onion.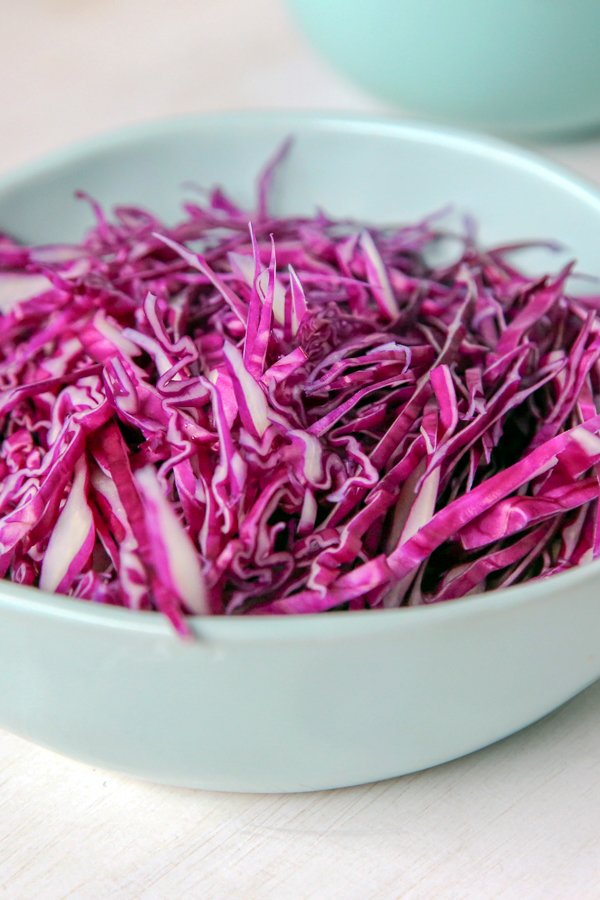 However, everyone slices things differently, and cooking is about what makes you feel good, not about what looks the best.
Once the meat is cooked, I throw the onions in the pan and cook them until they're softened, not browned. Once the onion is softened, I add the cabbage and apples into the pan.
Don't worry if it looks like the cabbage is overflowing. Once it softens up, it will cook down, and the pan will not be as full.
Once you have been able to stir the cabbage with the apples, onions, and meat, and the cabbage is a little softer, add the red currant jelly and the apple cider vinegar.
The original recipe asks for gooseberry vinegar, but I did not have any, so I just added the cider vinegar. I promise it will not change the flavor, and you will still have a tasty dish.
Bring the mixture to a boil and stir until all jelly dissolves. Cover the pot and simmer for about 45 minutes to an hour until the cabbage is soft. Be gentle with the mixture, and don't let it stick to the bottom.
You will know when it's done because the cabbage will be tender, and all of the liquid will be mostly gone.
How to serve
When I made it the other day, I served it by itself, but you could serve it with some crusty bread (like my No Knead Bread recipe) and a glass of red wine.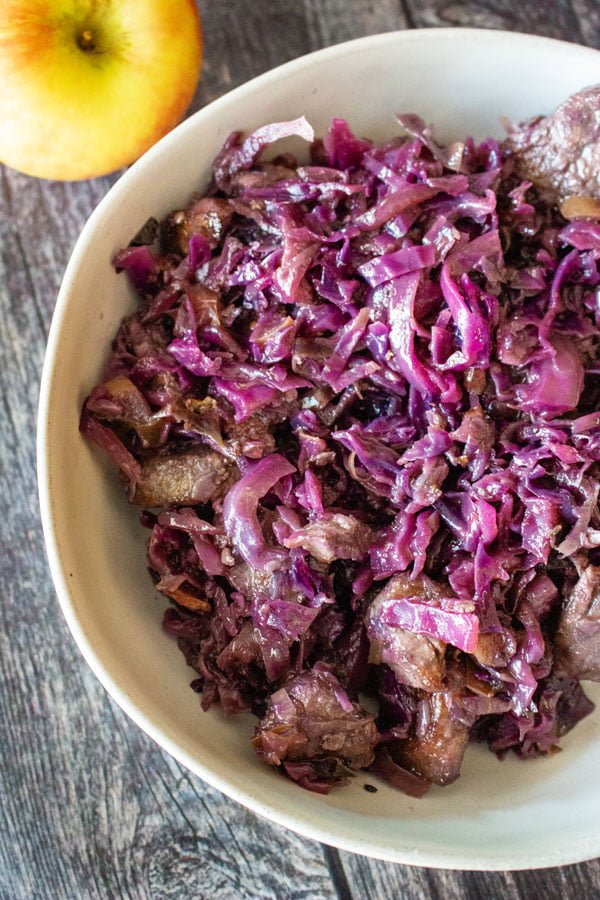 The Celtic Red Cabbage with pork and red currant jelly is also great as a leftover meal. Make it on a Sunday night before you watch Outlander or your favorite show, and pack it for lunch for the next few days.
It keeps well in the fridge for up to 3 days, but you can also freeze it for later use. It is good for up to a month in the freezer.
You'll make all of your coworkers ask what that wonderful aroma is, and you can boast about your culinary skills. It is such an easy meal, but the results look like you're eating a gourmet meal.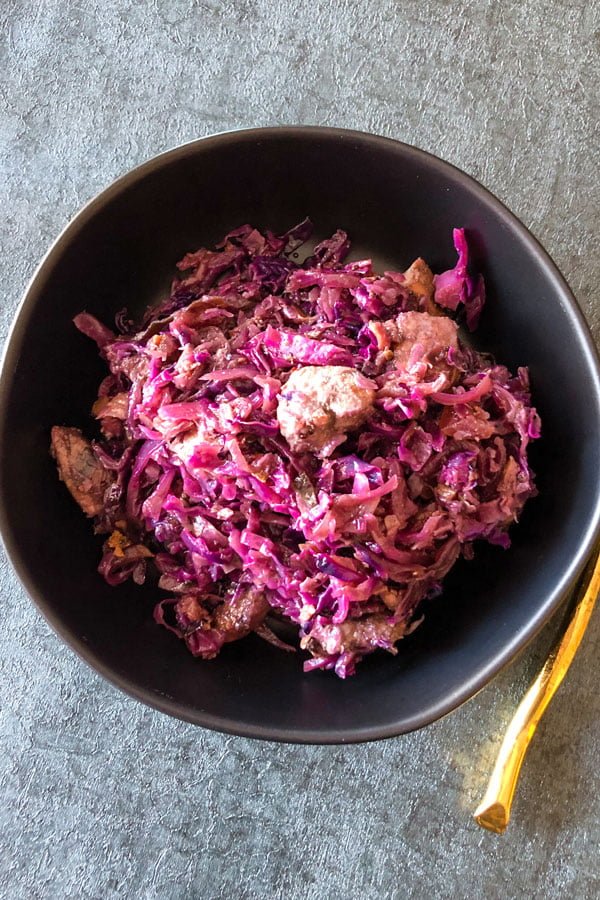 With the sweetness of the apples and red cabbage, the tanginess of the red currant jelly, and the subtle flavor of the vinegar, this dish looks and tastes like a million bucks, but it only costs a few dollars to make.
Without the meat, it could also be a wonderful side dish next to the turkey, goose, or duck for Thanksgiving or Christmas.
Enjoy the dish, and let me know if you make it! I'd love to hear from you!
More recipes to love
Easy Apple Pie Bars (Slab Pie Recipe)
Authentic Romanian Sauerkraut Stuffed Cabbage Rolls
📖 Recipe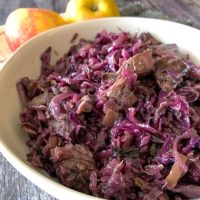 Celtic Red Cabbage With Pork And Red Currant Jelly
Celtic Red Cabbage With Pork And Red Currant Jelly is an easy-to-make dish that can be enjoyed year-round, but it is especially good during the cold season.
Print
Pin
Share
Grow
Saved!
Ingredients
2

tablespoons

oil or butter

16

ounces

pork loin or pork shoulder

cubed

1

medium onion

peeled and chopped

1

small red cabbage

2

medium apples

1

tablespoon

red currant jelly

2

tablespoons

cider vinegar

¼

teaspoon

allspice

salt and pepper to taste
Instructions
Heat the oil or butter in a large pan on medium heat. Add the bite-sized chopped meat and brown it on all sides.

Chop the onion and add it to the meat. Sauté the onion until it becomes translucent. Stir once in a while.

Shred the red cabbage, peel and slice the apples and add both to the onion.

Add the vinegar, allspice, salt, and pepper.

Bring the whole mixture to a boil. Add the red currant jelly and stir until the jelly dissolves.

Cover and simmer gently for about 45 minutes until the cabbage is tender. If it needs a little more time, continue cooking until the cabbage is soft.
Nutrition
Serving:
1
g
|
Calories:
351
kcal
|
Carbohydrates:
34
g
|
Protein:
29
g
|
Fat:
12
g
|
Saturated Fat:
2
g
|
Polyunsaturated Fat:
3
g
|
Monounsaturated Fat:
6
g
|
Trans Fat:
0.03
g
|
Cholesterol:
71
mg
|
Sodium:
116
mg
|
Potassium:
1082
mg
|
Fiber:
7
g
|
Sugar:
21
g
|
Vitamin A:
2391
IU
|
Vitamin C:
126
mg
|
Calcium:
114
mg
|
Iron:
3
mg
Tried this recipe?
Please leave a comment on the blog or like us on Facebook!