Greek Lemon Chicken Soup aka Avgolemono, is Greece's one of the most popular soups. The name means egg and lemon, the two most important ingredients which produce a light, nourishing soup.
The traditional ingredient that helps to thicken the soup besides eggs is orzo, a small pasta shaped like rice, but you can also use any small soup pasta or even rice.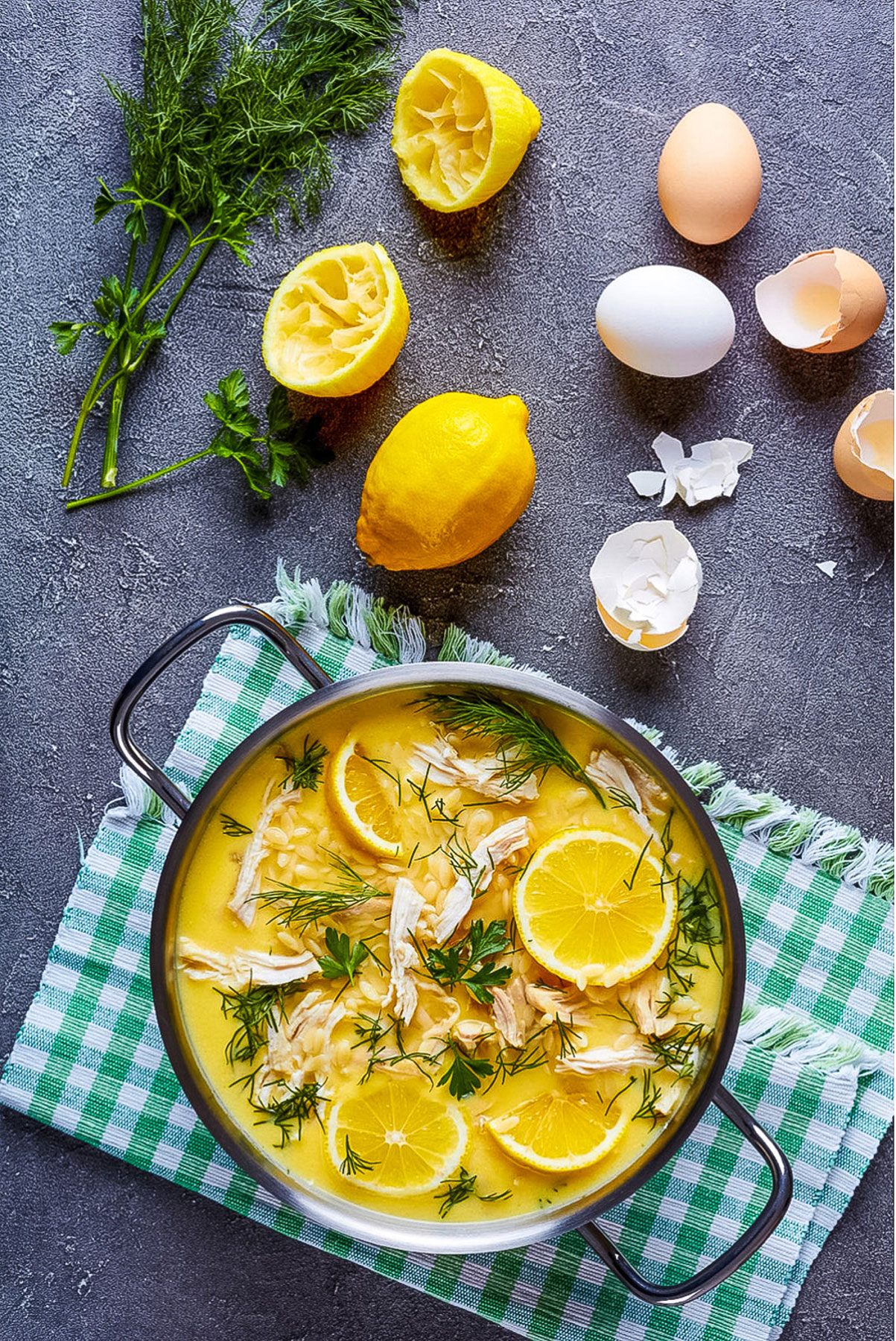 Jump to:
Comforting Soup
Known as avgolemono, this hearty soup is thick, silky, comforting, and nutritious. It could be considered Greece's version of chicken noodle soup that we all love and make when we are ill or during the cold season.
Trivia: Did you know that avgolemono is also a sauce? It is a frothy, light lemon mixture that is a version of the classic recipe we will make today. It is served with oily fish, such as sardines, with chicken, pasta, meatballs, or with a medley of roasted Mediterranean vegetables.
How to make this soup? What kind of ingredients do we need? Can we make it easier, so we can eat soup in less than an hour?
All these questions will find an answer in this article. My recipe is an easy-to-make soup using rotisserie chicken and chicken broth.
Cooking with lemons
Lemons are among the most versatile and useful ingredients, providing flavor, aroma, color, and liveliness to a vast range of dishes. In savory recipes, lemons and limes are classic flavoring agents for all sorts of soups, fish dishes, meats, and salads.
In sweet dishes, lemons add a wonderful, refreshing touch and are found in all kinds of recipes, from ice creams, and cheesecakes to puddings, cakes, and bread.
Recipes using lemons
Lemon Rosemary Roasted Chicken With Potatoes And Red Onion
Spanish Lemon Garlic Mushrooms
Cream cheese lemon coconut cake
Old Fashioned Lemon Bread With Lemon Syrup
Coconut-Almond Lemon Bars Recipe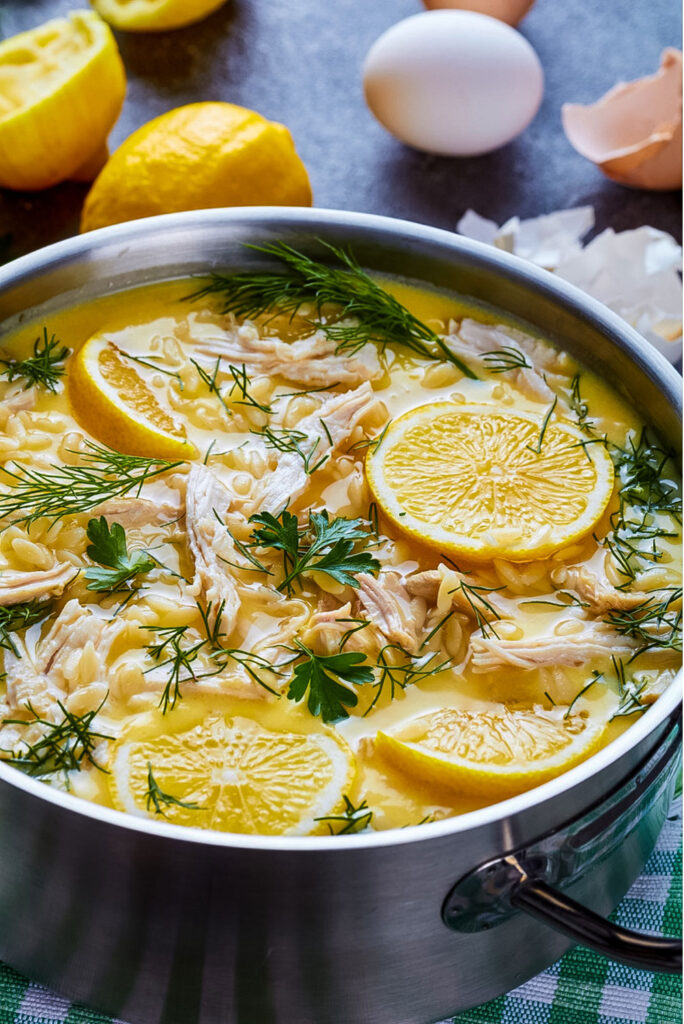 Ingredients
If you want to make this soup from scratch, it would require about two hours, as you have to cook the chicken and vegetables first.
Do you want to serve this soup in less than an hour? Stay with me. I will teach you how to make the recipe using already-cooked chicken and a shortcut to happiness: chicken stock!
Make sure you read the recipe card at the bottom of this article for the ingredient amounts you will need for the recipe. This is just a summary list of what you need.
Shopping list:
Chicken Stock- I used low-sodium chicken stock. You can definitely use regular stock. I like controlling the salt in my food, so I went with the low-sodium one.
Cooked Chicken - Roasted chicken is perfect for this recipe, or leftover cooked chicken if you have any. Otherwise, the recipe will take a little more time, as you will have to cook the chicken in the soup first.
Orzo pasta - this pasta is a rice-shaped pasta, great in many recipes, like mixed with veggies for a salad. If you do not have orzo pasta, no big deal, use any small soup, pasta, or even rice.
Eggs
Lemons
What about rice? Can I use it? I don't have orzo or small pasta.
If you use rice, use a starchy type, like Arborio, for example, the grain is small, round, and sticky, which helps the soup get thicker. If you do not have Arborio rice, any regular rice will be good.
Keep in mind that I never experimented with wild rice, brown rice, parboiled rice, or instant rice(which I totally do not recommend); therefore, I cannot advise using these types of rice in the recipe.
How to make this avgolemono lemon chicken soup
Keep in mind that this is a summary of the instructions. For more info, please go to the recipe card.
Step 1.
Grab a large soup pot (affiliate link). Combine chicken broth and water. On high heat, bring the liquid to a boil. Add the orzo and cook until al dente, according to the package.
Step 2.
Shred the cooked chicken with two forks. Set it aside.
In a large bowl, beat the eggs until smooth. Cut about 2 medium-sized lemons and squeeze the juice out of them.
Gradually whisk in the lemon juice until incorporated. Slowly whisk the hot broth into the eggs. This is called tempering the eggs.
It might sound like a fancy term for messing with eggs and hot liquids, but tempering eggs actually means that we slowly warm the eggs before introducing them to a recipe so they mix smoothly without curdling.
Make sure you pour the hot soup over the eggs and not the other way around. Some people usually ignore the instructions. They are in a hurry and dump the eggs into the soup. If you do this, you will end up with curdled eggs in your soup.
The soup is still edible(please don't throw it out), but it will look unpleasant. Also, you will not obtain that creamy, silky soup but a sad state of affairs that doesn't have anything to do with what we are trying to achieve here.
Step 3:
Gradually stir the egg mixture into the remaining broth. This is the time to add the shredded chicken. Cook on low heat for just a couple of minutes, until thickened, stirring occasionally.
Taste for salt and pepper. If you used regular chicken broth, you might not need extra salt. Use your common sense on this one because every chicken stock brand is different.
Step 4:
Serve hot. For extra flavor, use thinly sliced lemons to garnish the soup. Also, you can sprinkle chopped dill or parsley on top.
Can I freeze this soup?
Keep the leftovers in the refrigerator for up to two days. I never put this soup in the freezer, but it should not be a problem. Frozen soups are good for up to three months. Make sure you label the container and date it.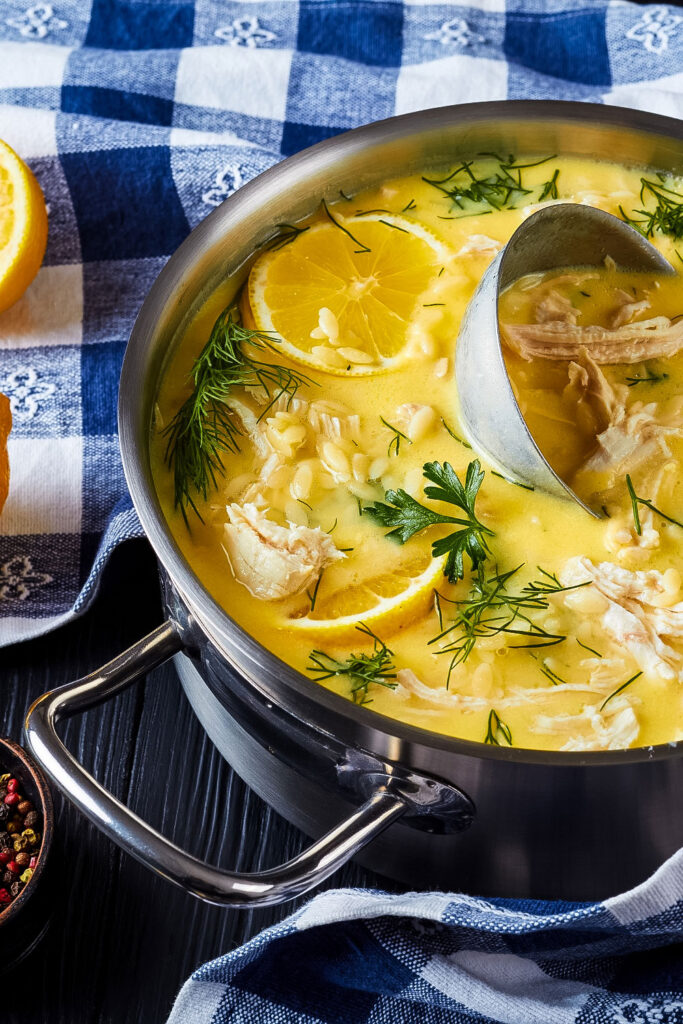 Reheat the soup on the stove on low heat, and do not bring it to a boil as the texture of the soup will change.
More recipes to love
Chicken Soup With Sour Cream And Garlic
Cheesy Chorizo and Tomato Baked Pasta
📖 Recipe
Greek Lemon Chicken Soup (Avgolemono Soup)
Known as avgolemono, this hearty Greek soup uses eggs to thicken the broth. Chicken and orzo(or rice) make it a satisfying meal.
Print
Pin
Rate
Ingredients
1

cup

water

6

cups

low sodium chicken broth

1

cup

uncooked orzo

or rice

4

large eggs

¼

cup

lemon juice

4

cups

shredded cooked chicken

Lemon slices

Chopped dill or parsley for garnish
Instructions
In a large soup pot, combine the broth and water. Cover and bring it to a boil on high heat.

Add the orzo and cook al dente according to package directions, stirring occasionally. Reduce heat to low.

Meanwhile, in a large bowl, beat the eggs until smooth. Gradually whisk in the lemon juice until incorporated. Slowly whisk ⅓ cup of the hot broth into eggs.

Slowly stir egg mixture into remaining broth. Add the shredded chicken. Cook 2-3 minutes, until thickened, stirring occasionally. Season with salt and pepper if necessary.

For extra flavor, garnish with thin lemon slices and chopped fresh dill or dried dill.

Serve hot.
Nutrition
Serving:
1
g
|
Calories:
331
kcal
|
Carbohydrates:
22
g
|
Protein:
35
g
|
Fat:
11
g
|
Saturated Fat:
3
g
|
Polyunsaturated Fat:
2
g
|
Monounsaturated Fat:
4
g
|
Trans Fat:
0.01
g
|
Cholesterol:
179
mg
|
Sodium:
186
mg
|
Potassium:
523
mg
|
Fiber:
1
g
|
Sugar:
1
g
|
Vitamin A:
197
IU
|
Vitamin C:
4
mg
|
Calcium:
44
mg
|
Iron:
2
mg