This recipe of Moroccan Chicken with Figs And Couscous is a beautiful recipe that can be made any day of the week, but it could also be a wonderful dish to serve when you have company.
Healthy and delicious, the recipe is loaded with spices that bring a lot of flavor to the dish.
Pin this for later:
Jump to:
Why You Should Try This Recipe
I love how easy it is to make this recipe. In less than an hour you could have a wonderful meal on the table that everyone will enjoy.
I am excited to share with you this recipe today, because I love to take you once in a while on a trip around the world without having to buy a plane ticket.
Trying a new recipe from a different cuisine is something I am passionate about, so today, let's open that spice cabinet in your kitchen and turn these pieces of chicken into an inspired ethnic dinner in just few minutes.
We are going to Morocco tonight.
Spices
This recipe uses lots of spices and I have to tell you that I did not go shopping for ingredients before I made this chicken dish.
I love spices, therefore, over the years, I was able to build a spice cabinet with everything you might think of.
I use these spices regularly in cooking and also baking, so it makes sense for me to have them around.
I truly believe that every household should have a basic spice cabinet with some of the most used spices.
Read here about what I have in the pantry, so you can get an idea about what I am talking about.
Figs
I also used dried figs. This remarkable fruit has been important to the Mediterranean region from early days.
The fresh fruits are wonderful in many recipes, but majority of figs, however, in the Moroccan cuisine, are consumed dried.
They are available almost everywhere in Unites States. I personally buy dried figs at Trader Joe's.
We have a store close to us and to tell you the truth it is my favorite place to shop for groceries.
However, dried figs are great to also have in the pantry.
They can calm down a sweet tooth, they are rich in fiber, potassium, magnesium and also iron. Overall, they are good for you, at least in my book.
I served this dish with couscous.
What exactly is couscous?
Couscous is a type of pasta that is used in many cuisines around the world. It is made with coarse semolina grains and durum wheat flour.
Semolina grains are sprinkled with lightly salted water and rolled with flour to form tiny pellets.
This is still done by hand by many cooks, but these days machines are used.
There are two different types of couscous that you can find in regular grocery stores in America, the Israeli couscous or the pearl couscous, and the regular couscous which is very small in size.
Each type is cooked differently, so I suggest you follow the instructions on the box.
It takes only few minutes to cook, so it is perfect when you want to put dinner on the table right away.
For this recipe, I used regular couscous which seems to be close to the couscous they use in Morocco. Perfect for this dish!
What spices are traditional for Moroccan food?
The most important spices of Morocco food are:
cinnamon
cumin
saffron
paprika(usually the sweet Spanish mild or the sweet Hungarian one are the most popular)
turmeric
black pepper
cayenne pepper
ginger
In this dish I used at least 4 of the traditional ones: cinnamon, cumin, paprika and ginger.
Doing some research about the spices used in the Moroccan cuisine, I found out that only dried ginger is used in their cooking, never fresh.
Do not use more than the recipe tells you to use, as too much dried ginger can bring a bitter taste to the entire dish.
Pretty cool, right?
How To Serve this dish
This chicken can be served as a regular dinner, but I think it is a handsome option for entertaining also.
You can make the chicken with some time in advance and reheat it, but you will need to make the couscous fresh, before you serve it.
Serve everything on a big platter, placing the couscous as a bed for the chicken and sauce. Make a simple salad and serve it with your favorite white wine. Delish!
What kind of chicken parts to use
I would say that you can use any chicken parts you like. I used boneless chicken thighs this time.
I think they cook fast and are also the most flavorful part of the chicken. You can calculate about 2 chicken thighs per adult.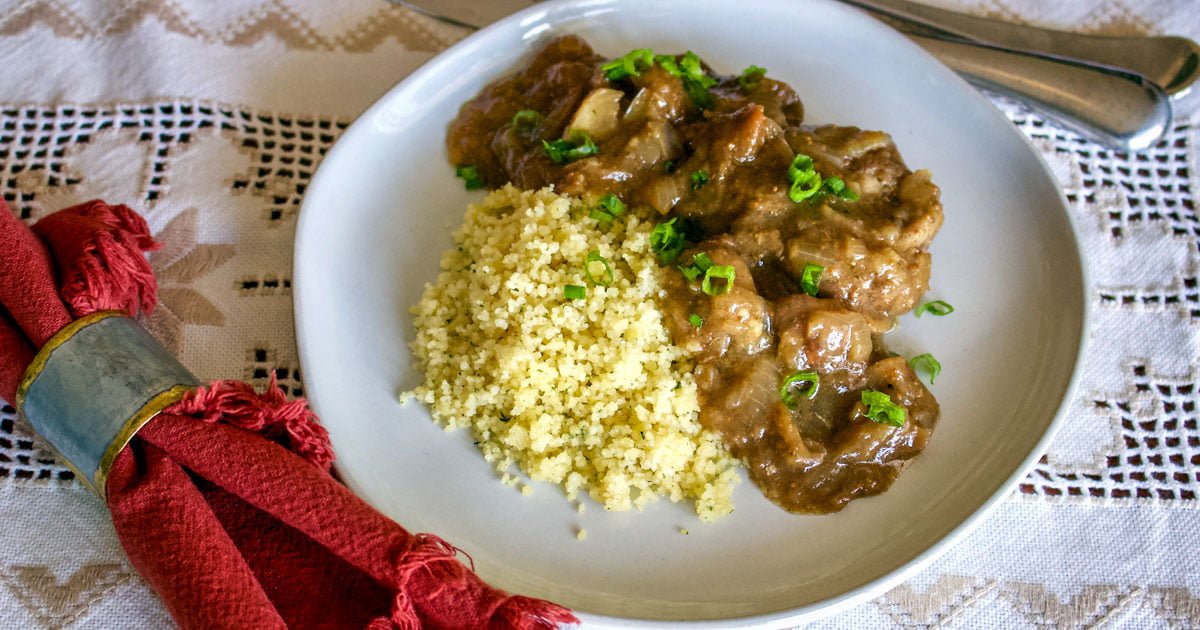 Are you going to make this recipe? You will love it, I guarantee!
If you liked the spices in this dish, you might also like this Moroccan soup with chickpeas. A delicious soup that is perfect for the colder seasons.
Yield: 6-8 servings
Moroccan Chicken with Figs And Couscous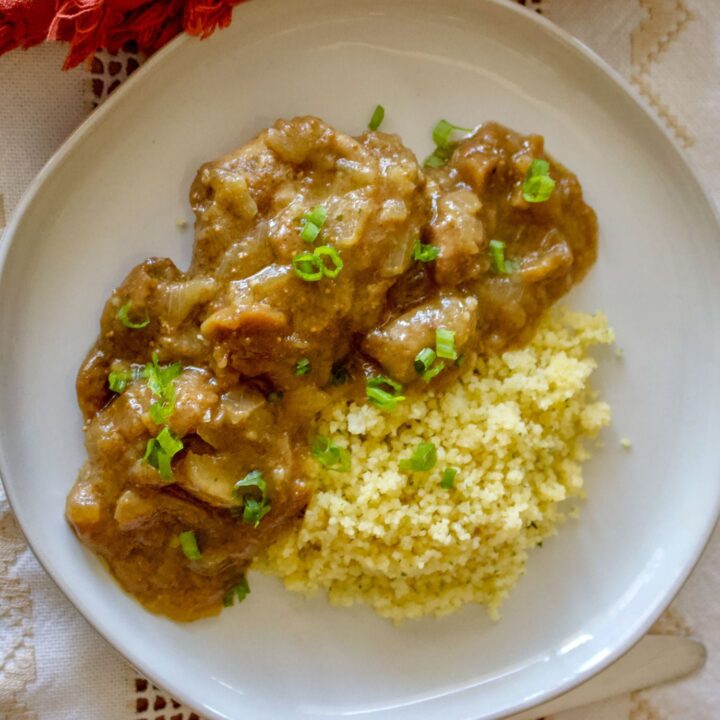 This recipe of Moroccan Chicken with Figs and Couscous is a beautiful recipe that can be made any day of the week, but it could also be a wonderful dish to serve when you have company. Healthy and delicious, the recipe is loaded with spices that bring a lot of flavor to the dish.
Ingredients
2 pounds chicken boneless skinless chicken thighs
Spices for the meat:
½ teaspoon salt
½ teaspoon pepper
2 teaspoons all purpose flour
olive oil to coat the meat
Sauce:
2-3 chopped onions
1 cup chicken broth
1 Tablespoon all purpose flour
salt and pepper to taste
3-4 Tablespoons chopped cilantro
Instructions
Place the chicken thighs into a big bowl.
Add the spices(brown sugar, coriander, cumin, paprika, cinnamon, garlic, ginger, salt, pepper and flour)
Coat the chicken with the spices and set aside.
Put the olive oil into a large skillet and set over medium heat. When hot, add the chicken and brown it on each side.
Remove it from the skillet and add the chopped onion and chopped figs to the skillet. Saute for 1 minute.
Add the chicken broth, flour and salt and pepper to taste.
Add back the chicken to the skillet and let it simmer covered on medium low heat for about 20 minutes or until the chicken is cooked through.
Sprinkle with chopped cilantro and serve over couscous or quinoa.
Nutrition Information:
Yield:
8
Serving Size:
1
Amount Per Serving:
Calories:

377
Total Fat:

20g
Saturated Fat:

5g
Trans Fat:

0g
Unsaturated Fat:

12g
Cholesterol:

137mg
Sodium:

404mg
Carbohydrates:

14g
Fiber:

2g
Sugar:

7g
Protein:

36g