Are you looking to make some delicious easy key lime pie bars? Look no further, my friends! These bars are the awesome!
Wait! These key lime bars are like the key lime pie?
They might remind you of the key lime pie preparation style, and you are not mistaken. This recipe is made with condensed milk, and it is creamy and heavenly delicious.
Very lemony and sweet enough to calm down a sweet tooth, these bars are easy to make and perfect for a party, a potluck, or just because you want to bake something awesome.
This recipe comes from my new friend Cristina, who sent me this recipe by email recently. She made the recipe for a party where she was in charge of bringing some dessert.
Cristina lives in Spain and loves to bake. She was so sweet to send me a bunch of recipes that I am super excited to try.
These key lime pie bars are made in a square pan, so you can cut them in small servings, which eliminates the guilt of eating too much.
When life gives you lemons, there is so much more you can do than just making lemonade!
There is lemon cake, lemon cookies, lemon curd, lemon pie, lemon chicken and also lemon bread.
The possibilities are endless and all delicious.
What ingredients we need for this dessert:
Graham crackers – or digestive biscuits
Unsalted butter– melted
Egg yolks
Key Lime/or lime/ or lemon zest
Fresh key lime juice- You can substitute Key limes with limes, lemons, or even oranges
Cans of condensed milk
Heavy cream
Granulated sugar
How To Make These Easy Key Lime Pie Bars:
The perfect lemon bar recipe needs only two things to be delicious: the right amount of lemon and the right amount of butter in the crust.
Too little lemon and the bars are boring, too much lemon and they become inedible.
The nice part about this recipe is that you can substitute key limes with lemons, limes, or any other favorite citrus.
Now, you are aware that if you change the recipe and start replacing ingredients, the taste will be different, right?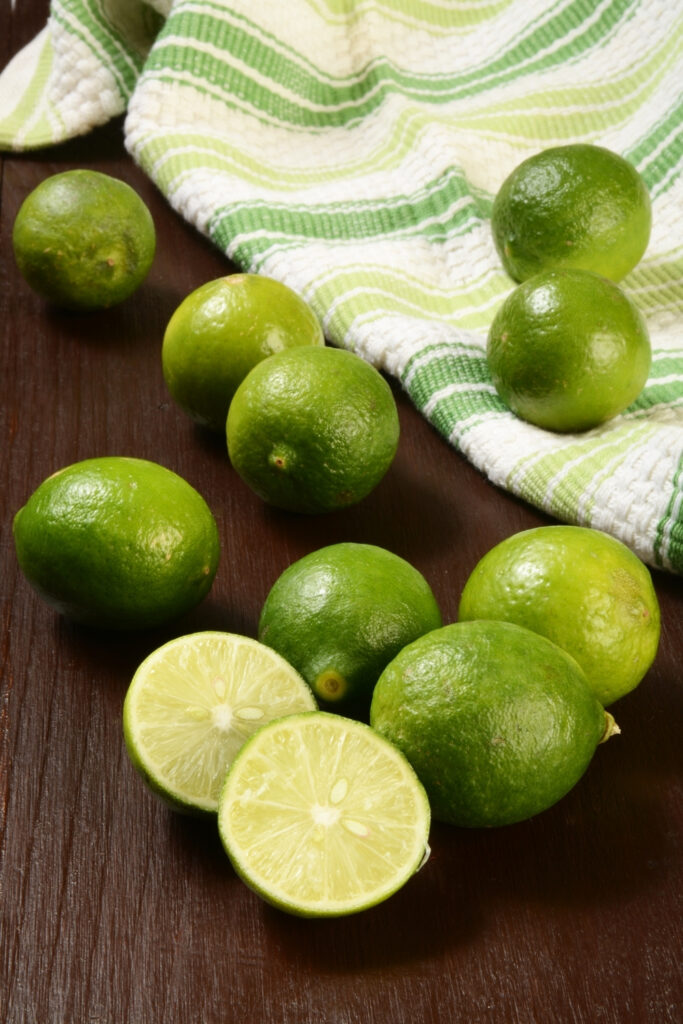 For example, if you add orange juice instead of lemon (because you want the recipe, but you forgot to buy lemons when you went shopping), the bars will be sweeter with less zing, as oranges have more sugar.
They are not the same, even if they are all called citrus, so keep that in mind if you start experimenting. (I am looking at you, the ones who usually do not follow instructions and start messing with the recipes!) 🙂
The Crust:
Using a food processor(affiliate link), the process is fast, as you just put the graham crackers and the butter in the food processor and pulse a few times to obtain a wet sandy mixture.
Note: If you feel some frustration because you don't have a food processor, which I really encourage you to buy (it is a true lifesaver in the kitchen), then grab a sturdy plastic bag and place the crackers inside.
Seal the bag and grab that rolling pin. (You know, the one that you were wondering what is doing in your kitchen, as you never used it before.)
Smack the life out of the crackers until you have fine crumbs.
Put the crumbs in a bowl, add melted butter and mix well with a spoon until you have a wet sandy mess. Then, continue with the recipe.
Press the crumbs into the pan and bake for about 10 minutes. Let the crust cool, but leave the oven on. We are going to bake the dessert again.
Make the filling.
This is a chemistry experiment that is fun to do. The recipe is made with egg yolks mixed with lemon juice and condensed milk.
This is actually the base for key lime pie. It could be that the inspiration for this recipe comes from the way the pie is made.
When you mix these three ingredients, a chemical reaction happens between the protein in the egg yolks, condensed milk, and the acidic lemon juice that allows the mixture to become thicker on its own.
In the past, the recipes that used this combination of ingredients did not require baking.
However, today, we all know that consuming raw eggs can be dangerous, so desserts of this nature are usually baked for a short time, enough to make the eggs safe to eat.
The baking also thickens the dessert a little bit more, which makes it better for transportation.
So, to make the filling, we start separating the eggs. The recipe for the filling requires egg yolks that we will mix with the lemon zest.
A hand mixer(affiliate link) would be good, because the speed helps to thicken the filling.
Pour the condensed milk in a steady stream mixing constantly.
I used this awesome tool (affiliate link) for squeezing lemons, that actually works for different citrus fruits size.
Squeeze the lemons, then add the juice and mix again. You will notice that the filling is getting thicker by the minute.
Pour the filling over the crust and return the pan to the oven to bake for another 12-15 minutes.
I am saying 12-15 minutes, because it all depends on how sturdy that filling you want it to be.
I baked it for 15 minutes and liked the texture. If you bake it less, it is going to be softer, which might not be ideal when you try to cut it, but I saw some recipes saying that the filling should be slightly set—your choice.
It will set a little bit more when you refrigerate it for at least 4 hours.
Before you do that, beat some heavy cream with a little sugar and spread it over the lemon filling. Decorate with lemon peel or thin slices of lemon.
Serve cold.
To use up the egg whites, try this delicious classic European chocolate ganache meringue torte.
Here are other recipes of Lemon Bars:
Coconut-Almond Lemon Bars Recipe
Cheesecake squares with crunchy pecans
Yield: 16 servings
Easy Key Lime Pie Bars
Easy Key Lime Pie Bars have a graham crackers crust and a creamy, sweet, and tart filling covered with delicious whipped cream.
Ingredients
1 cup/3.5 oz/100g finely ground graham crackers(or digestive biscuits)
4 1/2 tablespoons/2.25oz/64g unsalted butter melted
6 large egg yolks
3 teaspoons finely grated lemon/lime zest
1 1/3 cups/10.14oz/300 ml fresh key lime juice (about 5- 6 big limes)(Lemons can be used instead)
2 cans condensed milk 14oz/397g each
1/2 cup/4 oz/120ml heavy cream
2-3 tablespoons of sugar
Instructions
Crust:
Preheat oven to 350 degrees F (175 C).
In a food processor, pulse together the graham crackers and butter until you obtain a wet sandy mixture.
Press the mixture of crumbs onto the bottom of a 9x11 inches size baking pan.
Bake the crust for about 10 minutes until golden brown. Let cool and leave the oven on.
Filling:
Mix egg yolks and lemon zest with an electric mixer until VERY thick, about 5 minutes.
Add condensed milk in a slow, steady stream, mixing constantly. Add lemon juice and mix until combined.
Spread filling evenly over crust and bake until filling is just set for about 12- 15 minutes. Let cool completely, then refrigerate for at least 4 hours.
Beat the cold heavy cream with a little sugar (2-3 tablespoons or less) and spread evenly over the lemon bars.
Decorate with lemon zest, slices of lemon, etc.
Then try not to eat it all at once. 🙂
Recommended Products
As an Amazon Associate and member of other affiliate programs, I earn from qualifying purchases.
Nutrition Information:
Yield:
16
Serving Size:
1
Amount Per Serving:
Calories:

306
Total Fat:

22g
Saturated Fat:

13g
Trans Fat:

0g
Unsaturated Fat:

8g
Cholesterol:

137mg
Sodium:

92mg
Carbohydrates:

23g
Fiber:

0g
Sugar:

18g
Protein:

5g
Note: "We are a participant in the Amazon Services LLC Associates Program, an affiliate advertising program designed to provide a means for us to earn fees by linking to Amazon.com and affiliated sites."