Note: "We are a participant in the Amazon Services LLC Associates Program, an affiliate advertising program designed to provide a means for us to earn fees by linking to Amazon.com and affiliated sites."
When in the mood for partying and the weather is fine, Romanians go out for picnics. One of their favorite food out there is "Mititei". Mititei are small skinless sausages made with ground beef, lamb or pork meat, garlic and other spices. The sausages are grilled on charcoal hot grill and served with mustard, fresh bread, French fries and cold beer.  It is a meat dish encountered only in Romanian cuisine.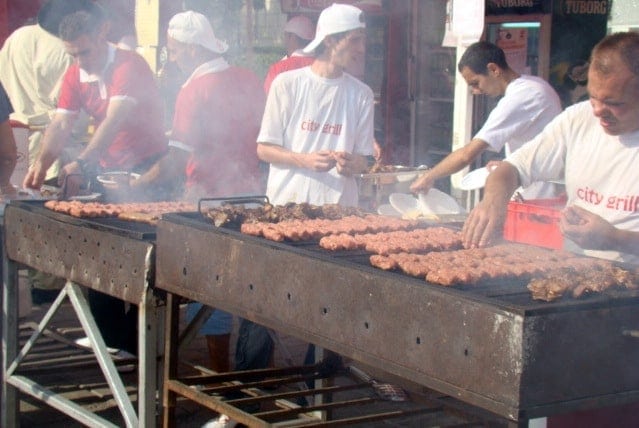 This picture was taken at a summer festival in Bucharest, Romania.
The Mititei are a delicious summer delight. As Americans get together for hamburgers and hot dogs, Romanians get together for Mititei and grilled meats. We gather together with family and friends, and enjoy the meats with salads, good wine and cold beers. And we make lots of "Mititei" because they are so good that you cannot eat just a few. They have to be crunchy on the outside, but juicy and slightly pink on the inside.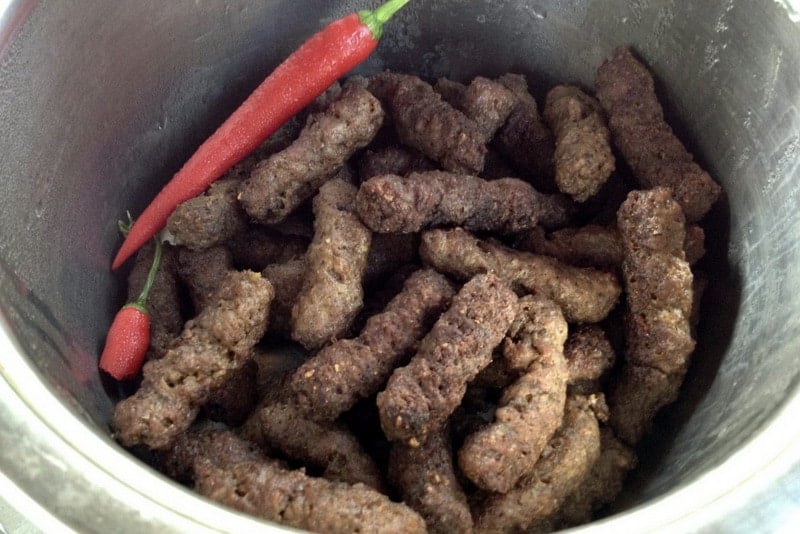 Few years ago, when we visited Maramures, a beautiful region in the north of Romania, we had this:
The grill was made in a round shape and looked like a hat. Bacon was cooked first on the edges of the grill and potatoes fried in the rendered fat released in the middle. The "mititei" were added to the grill and cooked. I cannot even describe you the taste of the fried potatoes and the grilled meats cooked like this. Juicy and delicious! Add a summer tomato salad to all this and you will have the best meal you ever had!
How to make the little "Mititei"? Here you have the recipe below! Enjoy and happy grilling!
* If you make this recipe, share it with the hashtag #thebossykitchen on Instagram, Facebook and Twitter so we can all see what you're cooking!
Or maybe you want to join The Bossy Kitchen community group where you can share your creations made from this blog or from other sources. Everyone is welcome to join!

MITITEI- Romanian Grilled Sausages Recipe
Author:
The Bossy Kitchen
Ingredients
2.2lb ground beef(1kg)
1lb ground pork or lamb
½ lb beef suet
1 garlic head minced
1 Tablespoon salt
1 teaspoon ground black pepper
1 Tablespoon dried thyme
1 teaspoon ground allspice
1 teaspoon ground anise
1 teaspoon ground coriander seed
1½ cups beef broth or plain water
1 teaspoon baking soda
Instructions
Dissolve baking soda in the beef broth or the plain water. Set aside.
Use a garlic press to crush the garlic cloves.
In a large bowl place the meat with all of the ingredients, including the garlic and mix throughly. (If you have a stand mixer, this would work too. )
Add the broth in stages, mixing well after each addition.(The meat mixture needs to get to a smooth consistency, like a paste, but not too loose.) You might not need to use all the broth/water.
Cover the bowl and refrigerate overnight for the meat to absorb the flavors.
The next day, line a tray with foil and set aside.
Take the meat out of the refrigerator and with wet hands, form the "Mititei" in a cylinder shape 2-3 inches long and 1 inch thick.
Place them on the tray. Continue until you finish all the meat.
Grill them on high heat, preferably on coal, not gas. Flip them to cook on both sides and cook them to your desired doneness.
They are very good when done with just a little pink inside and very juicy.
Serve with mustard, fresh bread or French fries next to a cold beer.
Notes: The "Mititei" meat is supposed to contain a pretty good amount of fat. The original recipes use beef suet, fat pork meat(usually shoulder) or lamb. You can use only beef, but you will need to add oil to the mixture, to replace the fat. If you do not use fat, the Mititei will be dry.
The baking soda is mandatory, so do not omit.