Caldo de Pollo, a cherished traditional Mexican chicken soup, captures the essence of home-cooked comfort in a bowl. It's a symphony of chicken, rice, cilantro, and assorted vegetables, all swimming in a delicious tomato broth.
I love Mexican food, and if you are like me, here is the place where you can find some fun recipes to try, like Authentic Mexican Fajitas, Papas con Chorizo, Easy Mexican Rice, or Tinga de Pollo, just to mention a few.
I'm a devoted soup lover myself, and scarcely a week goes by in my home without a steaming pot of soup bubbling away on the stove, ready to be relished at lunch or dinner.
Jump to:
What is Caldo De Pollo?
Caldo de pollo is a Mexican-style chicken soup made with different parts of chicken and vegetables. It is nutritious, delicious, and comforting.
Caldo means soup, while pollo means chicken.
Every Mexican household has its own version of Caldo de Pollo. However, any 'sopa de pollo' recipe has chicken, lots of different vegetables, and a little rice or pasta.
The soup is served perhaps with a slice or two of avocado and fresh cilantro(coriander), and there are always wedges of lime on the side.
Why do I love this recipe?
Comforting: This classic Mexican chicken caldo is one of our favorites and is in heavy rotation from November to April. It has some incredibly devoted fans.
Simple Ingredients: The soup uses basic kitchen staples like chicken, rice, cilantro, and vegetables, making it an authentic and easy-to-prepare comfort meal.
Warm and Cozy: Whether you're feeling under the weather or just need some warmth, this soup has a way of making you feel safe, happy, and cozy from the inside out. There's something magical about a warm bowl of chicken soup on a cold day.
Healing Properties: There's an old saying that a good chicken soup can heal anything, from a bad cold to a broken heart. And I truly believe there's a lot of truth in that.
Boosts Immunity: Even the medical field recognizes that chicken soup can do wonders for your immune system and overall well-being.
Kid-Friendly: This Caldo de Pollo recipe is something that kids can enjoy, too, making it a wonderful choice for family meals. It serves well as both a main dish for dinner and a light lunch.
Authenticity: Above all, this is an authentic Mexican caldo de pollo recipe, letting you enjoy a true taste of Mexican cuisine right in your own kitchen.
What chicken parts work for this soup:
I used chicken drumsticks and bone-in chicken thighs for this soup, but any chicken part is good. Go for the wings, the back of the bird, or the legs.
I do not recommend skinless, boneless chicken breasts, as the meat will not infuse the broth with many flavors, but go for it if this is all you have.
Traditionally, the best "Caldo de pollo" is made with whole chicken pieces that are not deboned. Sometimes, an entire chicken is used to make a good homemade chicken soup for the whole family.
I like meat with bones and skin on it. They bring so much flavor to the dish! If you have to use ordinary chicken, buy extra back and giblets to strengthen the flavor.
Ingredients for chicken soup Mexican style:
For specific amounts, please refer to the recipe card at the bottom of the article.
Vegetables: good soups always make use of vegetables. This recipe will need carrots, onions, potatoes, green celery, fresh tomatoes, and garlic.
All these items are easy to store in your kitchen in a cool place. They are also perfect for making lots of soups and stews in the winter.
You can add more vegetables if you want. Cabbage, zucchini, and Mexican chayote are generally the traditional vegetables added to the caldo de pollo.
Cilantro: This is a truly popular herb in Mexican cuisine.
Some people have a love-hate relationship with it, so I will say this: if you want an authentic taste of this Mexican soup, use it. If you absolutely hate it, use parsley. I am not going to watch you.
Pantry items:
Tomato sauce: I used canned tomato sauce. You can also use tomato paste instead of sauce(You will need about 1-2 tablespoons of paste).
Olive oil (or vegetable oil): use what you have
Rice: I used long-grain white rice. Brown rice is good as well.
Water: you do not need store-bought chicken stock for this recipe. You will flavor the soup with vegetables and meat and make your own chicken stock.
You will see how easy it is to make a flavorful broth that is so much better than anything from the store.
Lime: brings an extra layer of flavor to the soup. Cut it into wedges and squeeze some juice over it.
Avocado: Slice and add it on top of the soup as a garnish. Yum!
Corn tortillas: warm corn tortillas are the way to go for an authentic taste of this Caldo de pollo recipe.
Expert tip:
You need a potato that holds well in the soup and doesn't fall apart during cooking. Waxy potatoes are a good option. Yukon gold or red potatoes work well, too.
Why is this soup different?
This Caldo de pollo/chicken soup is made with rice and tomatoes cooked separately from the broth. This is what sets this soup apart from other Caldo de pollo recipes.
Cooking the rice, tomatoes, and onions together, separate from the broth, adds tremendous flavor to the soup, so I encourage you to follow the recipe as I wrote it.
In Mexico, chicken soup or Caldo de pollo is served simply or with different toppings added at the time of serving, like lime wedges, slices of avocado, jalapenos, or sliced radishes.
Do you want it spicy? Add some hot sauce to it. Salsa Valentina is traditional and really tasty.
However, the base of the soup is made simply, without adding spices.
How to make caldo de pollo
Step 1. Cook the chicken.
Place chicken, salt, black pepper, if you like, and garlic cloves in a large pot or Dutch oven. Add cups of water to the pot to cover the ingredients and bring them to a boil.
Reduce the heat to medium and allow everything to simmer for about 15 minutes.
Note: If you would like to add bay leaves chicken bouillon cube, you can do it. I usually don't cook with bouillon cubes. That's why you will not find this ingredient in any of my recipes.
Skim the foam that forms on top of the soup using a spoon.
Step 2. Cook the rice.
While the chicken is simmering, in a separate pan, heat the oil and cook the rice until the color is golden brown, without burning.
On a cutting board, chop the onions and add them to the rice. Cook them until translucent, stirring once in a while.
Chop the fresh tomatoes and add them to the rice. Cook everything together for a few minutes.
Step 3. Add the rice mixture to the soup.
This mixture goes into the soup pot next to the chicken.
The combination brings another layer of flavor to the soup, making it delicious.
Step 4. Add the vegetables to the soup.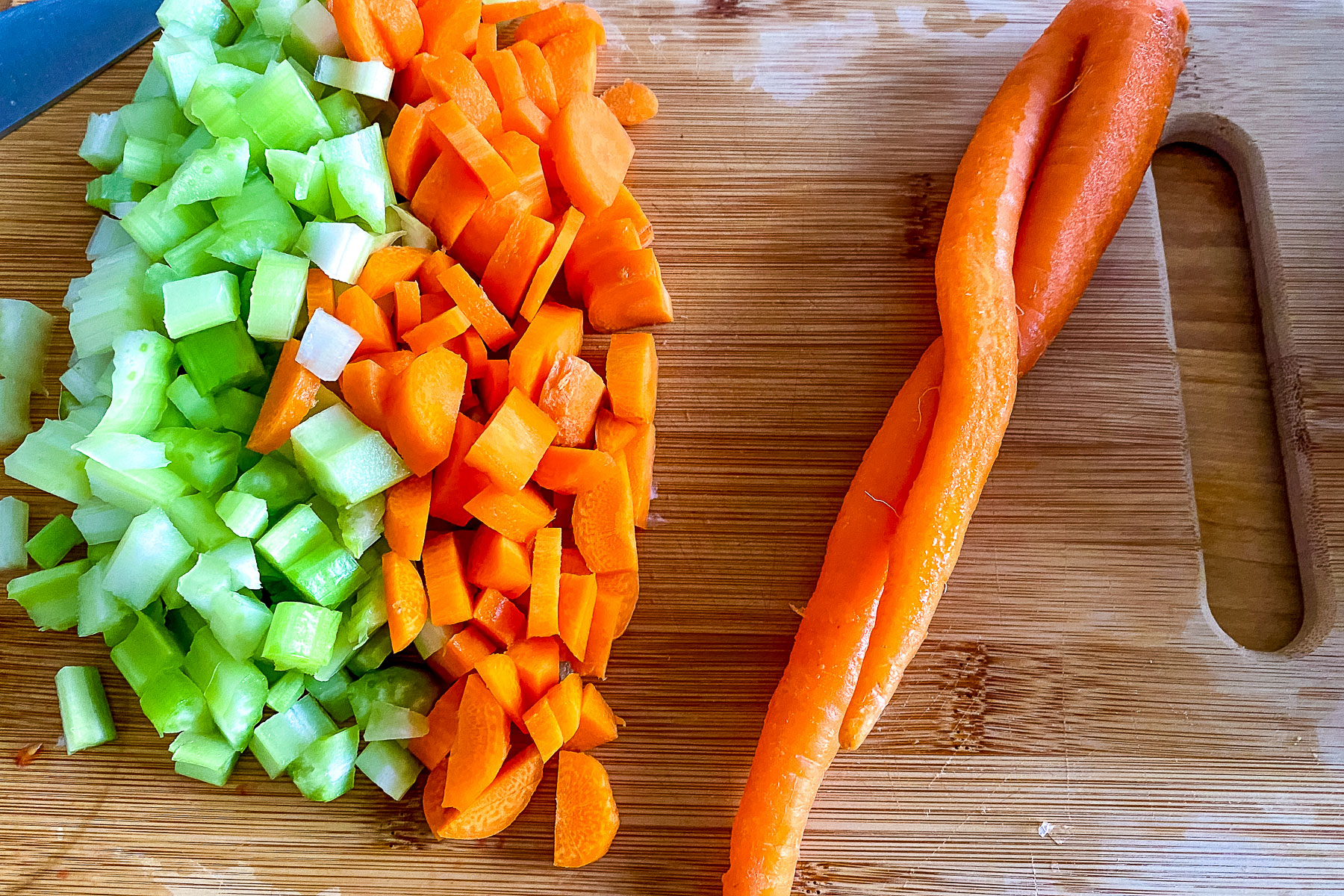 Add carrots, celery, and potatoes to the soup and allow them to come to a boil. Reduce heat to medium-high. Let the soup simmer until vegetables cook through, about 20-30 minutes.
At this point, your chicken should be cooked enough.
You can leave the cooked chicken pieces in the pot as they are, or you can remove them from the soup and shred the meat for easier serving.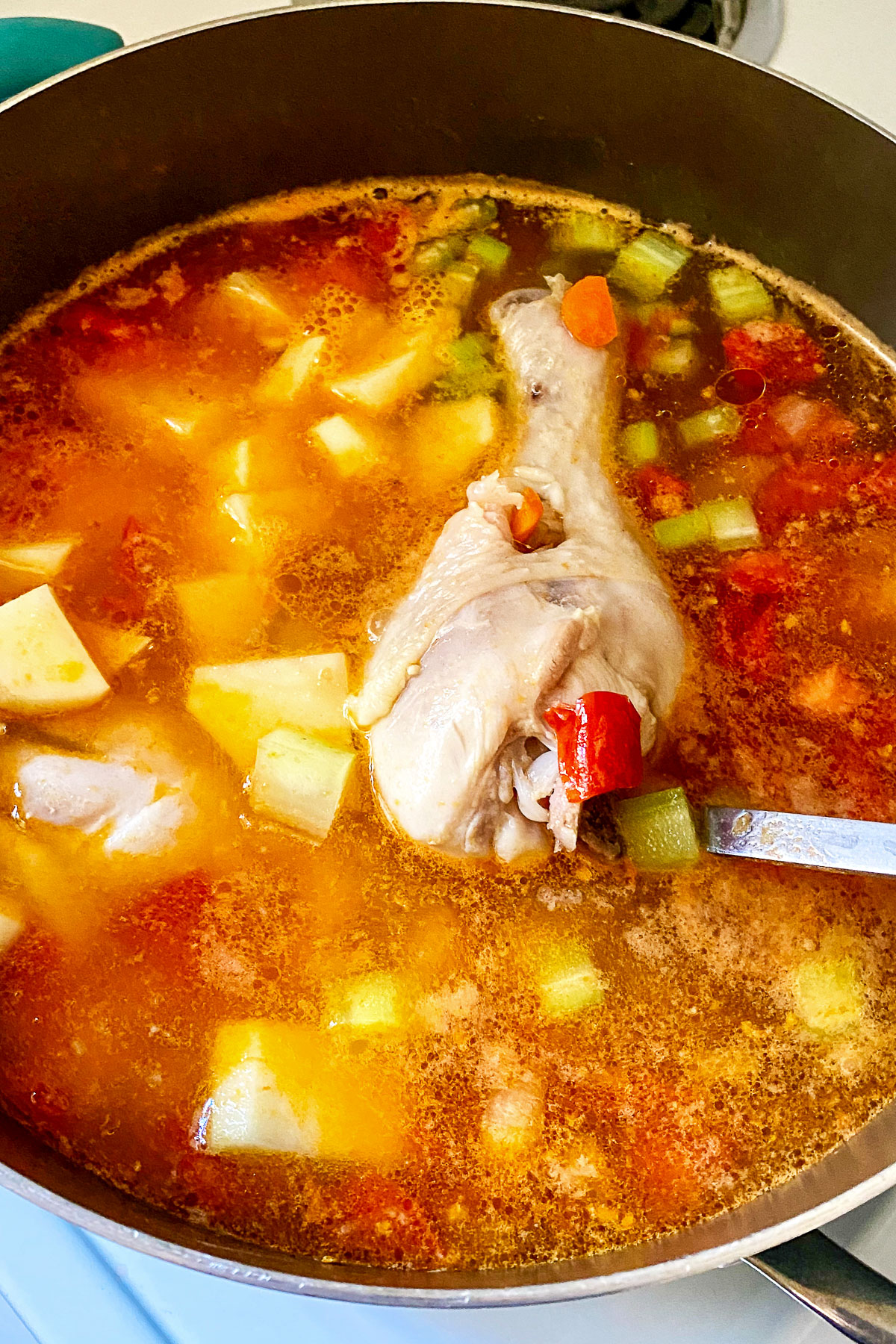 Step 5. Add tomato sauce.
Add tomato sauce and a little bit of cilantro during the last 5 minutes of cooking. Check again for salt.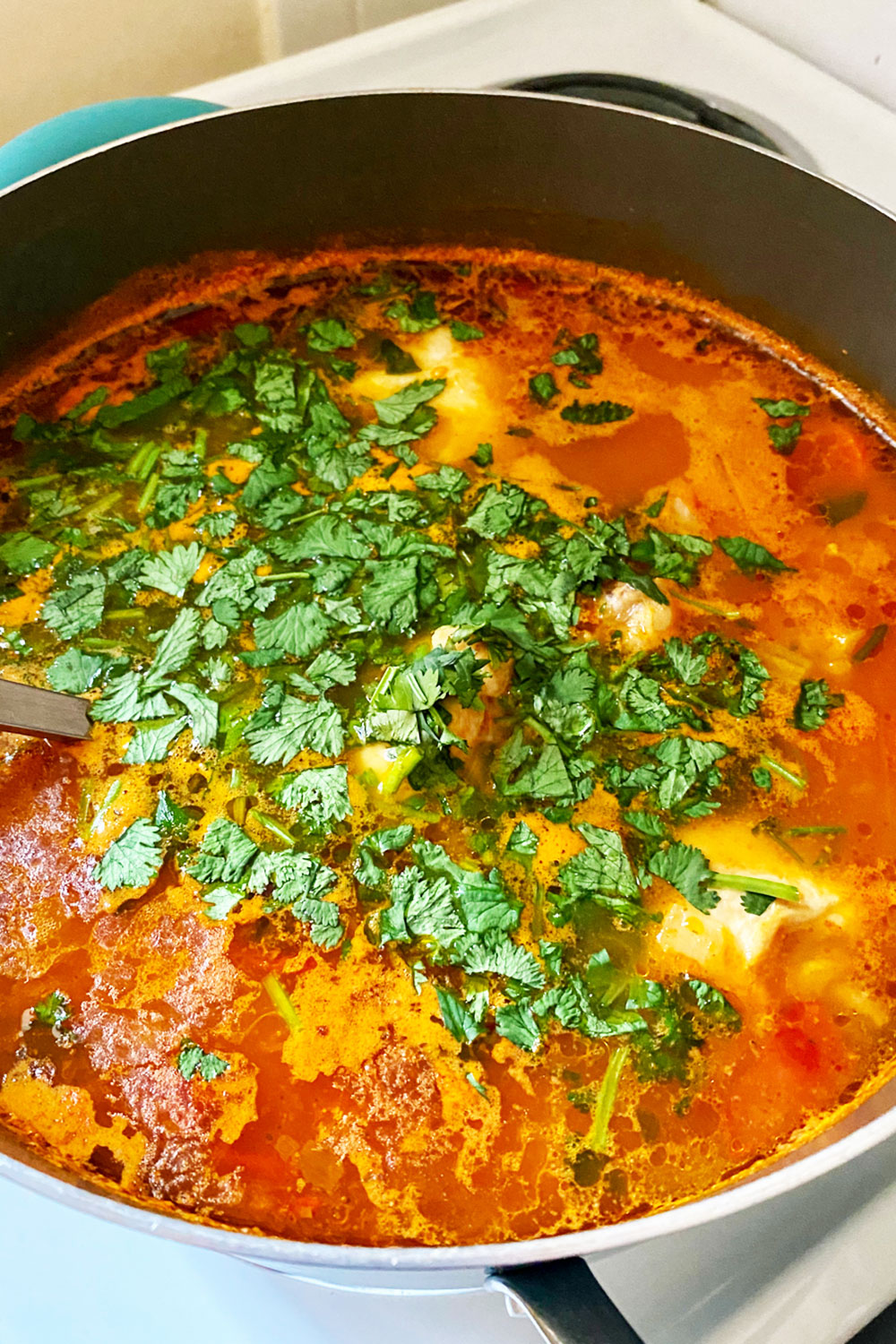 Step 6. Serve.
Ladle soup into bowls, including chicken for each serving, and serve with lime wedges and warm corn tortillas.
If you prefer, you can remove the bones from the chicken, shred the meat, or cut it into bite-sized pieces and return it to the soup.
Tip: When you serve it, add some sliced avocado and radishes to the serving bowl, squeeze some lime juice over it, and serve it with warm corn tortillas. Your meal will be perfect.
How to store this Caldo De Pollo:
In the refrigerator: This homemade caldo should be covered and stored in the refrigerator for up to a week. You can also store it in airtight containers. Warm it up on the stove or microwave.
Are you interested in more Mexican recipes? Try some of these 15 authentic Mexican recipes.
Learn how to make this recipe of Caldo de Pollo in an Instant Pot or a pressure cooker. You can also adapt the recipe to make it in a slow cooker. Slow cooker caldo de pollo might be a great idea if you don't own an Instant Pot.
Enjoy!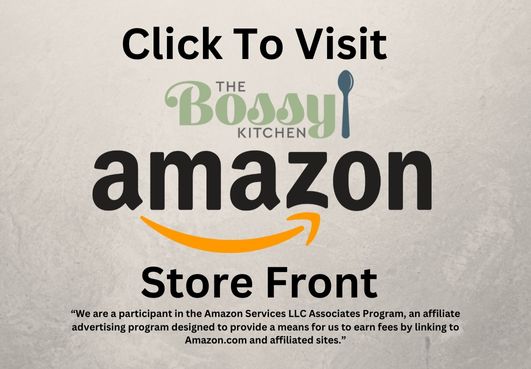 More recipes to love
Craving more? Subscribe to The Bossy Kitchen to get new recipes and a newsletter delivered straight to your inbox! Stay in touch on Facebook, Twitter, Pinterest, and Instagram for all of the latest updates. Don't forget to use the star rating and leave a review.
📖 Recipe
Caldo De Pollo (Chicken Soup Mexican Style)Recipe
Caldo de Pollo is a Mexican chicken soup recipe that features rice, cilantro, chicken, and other vegetables cooked in a wonderful tomato broth.
Print
Pin
Rate
Ingredients
8

cups

water

8

chicken thighs or drumsticks

1

tablespoon

salt

¼

teaspoon

black pepper

4

garlic cloves chopped

1

tablespoon

olive oil

¼

cup

white long grain rice

½

cup

chopped onion

2

tomatoes chopped

Roma tomatoes

2

carrots sliced

3

potatoes quartered

1

green celery chopped

⅓

cup

tomato sauce

1

tablespoon

chopped cilantro

1

Lime sliced wedges for serving

Corn tortillas for serving

optional 1 avocado sliced
Instructions
Cook the chicken.
Place the water, chicken, salt, pepper, and garlic cloves in a large pot. Bring the ingredients to a boil, then reduce to medium heat and let simmer for 15 minutes. While the broth is simmering, skim the foam that forms on top of the water.
Cook the rice separately.
In a separate skillet, heat the oil on medium heat, add rice, and cook, occasionally stirring, until browned, about 2-3 minutes. Be careful not to burn it.

Add chopped onion and continue cooking until onion is translucent, for about 2 minutes.

Add chopped tomato and cook for another 3 minutes.
Add the rice mixture to the pot with the chicken.
Stir in the carrots, celery, and potatoes to the soup and let come to a boil. Reduce heat. Allow it to simmer until vegetables cook through, about 20-30 minutes.

Add tomato sauce, cilantro during the last 5 minutes of cooking. Check again for salt.
Serve.
Ladle soup into bowls including a piece of chicken for each serving, and serve with lime wedges and warm corn tortillas.

Optional: Add slices of avocado to your soup.
Notes
What kind of chicken meat to use for this caldo de pollo:
I used chicken drumsticks and thighs for this soup, but any part of the chicken is good. I do not recommend chicken breast, as the meat will not infuse the broth with a lot of flavor.
Nutrition
Serving:
1
g
|
Calories:
379
kcal
|
Carbohydrates:
27
g
|
Protein:
22
g
|
Fat:
21
g
|
Saturated Fat:
5
g
|
Polyunsaturated Fat:
4
g
|
Monounsaturated Fat:
9
g
|
Trans Fat:
0.1
g
|
Cholesterol:
111
mg
|
Sodium:
1187
mg
|
Potassium:
884
mg
|
Fiber:
4
g
|
Sugar:
5
g
|
Vitamin A:
2829
IU
|
Vitamin C:
29
mg
|
Calcium:
74
mg
|
Iron:
3
mg