Note: "We are a participant in the Amazon Services LLC Associates Program, an affiliate advertising program designed to provide a means for us to earn fees by linking to Amazon.com and affiliated sites."
This is one of my favorite recipes for brownies. First time I made the recipe my husband loved the brownies so much, that he asked me to make the recipe the next day. The chocolate brownies are good, but the Cappuccino ones are out of this world, so you need to try them! The coffee enhances the chocolate flavor and the cinnamon and nutmeg take this easy recipe to a next level and brings elegance to it.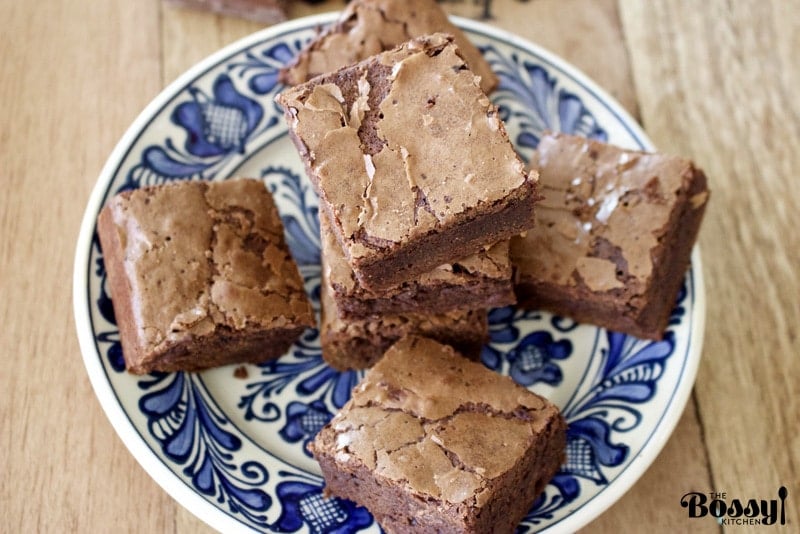 Just a note on how to bake the batter though…I did some research, and learned that if you bake brownies in a metal pan, the cooking time will be on the short side. With Pyrex, it will take a little bit longer. The recipe talks about baking the batter for 30-35 minutes, which was perfect for the metal pan, but you need more if you bake it in a Pyrex pan, like I did one time. Brownies are done when the toothpick comes out with a few moist crumbs still clinging. It's okay for the pick to look moist, but if you see wet batter, keep baking.
Other than that,  this recipe is very easy to make and delicious. If you crave chocolate big time, this is a perfect recipe for you.
Enjoy!
This recipe goes really well with this Turkish Coffee!

Coffee and Cinnamon Brownies Recipe
Author:
The Bossy Kitchen
Ingredients
½ cup (1 stick) unsalted butter, plus 1 tsp more for buttering the pan
4 ounces dark chocolate, chopped
1½ cups sugar
1 Tbsp instant coffee powder
2 tsp pure vanilla extract
4 large eggs, lightly beaten
1 cup all purpose flour(whole wheat flour works well too)
¾ tsp ground cinnamon
½ tsp ground nutmeg
¼ tsp salt
¾ cup semisweet chocolate chips
Instructions
Preheat oven to 325F.
Butter a 9 inch square baking pan and line the bottom with parchment paper.
Coat paper with butter. Set aside.
In a large saucepan over very low heat, melt chocolate and butter together, stirring, until completely melted. Let cool slightly.
Whisk in sugar, expresso powder, vanilla, and eggs.
Add flour, cinnamon, nutmeg, and salt.
Stir until just combined, but do not overmix.
Fold in chocolate chips.
Pour into prepared pan and bake until a toothpick inserted in the center comes out slightly wet, 30-35 minutes(if you bake it in a metal pan, otherwise increase the time with 5 minutes and keep an eye on it).
Transfer to a wire rack and cool completely.
Run a sharp paring knife around edges, then invert. Peel off parchment paper and cut into 16 squares.
Inspired from Martha Stewart's Recipe for Cappuccino Brownies.