This recipe of Chicken Marbella from The Silver Palate Cookbook is not a new one. I decided to post it here because I fell in love with it, and it is one of my favorite recipes when I entertain. It is a spectacular recipe to serve for a dinner and it's great both hot or cold. The overnight marination is essential for the finished product. The capers, prunes and olives will make the dish elegant. The spices and the white wine will give the dish lots of flavor. If you make it with small chicken parts, as I usually make this recipe, it could be a perfect finger food. Try it and you will not regret it. Elegant, beautiful and delicious dish! And also easy to put together… For my American friends, I really recommend to get The Silver Palate Cookbook. It is a wonderful book that will help you out in many occasions when you have to entertain and have no inspiration for the meal.
(Feel free to use whatever chicken you have around. The recipe requires 4 chickens, quartered, but I used different parts of the chicken with great success in many occasions.)
And the results are amazing. As a matter of fact, I cannot wait to have it for lunch tomorrow. I just made another batch tonight and it came out divine.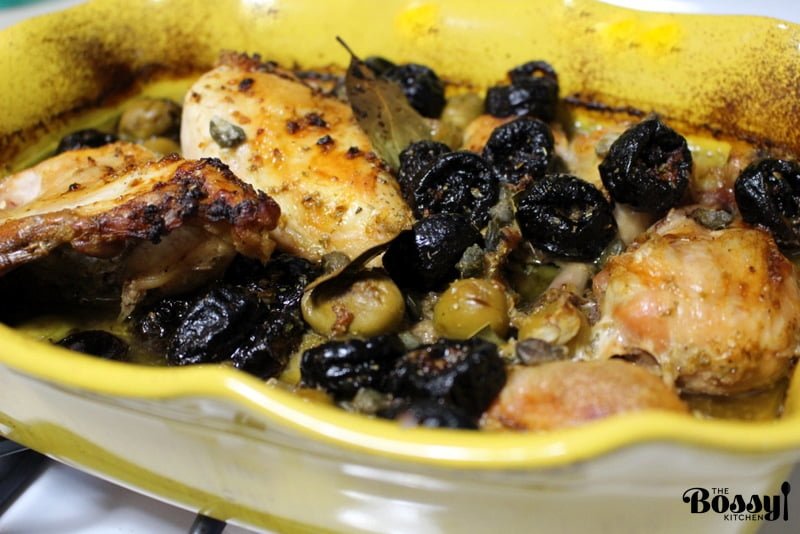 Enjoy!
Servings:
or more portions
In a large bowl combine chicken quarters, garlic, oregano, pepper and coarse salt to taste, vinegar, olive oil, prunes, olives, capers and juice, and bay leaves. Cover and let marinate, refrigerated, overnight.

Arrange chicken in a single layer in one or two large, shallow baking pans and spoon marinade over it evenly.

Sprinkle chicken pieces with brown sugar and pour white wine around them.

Bake for 50 minutes to 1 hour, basting frequently with pan juices. Chicken is done when thigh pieces, pricked with a fork at their thickest, yield clear yellow (rather than pink) juice.

With a slotted spoon transfer chicken, prunes, olives and capers to a serving platter. Moisten with a few spoonfuls of pan juices and sprinkle generously with parsley or cilantro. Pass remaining pan juices in a sauceboat.

To serve Chicken Marbella cold, cool to room temperature in cooking juices before transferring to a serving platter. If chicken has been covered and refrigerated, allow it to return to room temperature before serving. Spoon some of the reserved juice over chicken.