These Classic Pecan Pie Bars(no corn syrup) are an amazing dessert that can be made any time you crave something delicious.The addition of Butter-Scotch morsels and the English Toffee Bits makes these bars super delicious and decadent.
PIN THIS FOR LATER:
Classic Pecan Pie Bars (No Corn Syrup)
I was craving some Pecan Bars for a long time now, but most recipes I saw used corn syrup and/or yellow cake mix bought from the store.
As I am not baking with corn syrup or cake mix by default, I was kind of disappointed about the fact that I might not be able to make pecan bars ever.
However, a few days ago, I was going through my computer trying to clean out some of the older pictures (I have thousands of them), when I found this intriguing picture of a recipe I took some years ago: Pecan Pie Bars.
This recipe comes from an old cooking book from the '60's, I think, and I am sure that many of you out there probably recognize it.
I was not really blogging at that time, but I do remember taking the picture of the recipe because I was sure I will make it one day.
I was always fascinated by old cooking books. I wanted to know what America cooked and baked when they did not have yellow cake mix available and corn syrup.
What did they eat before 1950 when everything started to be mass produced and food became more and more processed?
My blog started with this passion of making food from scratch, using ingredients that your body knows what to do with them.
I grew up with real food and I am old enough to remember eating in season. I also remember the women in my family baking with real ingredients, from scratch.
I truly wanted to bring back to my readers a glimpse of my childhood and the way I used to eat while growing up.
These classic pecan pie bars fit perfectly into my agenda so I was very happy to find it.
How to make these classic pecan pie bars:
Step 1.
Gather your ingredients and preheat the oven to 350F. If you use a glass dish, the recipe tells you to preheat the oven to 325F instead. (pretty clever, right?)
Step 2.
Make the crust. You can choose to make it in a food processor, which takes only a few seconds.
Place the flour, powdered sugar and cold butter in the food processor and pulse a few times until you get a mixture that resembles coarse corn meal.
OR, you can do this in a mixing bowl using your hands or a pastry tool.
Step 3.
Place the mixture into a 9×13 inch baking pan and press it firmly on the bottom of the pan to create a smooth surface.
Bake for about 15 minutes.
While the crust is partially baking, make the filling.
Step 4.
This is an easy process, as you just have to mix the condensed milk, egg , vanilla together and add the Butterscotch morsels, the English Toffee Bits and the pecans.
Step 5.
When the crust is baked, spread the filling over it and return the pan in the oven for another 25 minutes.
Cool the pan completely before you cut the bars. You should have about 36 bars.
As you can see, there is not much to explain about this recipe because it is very easy to put together. However, there are a few questions you might have.
Do I need to use only cold butter?
Yes. In order to get a flaky delicious crust, you need to use very, but very cold butter.
If you do not have a food processor or a pastry tool, work the dough with your hands really fast and don't let your palms warm up the butter too much.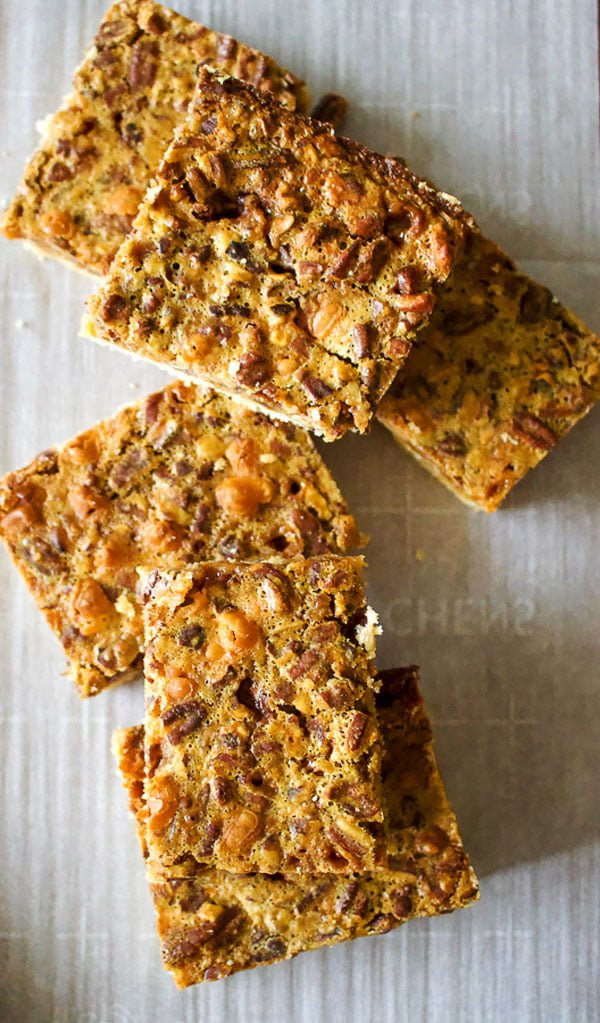 I have only salted butter, can I use it?
If you are going to do a lot of baking, it is best to keep unsalted butter on hand. I never bake with salted butter, because I like to control the salt in my recipes.
This recipe doesn't require salt, therefore I would say, no, you need to use unsalted butter for the crust.
However, if you are in the middle of the jungle(just kidding) and the ONLY butter available is salty, then, yes, go ahead and use what you have.
You really want these bars, right?
I don't like pecans, or I have allergy to pecans, what other nuts can I use?
Well, you should not be on this page reading about classic pecan pie bars if you are allergic to pecans or you don't like them.
However, if you cannot buy them, you don't like them or you live in a different country, for example, where pecans are not very popular, you could replace them with walnuts.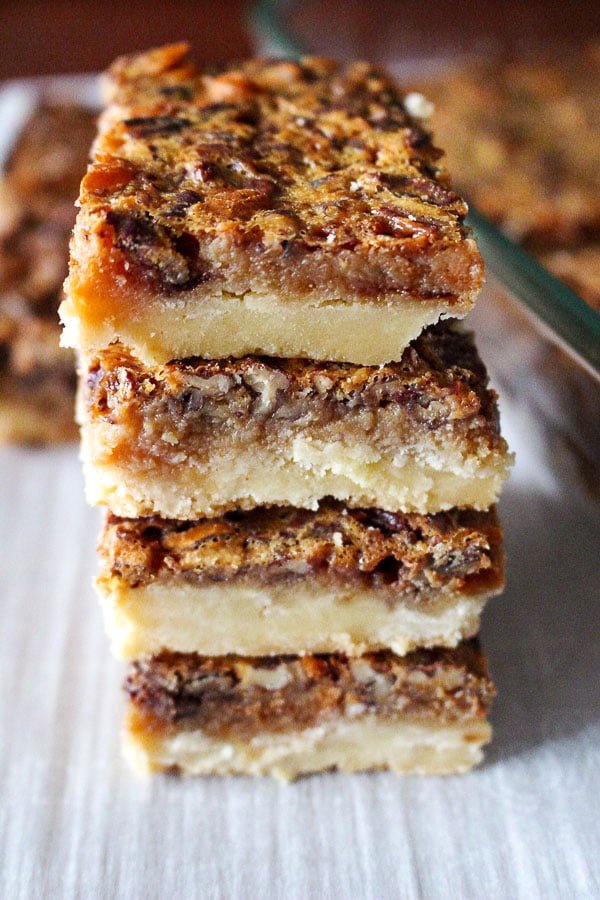 I do not have butterscotch morsels or English toffee bits, what do I do? Also, they are not available where I live.
I hear you, I don't buy those very often either, unless I really want them for a certain recipe and sometimes they are not available.
If you do not have access to them, or for some reason you don't like them, make the bars without them. You just need to replace the chips and the toffee bits with more nuts.
Do I need to refrigerate the bars?
Yes, you need to keep them refrigerated.
Can I freeze these bars?
Yes, you can. Make sure they are in an airtight container or in a freezer bag. Let them sit at room temperature for 20-30 minutes before you stick your teeth into them. 🙂
Suggestions for other recipes of cookie-bars:
Austrian Chocolate Cream Cheese Bars
Happy baking wonderful pecan pie bars! Enjoy!
Yield: 36 bars
Classic Pecan Pie Bars(No Corn Syrup)
Classic Pecan Pie Bars are delicious bars that do not use corn syrup as a main ingredient. Easy to make and perfect for holidays, potlucks, parties or anything else in between.
Ingredients
2 cups/8.8oz/250g all purpose flour
1/2 cup/2.2 oz/60g powdered sugar
1 cup cold butter/8 oz/ 227 g/ 2 butter sticks cut in small pieces
1 can(14 oz/396g) can sweetened condensed milk
1 large egg
1 teaspoon vanilla extract
1 bag(8 oz) English Toffee Baking Bits
1/2 cup (3 oz/100g) butter-scotch morsels
1 cup(4.4 oz/125g) chopped pecans
Instructions
Preheat oven to 350F/180C.(325F/160C- if you use a glass dish)
In a medium mixing bowl combine flour and sugar. Cut in butter until mixture resembles coarse corn meal.(you can also do the same in a food processor, by pulsing the ingredients few times).
Press the crust firmly on the bottom of a 13x9 inch baking pan. Bake for 15 minutes.
Meanwhile, in a medium mixing bowl, beat condensed milk, egg and vanilla.
Stir in chips and pecans.
Spread evenly over prepared crust.
Bake 25 minutes or until golden brown.
Chill thoroughly.
Cut into bars and store covered in refrigerator.
Recommended Products
As an Amazon Associate and member of other affiliate programs, I earn from qualifying purchases.
Nutrition Information:
Yield:
36
Serving Size:
1
Amount Per Serving:
Calories:

92
Total Fat:

6g
Saturated Fat:

4g
Trans Fat:

0g
Unsaturated Fat:

2g
Cholesterol:

21mg
Sodium:

50mg
Carbohydrates:

8g
Fiber:

0g
Sugar:

2g
Protein:

1g
Note: "We are a participant in the Amazon Services LLC Associates Program, an affiliate advertising program designed to provide a means for us to earn fees by linking to Amazon.com and affiliated sites."