Note: "We are a participant in the Amazon Services LLC Associates Program, an affiliate advertising program designed to provide a means for us to earn fees by linking to Amazon.com and affiliated sites."
This cinnamon tomato chicken stew is a dish I always loved. It comes from Greece and it is also known as Kota Kapama. The hidden ingredient in the tasty sauce is cinnamon and it makes chicken taste like a party.
Whether you're making this recipe with beef, chicken, pork, or lamb, a touch of cinnamon intensifies the savory aroma and adds a subtle richness to the meat. It won't taste like cinnamon, but it will add a layer of flavor to the dish that will have your guests wondering what your secret ingredient is.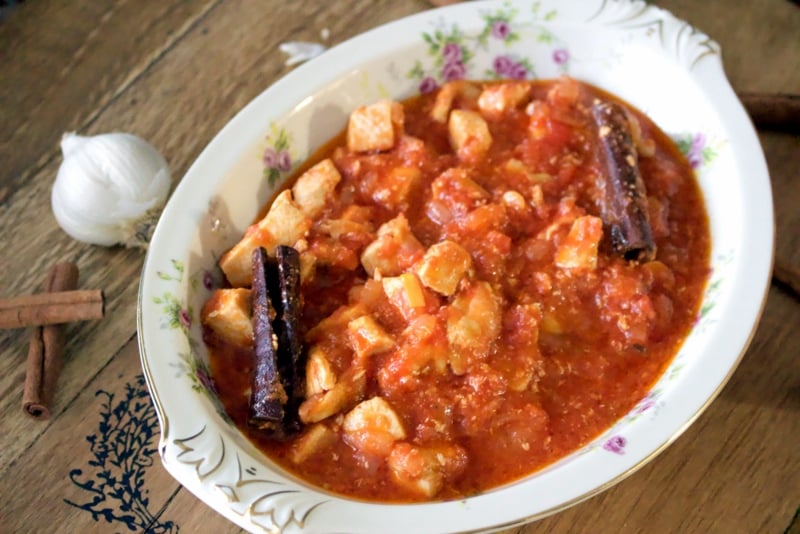 You can use any kind of tomato sauce you like, I used peeled tomatoes in tomato juice and crushed them for this dish. I also made this dish numerous times using different parts of the chicken, based on what I had in the freezer at the moment. Sometimes I use chicken breast, sometimes thighs, sometimes I just cut a chicken in pieces and use legs, breast and thighs with the bone in.
The recipe is made in different ways, with red wine or white wine, but always, always there is cinnamon and tomatoes. My recipe uses cinnamon sticks and I think I like it more instead of using cinnamon powder. I found that the flavor of the sauce is more subtle with the cinnamon sticks.
I also noticed that my recipe doesn't use any wine, but I like it this way. The dish can be served with any pasta, potatoes, like mashed potatoes or roasted ones. 
If you prefer, serve it with a good crusty bread, like this easy to make no knead bread. It is to die for, especially when you dip that bread into the sauce! Yum!
I think it is a great recipe to feed a crowd and looks awesome as a centerpiece if you have a party. A real winner in my book!
Cinnamon Tomato Chicken Stew
Author:
The Bossy Kitchen
Ingredients
1 to 3 pounds chicken cut into pieces
salt and pepper to taste
4 Tablespoons butter
1 large onion finely chopped
1 garlic head finely chopped
1 pound and 12 oz(794g) canned tomatoes with the sauce in
2 cinnamon sticks
Instructions
Season chicken pieces with salt and pepper.
Melt butter in a large skillet. Add chicken, skin side down and turn until brown on all sides.
Brown a few pieces at a time. When all are done, set aside. Add onion and garlic in the butter, stirring until onions are lightly browned.
Add remaining ingredients with more salt and pepper if needed.
When sauce comes to a boil, add the chicken, making sure that each piece is covered in the sauce.
Cover and reduce heat. Simmer for another 30 minutes, remove chicken to a platter and spoon the sauce over it.
Serve.