Chicken Stewed in Tomato Garlic and Cinnamon- Kota Kapama is a delicious dish that can feed a crowd, perfect for entertaining, holidays, or just a regular Sunday dinner.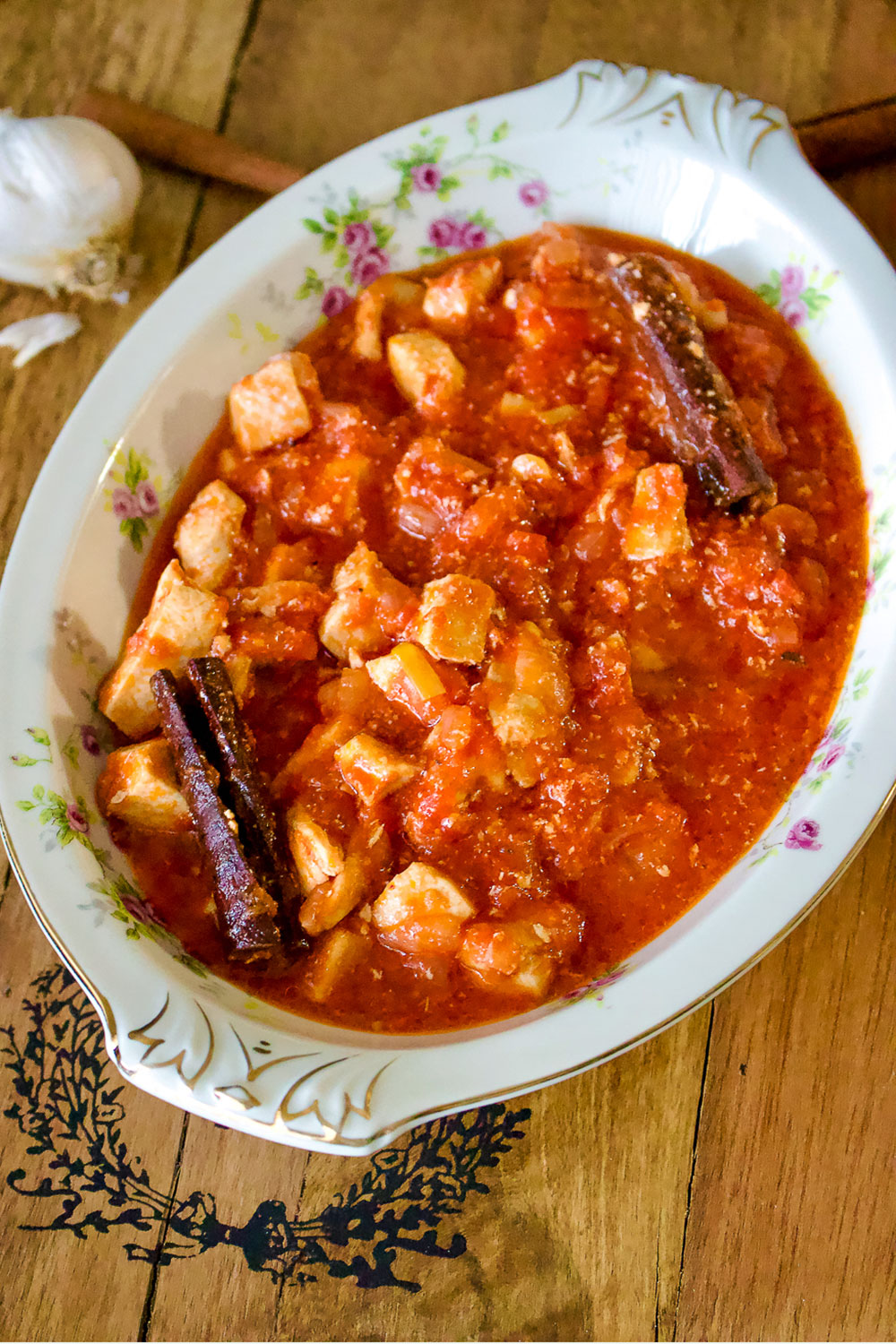 Kota Kapama- Chicken in tomato sauce and cinnamon
This is one of these recipes that I have always loved. It comes from Greece, and it is also known as Kota Kapama, chicken stewed in garlic, tomato sauce, and cinnamon.
The hidden ingredient in the tasty sauce is cinnamon, and it makes chicken taste like a party.
Can I make this recipe using other meats and what is so special about this stew?
Beef, chicken, pork, or lamb are all suitable for this dish.
A touch of cinnamon intensifies the savory aroma and adds a subtle richness to the meat.
It won't taste like cinnamon, but it will add a layer of flavor to the dish. Your guests will wonder what your secret ingredient is.
My recipe uses cinnamon sticks, and I think I like it better than using cinnamon powder. I found that the flavor of the sauce is more subtle with the cinnamon sticks.
What kind of ingredients you will need:
Chicken cut into pieces.
Sometimes I use chicken breast, sometimes thighs, sometimes I just cut a chicken in pieces and use legs, breast, and thighs with the bone in.
Onion and garlic
Canned tomatoes
You can use any tomato sauce you like. I used peeled tomatoes in tomato juice and crushed them for this dish.
Cinnamon sticks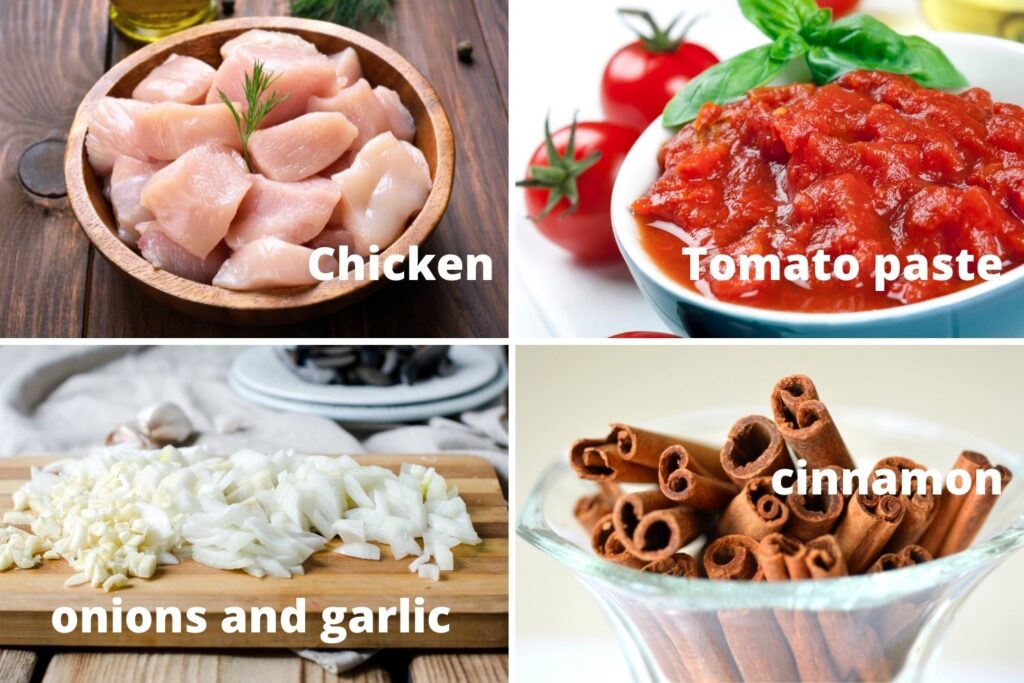 Salt and pepper to taste
Butter
Chicken stock or white wine(optional)
The recipe is made in different ways, with either chicken stock, red wine, or white wine, so you have options.
How To make this chicken stewed in tomato sauce with cinnamon:
Start with the chicken.
It needs to be seasoned with salt and pepper and browned on each side in a skillet with butter.
Cook the chicken in batches and do not overcrowd the pan. When I took pictures of the dish, I used chicken breast as I was trying to cook a fast dinner.
However, you can make this dish using a whole chicken, cut in pieces, or your favorite parts of the bird(only legs, only thighs, etc.).
As soon as the chicken is browned on each side, remove it from the skillet and set it aside. I
Cook the onions with the garlic.
In the same skillet, add onions and garlic and cook them until lightly caramelized.
Supervise the skillet, stir once in a while, so the onions and, especially, the garlic do not burn.
Add the rest of the ingredients.
Add the can of tomatoes with juice, cinnamon sticks, and chicken stock or white wine. The white wine is a personal preference, but you can skip it and add chicken stock instead of just water.
Most recipes out there that are traditional use wine in the recipes quite often.
Return the chicken to the pan and simmer everything together.
When sauce comes to a boil, add the chicken, ensuring that each piece is covered in the sauce. Cover and reduce the heat. Simmer for another 30 minutes, a season for salt and pepper again, and serve.
What to serve with this dish:
The dish can be served with white or brown rice, orzo, or regular pasta. Even potatoes, like mashed potatoes or roasted ones, would be great as well.
If you prefer to skip the rice or pasta, but prefer bread, serve it with a good crusty one, like this easy-to-make no-knead bread. It is to die for, especially when you dip that bread into the sauce! Yum!
It is a great recipe to feed a crowd and looks awesome as a centerpiece if you have a party.
A real winner in my book!
More recipes to love:
No Breaded Fried Chicken Thighs – Grandma's Style
Roasted Pork In Garlic Tomato Sauce
17 Easy Meals to Make When You Are Stuck at Home
10 Bone-In Chicken Breast Recipes
The Bossy Kitchen Group on Facebook is a community of people who share a passion for cooking and baking. Everyone is welcome to share ideas, tips, and culinary experiences.
Yield: 4-6 servings
Cinnamon Tomato Chicken Stew- Kota Kapama
This Chicken is Stewed in Tomato Garlic and Cinnamon- Kota Kapama is a Greek recipe made with chicken braised in tomato sauce, cinnamon, and garlic. A delicious dish that can feed a crowd, therefore perfect for any occasion you need to entertain.
Ingredients
3 pounds chicken breast or thighs cut into pieces
salt and pepper to taste
4 Tablespoons butter
1 large onion finely chopped
1 garlic head finely chopped
1 pound and 12 oz(794g) canned tomatoes with the sauce in
2 cinnamon sticks
1/2 cup chicken stock or dry white wine
Instructions
Season chicken pieces with salt and pepper.
Melt butter in a large skillet.
Add chicken and brown it on all sides turning it once in a while.
Brown a few pieces at a time. When all are done, set aside.
Add onions and garlic in the butter, stirring until onions are lightly browned.
Add tomatoes from the can with their juice, cinnamon sticks, chicken stock, or wine with more salt and pepper if needed.
When sauce comes to a boil, add the chicken, ensuring that each piece is covered in the sauce.
Cover and reduce heat.
Simmer for another 30 minutes, remove chicken to a platter and spoon the sauce over it.
Serve.
Notes
You can use chicken breast, chicken thighs or chicken legs. The chicken could be boneless or not, skinless or not. If you use pieces that have the skin on, brown them with the skin down first.
Nutrition Information:
Yield:
6
Serving Size:
1
Amount Per Serving:
Calories:

667
Total Fat:

38g
Saturated Fat:

13g
Trans Fat:

0g
Unsaturated Fat:

21g
Cholesterol:

235mg
Sodium:

411mg
Carbohydrates:

17g
Fiber:

4g
Sugar:

9g
Protein:

58g
Note: "We are a participant in the Amazon Services LLC Associates Program, an affiliate advertising program designed to provide a means for us to earn fees by linking to Amazon.com and affiliated sites."