Auditioning for a reality television series is not something I had ever dreamed of or planned on doing. But last year, among hundreds of other contestants, I found myself waiting in line at the Hilton Hotel in downtown Minneapolis for a casting call for Fox's cooking competition series Master Chef US. 
I found out only a week before after a friend of mine posted it on my Facebook page, encouraging me to participate.
Jump to:
Deciding to attend the audition
I was very reserved initially because I never liked these kinds of shows.
Especially after watching Master Chef Romania (the country I moved from to the US many years ago), I told everyone that there was no way I would ever audition or expose myself on any of these shows, as I would never be able to put up with the verbal abuse and humiliation happening to the contestants...
I was not into watching the Master Chef of the US either, so I was unsure if the verbal abuse happened there.  
In the back of my mind, though, I was curious to see if I could even make it through the first casting, so I started to watch the last season and get familiar with the requirements. During the process, I fantasized about the plate I would present and thought about the logistics for that day.
I do not know about you, but I am always worried about my image out there. Besides the fact that I never liked attention in public, I also never thought I would look good on TV or have the right personality for a show like that.
Also, I was and am still convinced that my mind would never be able to work that fast to put together a dish in 3 minutes after opening a box full of surprise ingredients that have no connection with each other. When I entertain, I like to take my time, think about the menu, and plan in advance.
When I bake a cake, I take a lot of time to think about how the cake would look like, if the flavors would go well together, if the decorations would fit the occasion, etc...
However, even if I was trying to convince myself that there are so many reasons why I shouldn't go, I kind of needed validation from someone who doesn't know me.
You know how all your family and friends tell you how great you are as a cook or a baker,  but you think that they only want to be nice to you? This is me....not trusting myself enough, so for that matter, I decided to challenge myself, as usual, and go for the Master Chef casting and get that ridiculous feedback I needed so much.
Check out this Orange Charlotte Cake (No Bake Recipe)
The process before the audition
So, I pre-registered, not convinced I would even make it there on Saturday. I did not want to stress myself and be disappointed, so I told everyone that if my dish came outright, I would go; if I were not satisfied with it, I would not.
However, a Los Angeles producer called me on the Tuesday before the casting to ensure I would be there on Saturday. She was able to take a look at my blog, liked it very much, and encouraged me to go.
I told her that I had never applied for any show before, was not confident that I could even pass the first casting, and was thinking of not going. She said that I should try, as it seems my blog was very interesting to them. They liked that I can cook many things and also bake and that my food looks outstanding in terms of plating.
The audition would start at 10 am, but she scheduled me between 12-2 pm and explained the process a little bit.
She said we would be invited in groups of 10-15 people and that four tasters would taste our food. We would have only 3 minutes to plate the food before that. The dish was to be planned and prepared ahead of time.
We could make anything we wanted, but it had to be served as is. They would not provide us with any electrical outlets to warm or finish our dishes.
Planning and practicing the recipe
Full of confidence, I started to really plan on what to bring to the audition. I have to say that because of so many years of experience in the kitchen, I feel like a better cook than a baker. However, as I am also a trained baker, I decided to make a cake.  A fancy one, where I can show many techniques.
I thought that if I made a dish, keeping a decent temperature on it for many hours would be challenging, and the texture would change over time. Also, because it was summer and I had no idea how long we would be there, I was worried about the safety of eating food that was kept warm for so long.
I chose to make a dacquoise hazelnut cake with white chocolate mousse and a strawberry and pistachios insertion in the middle. The cake will be frozen overnight and decorated on the same day as the audition. Waiting in line for several hours will not only achieve the desired consistency but also ensure it remains safe to eat.
First cake.
I made the cake once and noticed a few issues with it. Here is the first version of it.
The top of the cake is not very smooth, but not bad overall.
The layers inside the cake looked like this:
The only problem was that the cake was melting, and the glaze on top was runny, indicating that it needed more gelatin.
More desserts: 43 Best Cheesecake Recipes
Second Cake.
I was nervous about getting to the audition with a cake that would not hold together. Friday morning, a day before the audition, I made another cake, thinking it would be the one I would take the next day.
As I said before, the white chocolate glaze on the first cake was a little runny, so I decided to put more gelatin sheets into the mixture this time. 
Big mistake! The glaze came out like glue. It was thick and impossible to spread on the cake! BUMMER!
The surface is bumpy and thick and not appetizing at all, even though I tried to decorate it nicely. 
Third cake.
Almost crying,  I told my husband that I needed white chocolate, as I had to bake another cake now that I had ruined the one I was working on. At 8 pm that night, my husband got in the car (he was not very happy, let me tell you!) and went to the grocery store to pick up more ingredients.
So, I started to work on my third cake, basically! This time, I decided that if I made another mistake, I am not going.
I was convinced that if I got there, the cake would have to look impeccable, the taste should be amazing, the textures should be right, and, overall, everything should be perfect!
I baked that night, put the cake together, and shoved it in the freezer until Saturday morning, when I was supposed to glaze and decorate it before the audition.
The audition.
The next morning went by without any major events, so I left the house with this one:
I even had the time to create charming gum-paste flower decorations and prepare a transparent glaze for the fresh fruit. I was truly delighted with the results!
I dressed appropriately for the occasion, following their advice not to wear clothing with logos, inscriptions, or jeans. First impressions matter, so I opted for attire you'd wear to an interview.
Sweatpants aren't my style outside of home, so I chose a nice blouse, a knee-length skirt, and a pair of stylish flats. I aimed for a comfortable yet presentable look. I wasn't sure if we'd have seating indoors or outdoors or how long the wait in line might be.
We got to the Hilton Hotel in Minneapolis on time, and I handed them the application with a million questions about myself that I had to complete before the audition.
I received a sheet of paper with my name, the dish's name to attach to the application, and a number. Mine was #162.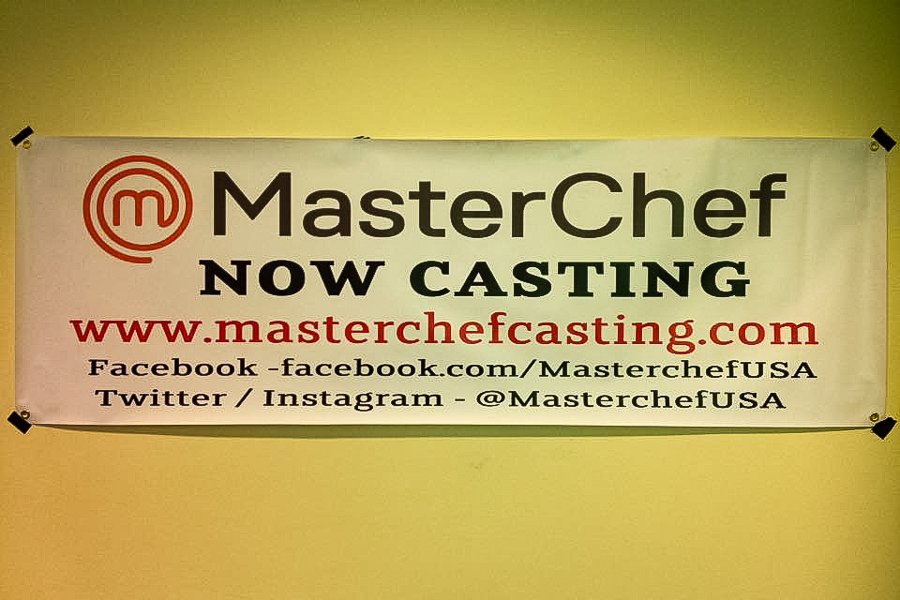 I was guided to a waiting room with chairs where many people were waiting. Most people were in jeans, t-shirts, and shorts. So much for following the rules, huh? Anyway, I only had to wait about an hour until I could enter the tasting room.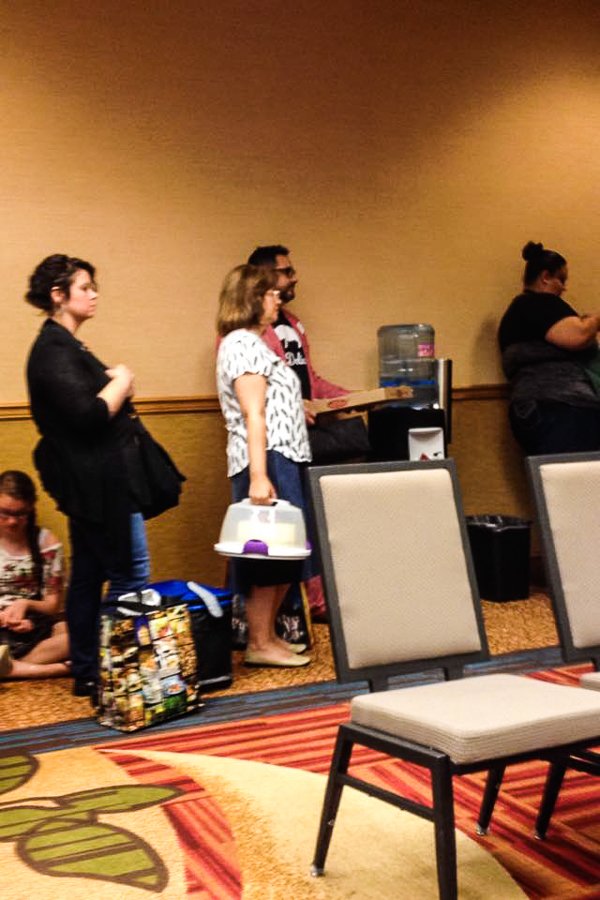 Groups consisting of 10-15 individuals were ushered into the room together. I glanced around and noticed I was the sole person in my group with a dessert.
My husband reassured me that many others had also brought cupcakes and various sweet treats, so I wasn't alone in that regard.
I observed that most of the people in the room had opted for pasta dishes and fried foods. I couldn't spot any salads or fresh vegetables, and there seemed to be a lack of colorful plates on display.
Three minutes to plate the food.
I felt a bit anxious about cutting into my cake. You know how the first slice can often be tricky, turning out a bit firm and not the prettiest? So, I said a quick prayer and began slicing the cake. Surprisingly, the first piece came out absolutely perfect, so I placed it on the plate and decorated it swiftly.
Once the 3 minutes were up, a photographer snapped pictures of each of us alongside our applications and our dishes. A taster moved from dish to dish, and when he reached me, he inquired about my creation.
He complimented the plate's appearance, noting how nicely it was presented, and then took a bite of the cake, declaring it delicious. He was curious about the cake's center and its preparation, and he seemed quite satisfied overall, describing my dish as both tasty and beautifully presented.
He also looked at the entire cake and remarked on how lovely it looked. The producers circulated the room and also praised the cake's appearance.
Following that, an interviewer, one of the producers, approached me to learn more about my background.
"Have you been to culinary school? Any professional kitchen experience as a cook or baker? Are you married, and do you have kids? If so, how old are they? How long have you lived in this country? Where's your hometown? Any hobbies you're passionate about?"
After all the questions, they chose a few individuals from the group for further interviews, and the rest of us were free to head home. Unfortunately, I wasn't among those selected to move forward. It was a bit surprising, considering my cake looked perfect, and the taster enjoyed it.
Right beside me, there was this young guy dressed in a pink suit and a black T-shirt with a white skull design. He brought along a massive Davanni pizza box containing a Cheese Curds pizza with fresh basil.
Someone even asked him if he had made the pizza himself or bought it. He had crossed out Davanni's name on the box with a black marker and written his own name instead. Surprisingly, he made it to the next round of interviews with his Cheese Curds pizza.
I couldn't help but notice that very few from my group made it to the next level, and most of them were much younger than me. It got me thinking: if this show is about finding the best home cooks in America, shouldn't there be more contestants with years of culinary experience?
I've seen past seasons filled with photogenic 20-30-somethings, many with media ambitions. Even the older contestants who made it were often eliminated early on. It seemed that most of the "golden ticket" recipients that day were on the younger side.
So, I wondered if these contestants were truly the best home cooks or just the best at getting on TV because of their youth and looks. I hesitated to share this, not wanting to seem like a sore loser, but it seems many TV shows favor younger participants.
I can't say for sure what casting looks for, and I'm okay with not fitting their criteria. I've never been a fan of reality show drama, and the idea of being scrutinized by viewers worldwide doesn't appeal to me.
I do know that before leaving home that day, I prayed honorably to go through the experience. My cake received compliments, and I gained valuable experience. I shared the cakes with our community, and everyone enjoyed them, boosting my confidence.
Ultimately, I'm proud of myself for applying and facing this challenge. To my husband and daughter, I'll always be their "Master Chef," and that's what matters most! 😊
Craving more? Subscribe to The Bossy Kitchen to get new recipes and a newsletter delivered straight to your inbox! Stay in touch on Facebook, Twitter, Pinterest, and Instagram for all of the latest updates. Don't forget to use the star rating and leave a review.
📖 Recipe
White Chocolate Hazelnuts Dacquoise Cake
White Chocolate Hazelnuts Dacquoise Cake is a recipe of hazelnut Dacquoise cake with white chocolate mousse, a strawberry compote, pistachios, all covered in a white chocolate glaze, decorated with berries and edible gold sprinkles.
Print
Pin
Rate
Ingredients
Hazelnuts Dacquoise Cake:
3.5

ounces

ground hazelnuts

1.5

ounces

all-purpose flour

¼

teaspoon

salt

4

ounces

egg whites

aprox.3 eggs

juice from half lemon

3

ounces

granulated sugar
Strawberries compote and pistachio insertion:
8.8

ounces

fresh strawberries

2

tablespoons

water

juice from half lemon

3.5

ounces

granulated sugar

1

tablespoon

corn starch

2

ounces

pistachios
White Chocolate Mousse
14

ounces

white chocolate

4

gelatin sheets

9

fl. ounces

whole milk

12

fl. ounces

heavy cream
White Chocolate Glaze
11

ounces

white chocolate

8.5

fl. ounces

heavy cream

1

ounces

unsalted butter

82% fat, at room temperature

2

gelatin sheets
Instructions
Hazelnuts Dacquoise Cake:
Preheat the oven to 340F(170C).

Prepare two baking springforms—one measuring 8 inches in size and the other 6 inches. Line both pans with parchment paper and set them aside.

Mix the hazelnuts with flour and salt.

In a standing mixer fitted with a whisk attachment, beat the egg whites on low to medium-low speed until foaming, taking about 1 minute. Keep beating until the egg whites increase approximately four times in volume. Add the sugar and the lemon juice.

Increase the mixer's speed to high and continue beating the egg whites to a stiff peak stage.

Stop the mixer and add the flour, salt, and hazelnuts with a spatula, mixing gently from underneath to the surface, carefully not losing the air from the egg whites.

Pour the mixture into both springforms and bake for 13-15 minutes. Turn off the oven and allow the cakes to rest for an additional 5 minutes with the oven door closed.

Remove the cakes from the oven and let them cool. Keep the dacquoise in the springform pans; do not remove them.
Strawberries compote and pistachio insertion:
Strawberries, water, lemon juice, sugar, and corn starch go in a medium pot on the stove on medium heat.

Simmer them until the mixture thickens and becomes silky. Let cool, then pour the compote over the 6 inches of cake still in the springform pan.

In a small pan, toast the pistachios until they develop the flavor, and add them to the strawberry compote.

Place the springform pan in the freezer.
White Chocolate Mousse:
Place the gelatin sheets in a pan with icy water to cover them and let the gelatin sheets hydrate. The gelatin is hydrated and ready to use when it is very soft. Squeeze the gelatin in your hands to get rid of the water, then place it over the white chocolate.

Meanwhile, bring the milk to a boil. Remove it from the stove and pour it over the gelatin and white chocolate.

Let it sit for about 2 minutes, then gently mix it. Let the mixture cool.

While the chocolate cools down, whip the heavy cream to a medium soft peak and fold it gently into the cool white chocolate mixture.
White Chocolate Mousse Glaze:
Place the gelatin sheets in a pan with icy water to cover and let the gelatin sheets hydrate. The gelatin is hydrated and ready to use when it is very soft. Squeeze the gelatin in your hand to get rid of the water, then place it over the white chocolate.

Bring the heavy cream to a boil and pour it over the chocolate and gelatin. Add the butter and mix slowly just on the bottom of the bowl, right in the center, in small circles. The idea is to obtain a smooth, shiny glaze that doesn't have air bubbles when poured on the cake. Let it cool, then glaze the cake with it.
How to ensemble the cake:
Remove the parchment paper from the bottom of the 8 inches cake. Place the cake back in the springform pan.

Add about ⅓ of the white chocolate mousse over the cake.

Remove the 6 inches pan from the freezer and remove the strawberry and cake insertion. Remove the parchment paper from the bottom of the cake.

Place the 6 inches cake and strawberry insertion(which should be hard frozen) in the middle of the 8 inches cake over the chocolate mousse.

Pour the rest of the white chocolate mousse over and level the surface with a spatula.

Place the cake in the freezer for 24 hours.

The next day, place the cake on a metal rack. Place a tray underneath the rack.

Pour the glaze over the cake. Grab the cake from underneath with a wide spatula and place it on a serving platter. Refrigerate so the glaze hardens.

Decorate it with fresh berries, white chocolate, and a few golden sprinkles.

This cake needs refrigeration. After decoration, the cake must stay in the fridge to defrost for 2 hours before serving it.
Nutrition
Serving:
1
g
|
Calories:
517
kcal
|
Carbohydrates:
45
g
|
Protein:
8
g
|
Fat:
35
g
|
Saturated Fat:
19
g
|
Polyunsaturated Fat:
2
g
|
Monounsaturated Fat:
9
g
|
Trans Fat:
0.1
g
|
Cholesterol:
58
mg
|
Sodium:
109
mg
|
Potassium:
265
mg
|
Fiber:
1
g
|
Sugar:
41
g
|
Vitamin A:
658
IU
|
Vitamin C:
10
mg
|
Calcium:
150
mg
|
Iron:
1
mg
Note to the readers: The event happened at the end of August 2015