Note: "We are a participant in the Amazon Services LLC Associates Program, an affiliate advertising program designed to provide a means for us to earn fees by linking to Amazon.com and affiliated sites."
Who wants cookies? Especially if they are vegetarian and gluten free? Raise your hand!
Few days ago, I received some nut butters samples from this wonderful company Once Again Nut Butter. The company makes organic, gluten free certified, non GMO products that are delicious and affordable.  I tried peanut, cashew, sunflower seed and almond butters. All of them are delicious, but sunflower seed butter was my favorite. (Read the review here)
The samples came with the cutest raccoon ever, which is the company's logo. We adopted him and named him Ralphie, so now he is part of our family. Did you know that there is a story behind the raccoon logo that Once Again Nut Butter company has? It seems like four bay raccoons grew up on the factory grounds. Apparently orphaned, they really enjoyed the nut butters, so in turn, the company adopted them and created the logo in their honor.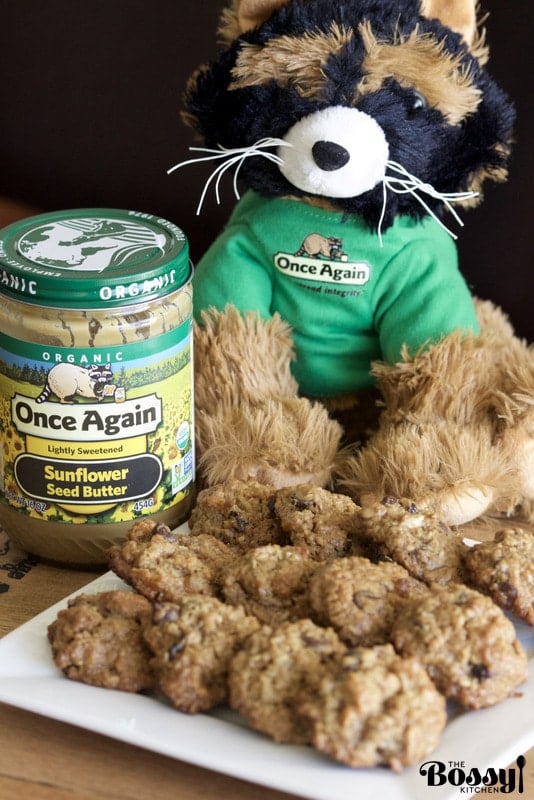 Ralphie, the raccoon, enjoying a photo shoot… 🙂
Anyway, I used the sunflower seed butter to make these delicious cookies. The cookies are vegetarian and gluten free. They are also very, VERY, easy to make! For real! I think that in total, it took me about 30 minutes from start to finish, as they have to bake only for 12-14 minutes. The result?
I mixed all the ingredients together and scooped them on a cookie tray: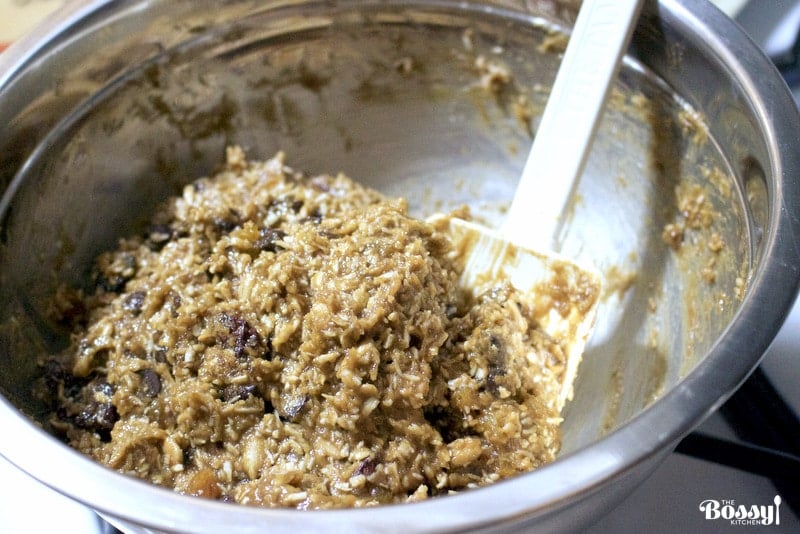 Then, I baked them at 350 for 14 minutes and voila!
My family loved them! Crunchy on the outside, chewy on the inside, these cookies are a winner! Enjoy!
Trail Mix Cookies- Vegetarian, Gluten Free Recipe
Vegetarian, Gluten Free, Dairy Free cookies
Author:
The Bossy Kitchen
Ingredients
1 cup Once Again Organic Sunflower Seed Butter
1 cup sweetened coconut flakes
½ cup semi-sweet chocolate chips
½ cup packed dark brown sugar
½ cup dates, chopped
¼ cup sunflower seeds
¼ cup maple syrup
1 large egg
½ teaspoon vanilla
½ teaspoon baking soda
¼ teaspoon salt
Instructions
Preheat oven to 350F.
Place all of the ingredients together in the bowl of a stand mixer.
Mix on medium speed until the ingredients are well incorporated.
Drop generous tablespoons of doug onto a parchment lined cookie sheet.
Bake for 12-14 minutes until cookies are set, but still soft.
Remove from the oven and let cool on the cookie sheet.
Enjoy!
Nutrition Information
Calories:
115
Fat:
6.1g
Saturated fat:
1.7g
Carbohydrates:
15.9g
Sugar:
12g
Sodium:
80mg
Fiber:
1.5g
Protein:
2g
Cholesterol:
6.2mg