The 2015 holidays season  was very different than past seasons and our vacation was even more different. We were very lucky to spend Christmas and New Year in Spain, visiting our daughter who is about to finish her Master Degree in Madrid.
Between Christmas and New Year's Eve, we took a trip down south to Andalusia, Spain and visited Seville and Granada.
On one of the days we spent in Granada, after visiting Alhambra Palace,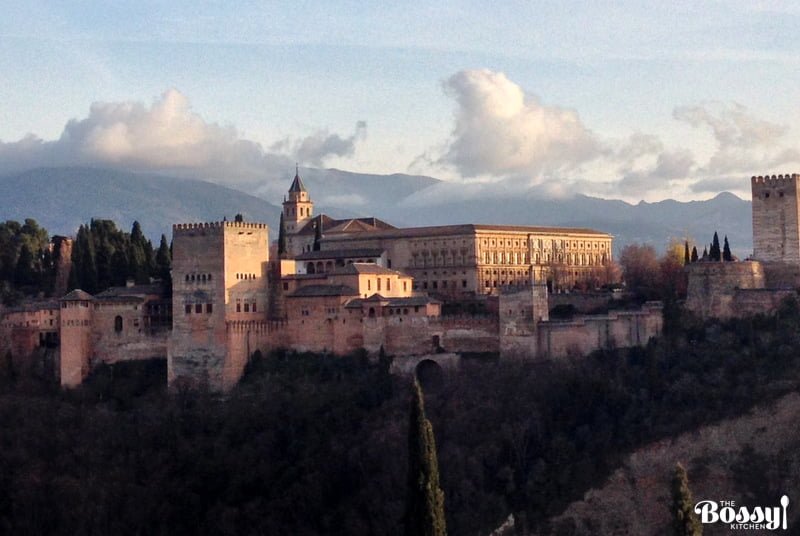 with its wonderful gardens full of lemon and orange trees everywhere,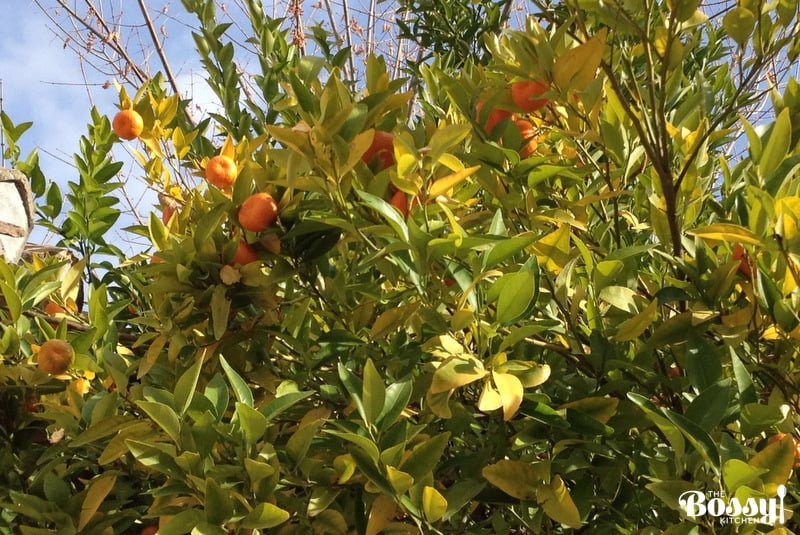 we decided to have lunch at one of the restaurants close to our beautiful apartment we rented for our little vacation. Our daughter kept telling us to stop in and have lunch because it was one of her favorite places from past trips.
We each ordered what we wanted to eat, but also decided that we have to try this salad to share:
A beautiful Roasted Red Pepper Salad with green olives (believe me, you have never had such good green olives ever in your life like we had in Andalusia, the land of olive trees).
I really fell in love with the salad to the point that I had to reproduce it at home when I came up, for a dinner with some friends.
My version of this salad had roasted red bell peppers, sun-dried tomatoes, red onion, garlic, Spanish green olives, hard boiled eggs, olive oil and a little bit of dried parsley.
If you can roast your own peppers, please go ahead and do that, as there is nothing better than fresh roasted ones. However, I think it is perfectly allowed to get a jar of roasted peppers from the grocery store. To tell you the truth, if I want to make this salad in the winter, I am not going to roast the peppers on the grill outside, as I live in Minnesota where it is very very cold most of the year. I love the jar bought roasted peppers!  They are a great addition to your pantry and you can use them for so many recipes!
HOW TO MAKE THE ROASTED RED PEPPER SALAD WITH GREEN OLIVES:
I started by chopping a red onion and some garlic and saute them in olive oil until they got soft. Then, I set them aside and let cool for few minutes.
I removed the seeds from the red peppers and cut them in strips, then placed them in a salad bowl.
The sun dried tomatoes were already chopped so I added them to the peppers. I also added the onions and the garlic, together with the olive oil I used to cook them.
 The next step was to chop some green olives and add them to the salad.
I also boiled two eggs and set them aside to use for decoration. Meanwhile, I mixed the salad and tasted for salt and pepper. I added the vinegar. Optional, you can add few more drops of olive oil over your salad, if you prefer. Sprinkle some dried parsley over the salad and mix again.
Finally, decorate with slices of hard boiled egg.
I served it room temperature with my famous Roasted Bacon Wrapped Pork Tenderloin  and it was great! We had Spanish wine with it too! White and Red! It was a success!
Enjoy!
Saute onion and garlic in olive oil until soft, then remove from the heat and set aside to cool.

Slice the roasted red bell pepper into strips.

In a salad bowl, place the roasted peppers, onion, and garlic together with the olive oil used to cook them, chopped sun dried tomatoes, dried parsley, chopped green olives, salt, and pepper to taste.

Add some more olive oil and vinegar to coat the ingredients and season to your taste with salt and pepper.

Mix the salad, decorate with sliced hardboiled eggs.

Serve it room temperature.