Today I am going to share with you two recipes instead of one, along with a review for the Once Again Nut Butters. If you like nut butters you will love this post.
Few days ago I received this cute package with 4 jars of different nut butters: peanut, cashew, almond and sunflower seeds. It came from this company Once Again Nut Butter.
Have you heard of them? They make wonderful organic nut butters that are also non-GMO and gluten free. It is a company that was opened in 1976, it is owned by employees and they are located in New York.
Also, the package came with the cutest racoon ever, the company's mascot ! He will make the honors to present to you each jar of nut butter! 🙂
First of all, the Almond butter- it contains high quality organic almonds that are roasted and milled. Nothing else is added to them.  It is also gluten free, vegan and non GMO. Perfect, in my opinion, to make smoothies and bake with it. Here you have a link to their page with smoothies recipes.
The Cashew Butter- very low in carbs, only 8 grams for 2 tablespoons. There is no sugar added and the only ingredients are cashews and expeller-pressed organic sunflower oil is added to enhance the spreadability of this butter. Delicious!
The Peanut Butter– An American classic, the butter is creamy and delicious. There are no other ingredients added to it.
I thought it was a little bit runny, but it is great for cooking, baking and making smoothies.Oil separation occurs naturally. To prevent, stir and refrigerate or freeze.
I used it to make Peanut Butter Chicken and it came out DELICIOUS! You have to make it, it's a must! It is one of my favorite recipes for chicken and it is so easy to make!
I left this Sunflower Seed Butter for the end of the review, because it was by far my favorite nut butter from all four of them. It is smooth, tasty, organic like all of the company  products.
It has a little bit of organic sugar, a little bit of salt and a little bit of sunflower oil. It is low in carbs(only 8 grams/2Tablespoons) with only 3 grams of sugar, so really not too bad for a nut butter.
I loved the texture and the flavor of it. It is a great substitute for the peanut butter if you are allergic to it.
I baked some cookies that came out really, really good. If you want to take a break from flour and dairy once in a while, this recipe should be part of your repertoire.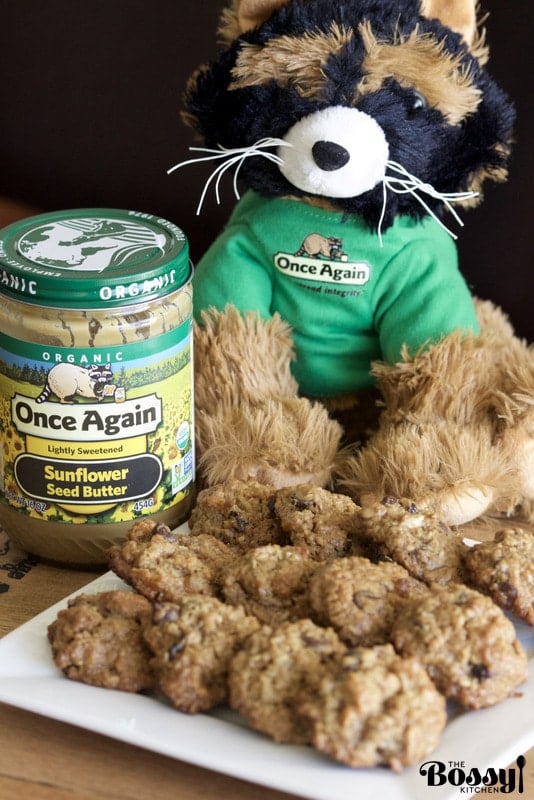 Overall, my experience with this company was a very pleasant one. The nut butters are wonderful.
I love the idea that everything they produce is high quality and no additives, preservatives are added to the final product.
The nut butters are smooth, very clean tasting and versatile. Each one of them can be used in so many wonderful recipes, from savory to sweet.
Thank you, Once Again Nut Butter for the opportunity! Excellent products!
*I received this product for free from Moms Meet (momsmeet.com), May Media Group LLC, who received it directly from the manufacturer. As a Moms Meet blogger, I agree to use this product and post my honest opinion on my blog. The opinions posted are my own.
You can find them on:
Facebook: https://www.facebook.com/OnceAgainNutButter
Website: http://www.onceagainnutbutter.com/
Pinterest: https://www.pinterest.com/onceagainesop/