Mititei- Authentic Romanian Grilled Sausages are made with ground beef, garlic, and other spices. They are served with mustard, bread, and cold beer.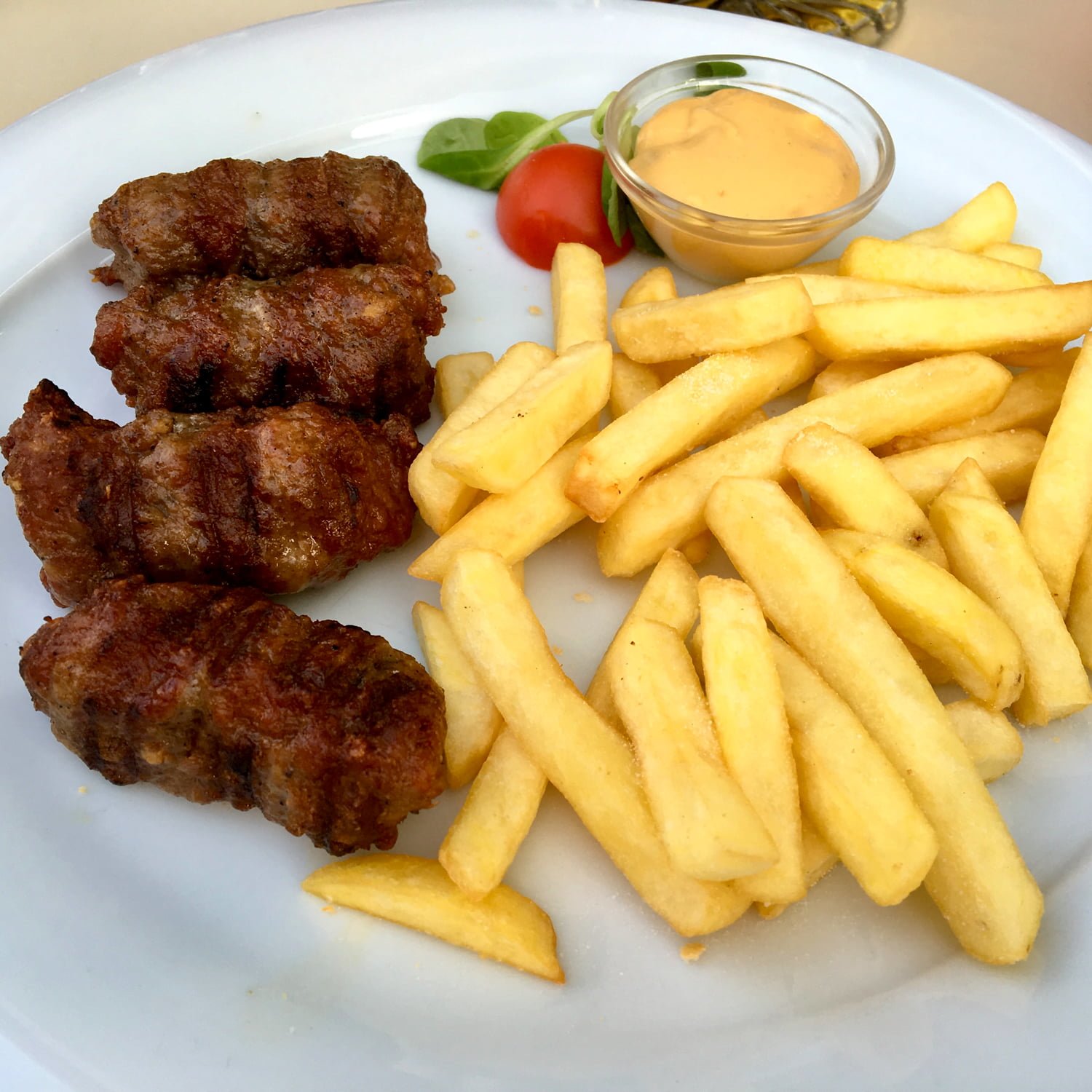 Jump to:
Delightful Reasons to Try It
When in the mood for partying and the weather is fine, Romanians go out for picnics. One of their favorite food out there is "Mititei" or "Mici."
Mititei are small skinless sausages made with ground beef, lamb or pork meat, garlic, and other spices.
The sausages are grilled on a hot charcoal grill and served with mustard, fresh bread, French fries, and cold beer. It is a meat dish encountered in multiple countries in the Balkans, but each uses its own mixture of spices.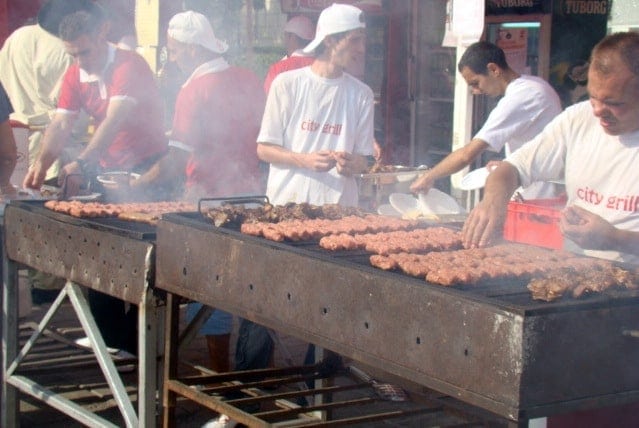 I took this photo at a summer festival in Bucharest, Romania.
The Mititei are a delicious summer delight. As Americans get together for hamburgers and hot dogs, Romanians gather for Mititei and grilled meats.
We gather with family and friends and enjoy the meats with salads, good wine, and cold beers.
And we make lots of "Mititei" because they are so good that you cannot eat just a few. They must be grilled to perfection and have to be juicy, soft, and slightly pink on the inside.
A few years ago, when we visited Maramures, a beautiful region in the northern part of Romania, we had these grilled sausages with French Fries cooked on this device.
The grill had a round shape and looked like a hat.
Bacon was cooked first on the edges of the grill, and potatoes were fried in the rendered fat released in the middle.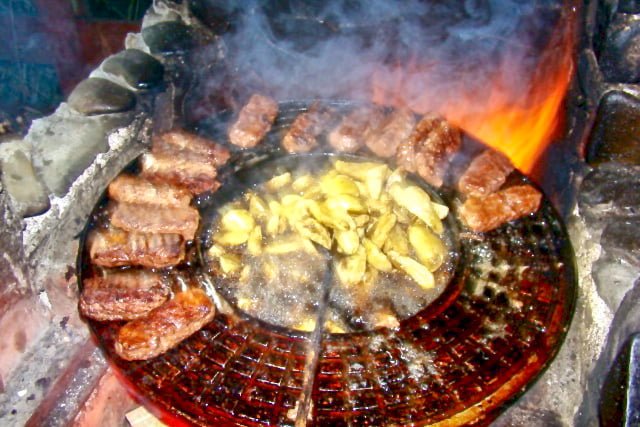 The "mititei" were added to the grill and cooked.
I cannot even describe the taste of the fried potatoes and the grilled meats cooked like this. Juicy and delicious! Add a summer tomato salad to all this, and you will have the best meal you have ever had!
How to make
Meat: The best taste for these little sausages is acquired when the meat is prepared the night before, so the ingredients have time to get friendly with each other.
The meat mixture has a lot of spices and a little bit of baking soda. The baking soda makes them fluffier and easier to digest.
Traditionally, the meat is a mixture of beef and lamb. Pork is accepted instead of lamb for those who don't like the taste.
It has to contain some fat, so for that matter, beef suet is added to the ground meat. If you cannot find that, just buy some pork with a little more fat.
The final product will be juicy and delicious. Without fat, the sausages will be dry and boring.
What kind of spices and herbs do you need?
The recipe came to Romania hundreds of years ago from the Turks. Most countries in the Balkans have a recipe of Mititei, even if they call them differently, like Ćevapi or ćevapčići.
However, each country adapted the recipe according to the spices available and the taste they enjoyed.
The rule, in general, when you make sausages, is to use fresh condiments, as they have a more intense flavor than the ones sitting in the back of your pantry cabinet.
Thyme, black pepper, allspice, anise, and coriander spices are traditional for the Romanian Mititei.
Thyme and other ingredients
Some of you told me that I need to use the so-called "cimbru" instead of thyme to make this recipe. Well, Romanian "cimbru" is called summer savory, but to tell you the truth, I never saw summer savory in Minnesota's stores.
I had to replace it with thyme because this is what is available. I used thyme for roasting meats to make sausages, cabbage rolls, and other traditional Romanian recipes that require summer savory.
You also have to remember that the ingredients for most recipes I share with you on this blog are adjusted to fit American needs. I know there are many purists out there who would insist that I have to make the recipe in one way or another.
However, for a regular American, who might have some Romanian roots and would love to try some recipes, thyme is a perfect option for this recipe.
If you do not like thyme and cannot find summer savory, use Greek oregano, or even Mexican oregano, which are milder and will not change the taste of the meat considerably.
What other ingredients you will need
Garlic.
The garlic is crushed and spread through the mixture. I gave you the amount of garlic for the meat, but you can adjust it according to your own taste. Some people like it more garlicky, and some people don't.
Beef broth.
You will also need a concentrated beef broth or plain water. Make sure it is very cold. The idea is to add enough liquid to the meat, so you obtain a soft mixture.
The mixture has to be mixed really well. For that matter, if you have a vertical stand mixer, you can use it. Otherwise, use your clean hands to mix and even knead the mixture really well.
When you are done mixing, cover the bowl and place it in the refrigerator overnight.
The ingredients will have time to get friendly with each other and transform the sausages into a symphony in your mouth.
What size to make the Mititei and how to cook them
The next day, using your wet hands, form cylinders about 2-3 inches long and 1 inch thick. Approximately. Try to make them the same size. They will cook evenly.
Traditionally, the sausages are grilled on a wood and charcoal grill. The grill should not be scorching (the sausages will burn on the surface and stay raw in the middle).
If the heat is too low, the sausages will dry out. Do not flip them unless they come off easily from the grill. If you mess with them, they will break.
The time is approximately 8 minutes, but each grill is different.
Serve them with mustard, fresh buns, or French Fries. A beer is always a perfect addition to them.
Enjoy and happy grilling!
More recipes to love
Romanian Easter Meatloaf-Drob de Carne Tocata cu Legume
Walnut and Jam Bars- Hungarian Londoni Szelet
Chicken Soup With Sour Cream And Garlic
Beans With Pork Shank recipe in the Crock Pot
Romanian Traditional Sweet Bread With Walnuts- Cozonac
Roasted Pork In Garlic Tomato Sauce
Romanian vegetable spread-Zacusca
Romanian Fruit Coffee Cake(Pandispan Cu Fructe)
Romanian Traditional Sweet Cheese Pastries- Poale In Brau(Branzoaice)
Authentic Romanian Sauerkraut Stuffed Cabbage Rolls
📖 Recipe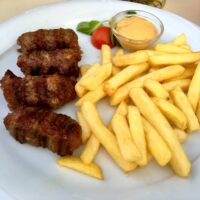 Mititei- Authentic Romanian Grilled Sausages Recipe
Mititei- Romanian Grilled sausages are made with ground beef, garlic, and other spices. They are served with mustard, bread, and cold beer.
Print
Pin
Rate
Ingredients
2.2

lb

ground beef

1kg

1

lb

ground pork or lamb

½

pound

of ground beef suet

1

garlic head minced

1

tablespoon

salt

1

teaspoon

ground black pepper

1

tablespoon

dried summer savory or thyme

1

teaspoon

ground allspice

1

teaspoon

ground anise

1

teaspoon

ground coriander seed

1 ½

cups

beef broth or plain water

1

teaspoon

baking soda
Instructions
Dissolve baking soda in the beef broth or plain water. Set aside.

Use a garlic press to crush the garlic cloves.

Place the meat with all ingredients in a large bowl, including the garlic, and mix thoroughly. (If you have a stand mixer, this will work too. )

Add the broth in stages, mixing well after each addition. (The meat mixture needs to get to a smooth consistency, like a paste, but not too loose.) You might not need to use all the broth/water.

Cover the bowl and refrigerate overnight for the meat to absorb the flavors.

The next day, line a tray with foil and set it aside.

Take the meat out of the refrigerator and, with wet hands, form the "Mititei" in a cylinder shape 2-3 inches long and 1 inch thick.

Place them on the tray. Continue until you finish all the meat.

Grill them on high heat, preferably on coal, not gas. Flip them to cook on both sides and cook them to your desired doneness. (around 8 minutes)

They are delicious when done with just a little pink inside and very juicy.

Serve with mustard, fresh bread, or French fries next to a cold beer.

Notes: The "Mititei" meat should contain a pretty good amount of fat. The original recipes use beef suet, fat pork meat(usually shoulder), or lamb. You can use only beef, but you will need to add oil to the mixture to replace the fat. If you do not use fat, the Mititei will be dry.

Baking soda is mandatory, so do not omit it.
Notes
If you do not have summer savory use thyme or Greek oregano.
Nutrition
Serving:
1
g
|
Calories:
144
kcal
|
Carbohydrates:
0.4
g
|
Protein:
6
g
|
Fat:
13
g
|
Saturated Fat:
6
g
|
Polyunsaturated Fat:
1
g
|
Monounsaturated Fat:
5
g
|
Trans Fat:
0.3
g
|
Cholesterol:
30
mg
|
Sodium:
259
mg
|
Potassium:
112
mg
|
Fiber:
0.2
g
|
Sugar:
0.001
g
|
Vitamin A:
20
IU
|
Vitamin C:
0.3
mg
|
Calcium:
16
mg
|
Iron:
1
mg