I do not remember when was the last time I used fluoride toothpaste.
If you ask me why I avoid it like the plague, there are plenty of articles and studies out there that explain why fluoride is not so good for us.
I also try to avoid the commercial toothpastes too because I do not like the amount of harmful chemicals they use as ingredients.
As many of you know already, the oral mucosa or the inside of your mouth has a great capacity to absorb very quickly any kind of chemicals that can bypass the GI tract and enter into your system really fast.
The pharmaceutical companies know it, so they designed many drugs that are administrated sublingual, like heart medication for example, or vitamin B12.
For that matter, I always found offensive to brush my teeth with a toothpaste that contains a bunch of chemicals you are not allowed to ingest.
Well, if you are not allowed to swallow the toothpaste because it is toxic, why is it OK to even put it in your mouth then?
For example, did you ever read the back of your toothpaste tube? I looked at some popular big brands out there, and this is what I found on both of them:
"Warnings: Keep out of reach of children under 6 yrs of age. If more than used for brushing is accidentally swallowed, get medical help or contact a Poison Control Center right away".
Wait, what? What kind of ingredients do they use that makes the product so dangerous?
And if it is dangerous for children, how come it is OK for you as an adult to use it?
As I was telling you earlier, I always look for natural, organic or less harmful products for teeth cleaning, so when I was invited to try and review the Himalaya Botanique Complete Toothpaste I was very excited.
This is a product I used in the past and liked it very much, especially because the company uses natural, mostly organic ingredients that are not harmful for you or your family.
* Disclosure: Before I tell you more about this product, I want you to know that I received this product for free from Moms Meet (momsmeet.com), May Media Group LLC, who received it directly from the manufacturer.
As a Moms Meet blogger, I agree to use this product and post my honest opinion on my blog. The opinions posted are my own and they not necesarily represent the opinions of May Media Group LLC or Himalaya Herbal HealthCare.
First of all, I was impressed with the package I received. There are a lot of fun things I will be able to use besides the toothpaste that we like a lot.
Like this bamboo toothbrush, for example, 100% biodegradable. How cool is that?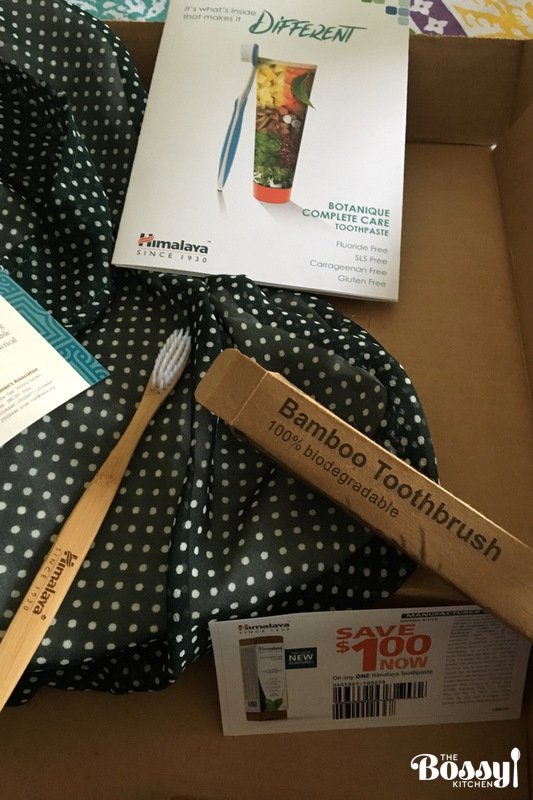 Or the little grocery bag and the cosmetic one, both made in India, handmade, with sustainable materials, like unbleached cotton and non toxic dyes.
They also use packaging made with 100% recycled material. If you are big into recycling, this is a plus.
The toothpaste is made in India, combining ingredients in a formula that integrates the principles of Ayurveda and modern science.
Himalaya Herbal Healthcare is a company founded in 1930 with products sold in over 90 countries.
I personally saw Himalaya Botanique toothpaste in few European countries while traveling on vacation.
The main ingredient in all their toothpaste products is Neem leaf which has powerful antifungal, antibacterial and antivirus properties.
They also use Pomegranate as an astringent fruit extract that helps support healthy looking gums by tightening the tissues.
Triphala is also a traditional detox formula in ancient Ayurveda composed of the three myrobalan fruits for clean teeth and a radiant smile.
Not only is Xylitol a tooth-friendly sweetener, but it has also been clinically-studied to support good oral hygiene.
The toothpaste is:
Fluoride free
Carrageenan free
Sodium Lauryl Sulfate free
Gluten free – great if you have younger kids who might swallow the toothpaste
We liked this one. It has a pleasant mint flavor and no after taste. Actually, none of the flavors we tried had a weird after taste.
Neem leaf extract cleans teeth and gives this formulation its sparkle. With regular brushing, this herbal toothpaste helps to fight plaque and freshen your mouth.
Both my husband and I also loved the cinnamon flavor.
I received six different flavors for this toothpaste and I cannot say anything negative about any of them.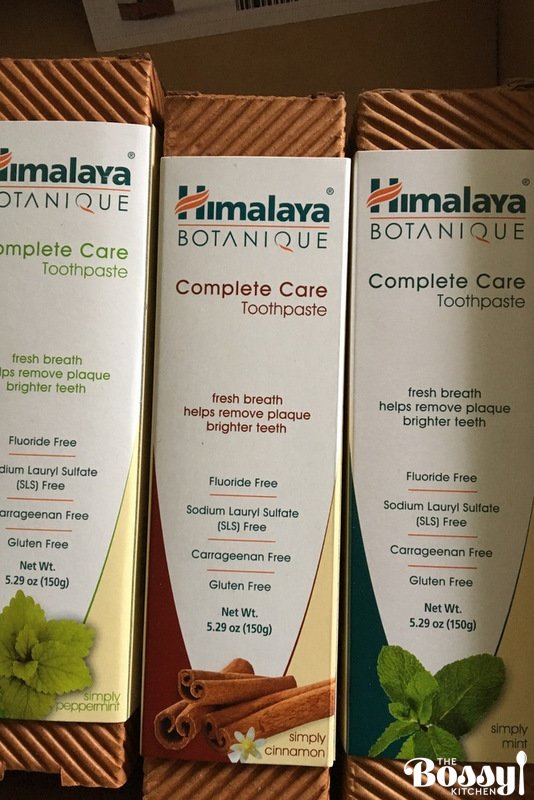 We had simply mint, simply cinnamon, simply peppermint, simply spearmint, and two whitening complete care toothpaste, on spearmint or peppermint flavors.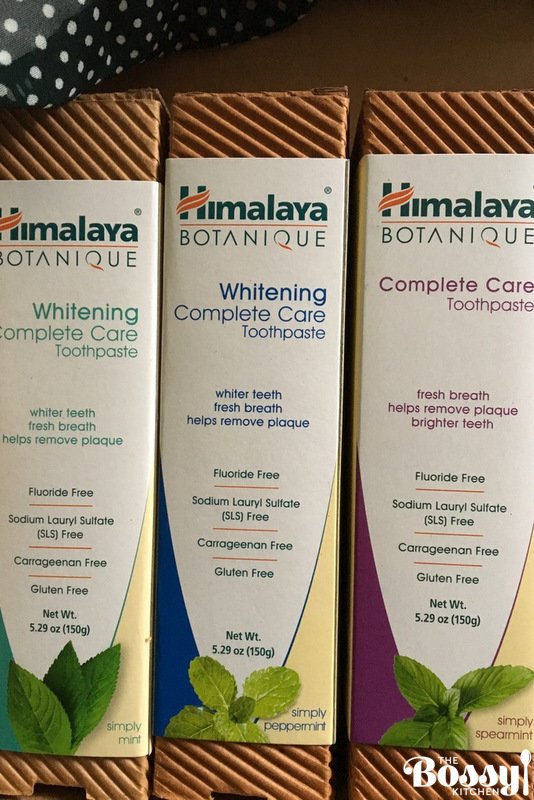 The conclusion is that I was very impressed with the quality of this product.
My teeth were squeaky clean after using the toothpaste, there is no after taste, the flavors are pleasant and not very strong, the ingredients are very well balanced and non toxic.
I believe this is a good product for children also. The retail price is between $4.97-$5.99.
A good place to buy is Amazon:
Himalaya Whitening Toothpaste – Simply Mint
Himalaya Whitening Toothpaste – Simply Peppermint
Himalaya Complete Care Toothpaste – Simply Cinnamon
Himalaya Complete Care Toothpaste – Simply Peppermint
Himalaya Complete Care Toothpaste – Simply Spearmint
Himalaya Complete Care Toothpaste – Simply Mint
Connect with Himalaya:
instagram.com/HimalayaUSA
More product reviews:
Note: "We are a participant in the Amazon Services LLC Associates Program, an affiliate advertising program designed to provide a means for us to earn fees by linking to Amazon.com and affiliated sites."