If your passion lies in savoring the best of authentic Mexican cuisine, look no further than this easy and mouthwatering Chicken Tinga recipe, also known as Tinga de Pollo.
It features tender, shredded chicken cooked in a delicious tomato sauce with a spicy kick from Chipotle chiles in Adobo, making it an exceptional choice for food enthusiasts.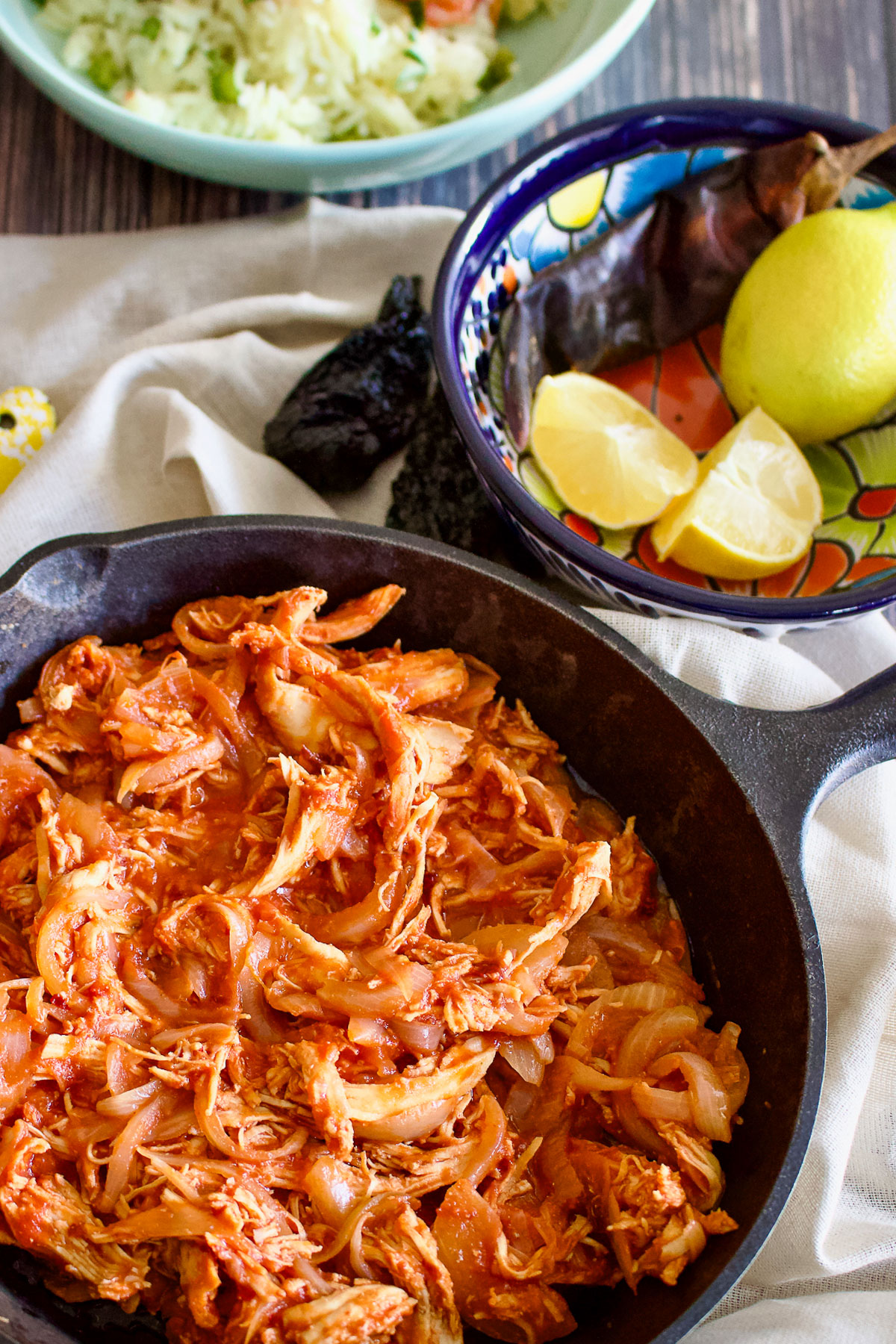 This recipe is incredibly easy to prepare, making it perfect for busy home cooks. In less than an hour, you have dinner on the table.
Plus, its authentic flavors capture the essence of Mexican cuisine, delivering an irresistible dining experience. There is simply no need to look further.
During my time living in Mexico, I developed a deep understanding of Mexican cuisine, including the art of crafting tinga and other beloved traditional recipes.
The dish is part of my collection of Mexican recipes that also include Bistec Encebollado, Mexican Pork Tinga(Tinga Poblana), Chicken Fajitas, Ensalada de Nopales, or Capirotada, just to name a few.
Jump to:
💝Why You Will Love This Tinga Recipe
Authentic Mexican Flavors: This Tinga de Pollo recipe embodies the essence of Mexican cuisine.
Versatile: It's not just a meal on its own but also a fantastic filling for tostadas, tortas, burritos, and tacos, offering multiple meal options from a single preparation.
Easy Preparation: This easy tinga can be whipped up effortlessly using an Instant Pot, slow cooker, or stovetop. If you're looking for more Instant Pot stew recipes, check out this collection of 17 Instant Pot Stew Recipes to expand your culinary repertoire.
🍲 What is Tinga
Tinga, a Mexican delicacy, originates from Puebla's colonial era, blending Spanish and Mexican influences to create a beloved main course.
This dish combines onions and garlic for a flavorful base, enriched by a tomato and stock-based sauce. Cooked meat or sometimes chorizo adds another layer of taste, while canned chipotle peppers provide a spicy kick, capturing the essence of Mexican cuisine.
Tinga is a unique stew, distinct from moles. Unlike moles that grind all ingredients together, tinga sauce combines only tomatoes and chiles, while onions and garlic are sliced and sautéed. Always!
This dish can be prepared using various types of meat, like chicken (pollo), beef (res), and pork (puerco).
🌶️ What is a Chile Chipotle
A chile Chipotle is essentially a ripe, red jalapeño pepper that has been sun-dried, smoked, rehydrated, and preserved in a tangy adobo sauce, which consists of vinegar and various spices.
We'll use Chipotle peppers in Adobo (affiliate link), a product available in any supermarket with a Mexican food section. Use dried chipotle if cans are not available.
Do not skip chipotle peppers. Chipotle peppers are essential for tinga; without them, it's just chicken stew.
📝 Tinga ingredients
Before we get to the recipe, here are a few notes about the ingredients we will use.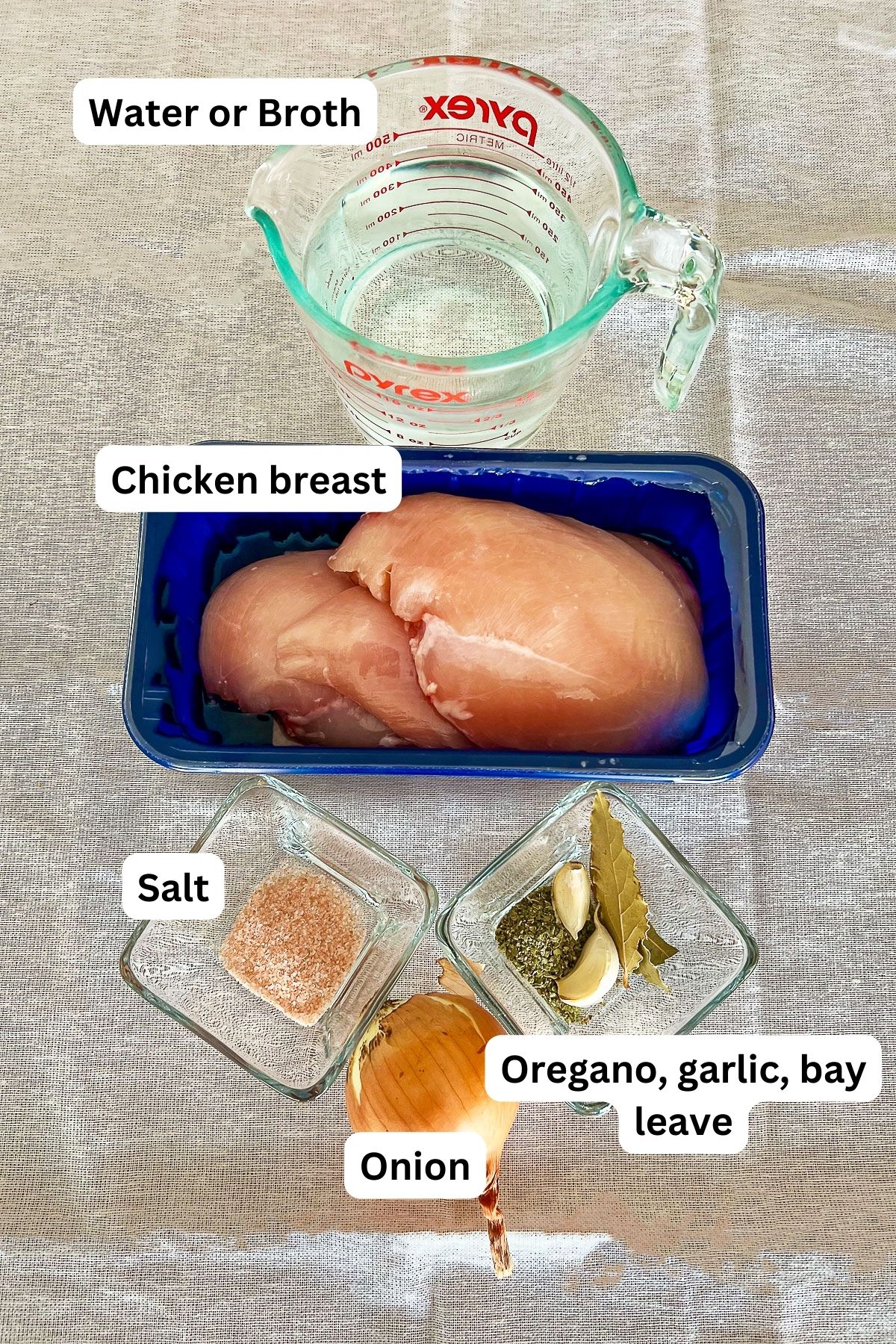 Chicken: The traditional Mexican recipe uses boneless skinless chicken breast (pechugas de pollo), but chicken thighs are also great to use. Rotisserie or leftover chicken works beautifully for shortcuts.
Onions: White onions are typically used in Mexico for most recipes. They are milder and sweeter than regular yellow or red onions. Use what is available.
Tomatoes: Tomatoes and chipotles form the base of any tinga sauce. You can use fresh tomatoes, but canned tomatoes, like fire-roasted or crushed, work well, especially in the off-season.
Vegetable Oil or lard: Both types of fat are very popular.
Salt, pepper, oregano, thyme, whole garlic cloves, marjoram, and bay leaf (hoja de laurel) are the perfect seasoning for this fabulous tinga.
For the entire list of ingredients, please consult the recipe card at the bottom of this article.
👩🏼‍🍳 How to make chicken tinga (tinga de pollo)
Step one: Prepare the chicken.
In a pot, boil salted water and add chicken, onions, garlic, bay leaves, and oregano. Season and cook on medium until done.
Tip: For added flavor control, use low-sodium chicken stock instead of water. Remember to skim off any foam that forms during cooking.
Tip: If you happen to have pre-cooked chicken or rotisserie chicken handy, feel free to use it to speed up the process. If not, just follow along with the rest of the recipe.
Step two: Get the sauce ready.
Simmer tomatoes in a saucepan with enough water to cover them over medium-high heat for 8 to 10 minutes until softened but still holding their shape.
Use a blender (affiliate link) or a food processor to combine the cooked tomatoes (or canned roasted tomatoes if you prefer), garlic, salt, pepper, and 2-3 chipotle chiles from the can.
Shortcut: If you're out of fresh tomatoes, canned diced tomatoes or tomato sauce can work just as well.
Note:
Adjust chipotle to taste; original recipes use a whole can, which may be too spicy for some. It is easier to add spice than remove. If you want more heat, use the whole can, then taste and season the blended sauce. Set aside.
Step three: Sauté the onions.
Sauté sliced onions in a skillet with oil for 5-6 minutes until they become soft and translucent.
Step four: Assemble the tinga sauce.
Add salsa to sautéed onions and mix in oregano, marjoram, and thyme. Use traditional Mexican oregano if possible; omit marjoram and thyme if they're not your preference.
Simmer gently over low heat. Be cautious of steam and bubbling. Stir occasionally, partly covered, until the sauce deepens in color and thickens.
Step five: Pull apart the chicken and mix it with the salsa.
Take out the chicken from the pot and pull it apart into shreds.
NOTE: Keep the broth that you cooked the chicken in. It's great for preparing flavorful Mexican rice to pair with this dish, or you can freeze it to use later in other recipes.
You can use two forks to do this task. Once shredded, incorporate the chicken into the tinga sauce, ensuring everything is well combined.
Give the mixture another taste to check if it needs more salt or pepper. Let it simmer briefly, allowing the flavors to mingle and intensify.
🥣 How to serve tinga
The traditional way to eat this easy chicken tinga is with Mexican rice (Arroz Blanco).
However, this recipe is perfect for any gathering - think a picnic, a potluck, or even tailgating, as you can prepare it ahead of time and serve it warm from a slow cooker.
Related: How to plan the perfect picnic.
Tinga de pollo is a versatile filling for various quick Mexican dishes and is perfect for Taco Tuesday or Cinco de Mayo. Here are different ways to eat tinga:
Tostadas: Crispy corn tortillas perfect for toppings. Buy them or make your own. For classic chicken tinga tostadas, use refried beans and tinga de pollo, then top with shredded lettuce, avocado, or radish. Add cheese, crema, and salsa.
Tortas: Tortas are Mexican sandwiches made with bolillos, a French-style bread. Fill them with beans, chicken tinga, cheese, avocado, tomatoes, and pickled jalapeños.
Burritos: To make chicken tinga burritos, stuff a large flour tortilla with rice, refried beans, tinga, pico de gallo, and your choice of cheese. Serve with sour cream and guacamole. For a healthier option, go for a burrito bowl without the tortilla.
Chicken Tinga bowl: Use leftover tinga and add it to cooked rice and beans. Make my authentic Mexican beans (Frijoles). Top with cilantro, scallions, and crumbled cheese (queso fresco, cotija, feta, or goat cheese). Serve with lime wedges.
Chicken Tinga Tacos: Warm corn or flour tortillas in a skillet or over a gas flame. Fill with chicken tinga, sliced avocados, lettuce, and your favorite toppings.
Tingadillas: This is an elevated quesadilla. Spread tinga and meltable cheese between flour tortillas, cook until golden, flip, let cheese ooze, slice into triangles, and serve with guacamole.
❄️ How to store
Refrigerate leftovers in an airtight container for up to 4 days. Freeze in a freezer-safe container for up to 3 months. Reheat on the stovetop or in the microwave when ready to serve.
PRO TIP: If you wish to freeze uncooked tinga, prepare and freeze the salsa separately. You can then cook the chicken on the day you plan to serve the dish. Alternatively, expedite the cooking process by using leftover meat from a pre-roasted chicken.
🙋‍♀️ Recipe Faqs
Is Chicken Tinga suitable for a keto or low-carb diet?
Chicken Tinga is generally high in protein and low in carbs, especially if you skip the tortilla and opt for a lettuce wrap instead.
Is Chicken Tinga kid-friendly?
The dish can be spicy due to the chipotle peppers. You can adjust the spice level by reducing the amount of chipotle peppers.
Can Chicken Tinga be made in advance?
Yes, Chicken Tinga actually tastes better the next day as the flavors meld together. Store it in an airtight container in the fridge, and it should keep well for up to 4 days.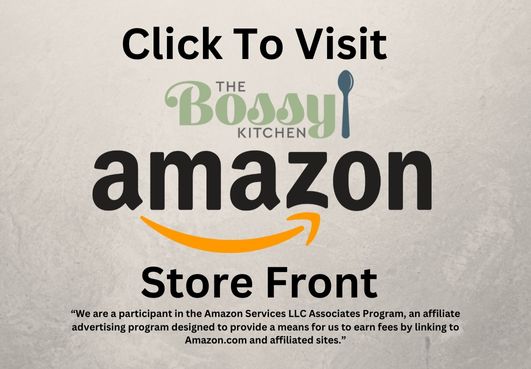 More delicious Mexican recipes to love
Craving more? Subscribe to The Bossy Kitchen to get new recipes and a newsletter delivered straight to your inbox! Stay in touch on Facebook, Twitter, Pinterest, and Instagram for all of the latest updates. Don't forget to use the star rating and leave a review.
📖 Recipe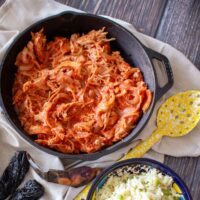 Tinga De Pollo (Mexican Chicken Tinga) Recipe
This chicken tinga recipe is made with shredded chicken in a delicious tomato sauce and chile Chipotle in Adobo sauce.
Print
Pin
Rate
Ingredients
To cook the chicken:
1 ½

pounds

chicken

, about 4 boneless, skinless chicken breasts or thighs

2

garlic cloves

1

small onion

cut in quarters

2

bay leaves

¼

teaspoon

dried Mexican oregano

1

teaspoon

salt

2

cups

water or low sodium chicken stock

or more to cover the chicken
To cook the onions:
5

tablespoons

vegetable oil

, like sunflower, canola, or olive oil

2

large onions

, thinly sliced (use either sweet onion, white onion, yellow onion or red onion)
For the Chipotle sauce:
4-5

Roma plum tomatoes

, or 1 can (28 ounces) of crushed tomatoes

7

ounces

can of Chipotle chiles in Adobo sauce

(use less if you like it less spicy)

2-3

cloves

of garlic

1 ½

teaspoon

salt

or to taste

¼

teaspoon

Mexican oregano

¼

teaspoon

dried thyme

¼

teaspoon

dried marjoram

¼

teaspoon

black pepper
Instructions
Cook the chicken:
Bring a pot of salty water to a boil and add the chicken breast to cook. Add the onion cut in quarters, garlic cloves, bay leaves, oregano, and salt. If you use chicken stock, go easy on salt. Let the chicken simmer until it is cooked through. It could take between 12-15 minutes.

Make sure you skim the foam that forms on top of the water as it starts boiling. When the chicken is cooked, set aside.
Prepare the salsa:
While the chicken is cooking, place the tomatoes in a medium saucepan, cover with water, bring to a simmer over medium-high heat and cook for 8 to 10 minutes, or until the tomatoes are soft and mushy but not falling apart. Note: If you use canned tomatoes, skip this step.

In a blender, place the tomatoes (or the can of crushed tomatoes if you use one), garlic, salt, pepper, and 2-3 chiles from the can. Be careful with the chiles. The original Mexican recipe calls for the entire can of Chipotle, but I found it too powerful and spicy for us, so I added fewer chiles in the blender.

After blending the ingredients, taste for salt and pepper and adjust if necessary.
Cook the tinga sauce:
Slice the onions thinly. Heat the oil in a large pan(skillet) and add the onion. Cook the onion until soft and translucent for about 5-6 minutes.

Pour the salsa over onions. Add oregano, marjoram, thyme, and pepper. (Be careful as the sauce will steam and bubble).

Simmer the sauce, occasionally stirring, until the sauce deepens in color, becomes darker and less soupy, about 7-8 minutes.
Shred chicken and add it to the sauce:
Take the chicken out of the broth, and with two forks, shred the meat.

Add it to the sauce and mix well to incorporate the chicken.

Let it simmer for only a minute and serve over rice or on warm tortillas.
Notes
Don't waste chicken stock: Save it for rice, soup, or other dishes.
Freezing Sauce: Make the sauce, allow it to cool, then freeze for up to 3 months. Thaw in the refrigerator before use. Cook onions and chicken, and add thawed sauce. Avoid raw chicken in the salsa; cook first. Rotisserie chicken works, too.
Bonus: 
Slow Cooker Tinga de Pollo: Sauté onions, blend salsa, and combine all ingredients in the slow cooker, including raw chicken. Cook on 'High' for 4 hours or 'Low' for 6 hours. This method preserves the dish's authenticity and lets flavors meld together.
Instant Pot Tinga De Pollo:
Starting with Raw Ingredients:
Add oil to the Instant Pot and select the Saute function. Cook onions until soft and translucent. Cancel the Saute function.
Prepare the spicy tomato sauce as directed and pour it over the onions.
Add raw chicken, secure the lid, and pressure cook on high for 12 minutes. Manually release the pressure.
Shred the cooked chicken, mix it with the sauce, and serve.
Starting with Frozen Salsa and Chicken:
Place sliced onions and oil in the Instant Pot, using the Saute function to cook until soft and translucent.
Add the frozen salsa and chicken mixture to the pot.
Pressure cook on high for 12 minutes, allowing for a 10-minute natural pressure release. Keep in mind that the Instant Pot will take longer to build pressure with frozen ingredients.
Do you want more Instant Pot recipes? Try this Instant Pot Mexican Chicken Soup (Caldo De Pollo), or this Instant Pot Beef Vegetable Soup.
Nutrition
Serving:
1
g
|
Calories:
405
kcal
|
Carbohydrates:
13
g
|
Protein:
23
g
|
Fat:
29
g
|
Saturated Fat:
7
g
|
Polyunsaturated Fat:
10
g
|
Monounsaturated Fat:
10
g
|
Trans Fat:
0.2
g
|
Cholesterol:
85
mg
|
Sodium:
1076
mg
|
Potassium:
376
mg
|
Fiber:
4
g
|
Sugar:
5
g
|
Vitamin A:
170
IU
|
Vitamin C:
7
mg
|
Calcium:
37
mg
|
Iron:
2
mg