10 Most Popular Recipes of 2017 on The Bossy Kitchen blog– These recipes are the most searched and most shared favorites. Have you made them yet? If not, you can find them anytime on my blog. Please enjoy!
The Bossy Kitchen blog is only one and a half year old and despite the fact that it is still a relatively small blog compared with others, it brings around 30,000 visitors per month.
I look at this number as a huge 2017 accomplishment and a sign that I am doing something right.
At the end of 2017, I thought it would be interesting to take a look at the whole year performance and bring you the top 10 most popular recipes of the blog.
These recipes are the most searched and most shared favorites. Have you made them yet?
If you would like to stay in touch, you can always follow me on Facebook and Pinterest!!!
10. MINI TURNOVER COOKIES WITH JAM
This recipe of Mini Turnover Cookies with Jam is an old family little treasure,which I inherited from my paternal German grandmother who lived in Transylvania. The dough is cut with a water glass or a round cookie cutter, then a dollop of jam is placed in the middle. My grandmother used to fold the cookie in half and seal it with a fork. Relatively easy to make, the cookies are a delicious snack or dessert to have around.
9. AUTHENTIC ROMANIAN SAUERKRAUT STUFFED CABBAGE ROLLS
As we are going through holidays and this recipe is the most traditional one for Christmas and New Year in Romania, I have to share it with you! I am so happy that it also made it to the top 10 recipes on my blog!
We make these cabbage rolls with fresh cabbage in the summer or with pickled cabbage (sauerkraut) in the winter. This recipe is an authentic traditional Romanian one and it is truly the way my grandma and my mom used to make it, so enjoy!
This is a delicious recipe of rum balls, coming from Romania. Rum balls are very versatile, you can make them with graham crackers, but you can also use crushed vanilla wafers, shortbread cookies, digestive biscuits, chocolate wafers or even leftover cake.
7. ROASTED BONELESS CENTER CUT PORK CHOPS WITH RED WINE
This is a super easy and delicious recipe to make when you have absolutely no inspiration on what to cook for dinner. I make this recipe quite often and use different pork cuts. This time I made it with boneless center cut pork chops, but you can use anything you have available.
6. TRADITIONAL HUNGARIAN GOULASH
This traditional Hungarian goulash is a beef stew cooked with lots of onions, Hungarian paprika, tomatoes and sweet peppers. Very popular in Hungary but also in other parts of Eastern Europe, this stew can be served with bread, pasta, like spaetzle, boiled or roasted potatoes and pickles. It is a very hearty dish that works best for chilly days. It feeds a crowd, it is nutritious and very easy to make. It is a very comforting meal, perfect for your family.
5. CHEESY HAM HASH BROWN EGG CASSEROLE
Do you have leftover ham and don't know what to do with it? Or small pieces of cheese that could be put to use? Here is an idea of a very, but VERY easy casserole that you could make to save the breakfast for a day or two. This is not a new recipe and I am sure many of you made it a million times before. The original recipe uses bacon, but in my kitchen, we use whatever we have available. Bacon, ham, cold cuts, smoked cured meats are perfect to use in this casserole. We also love cheese, so there is always a piece of this and a piece of that to shred and make a delicious "something".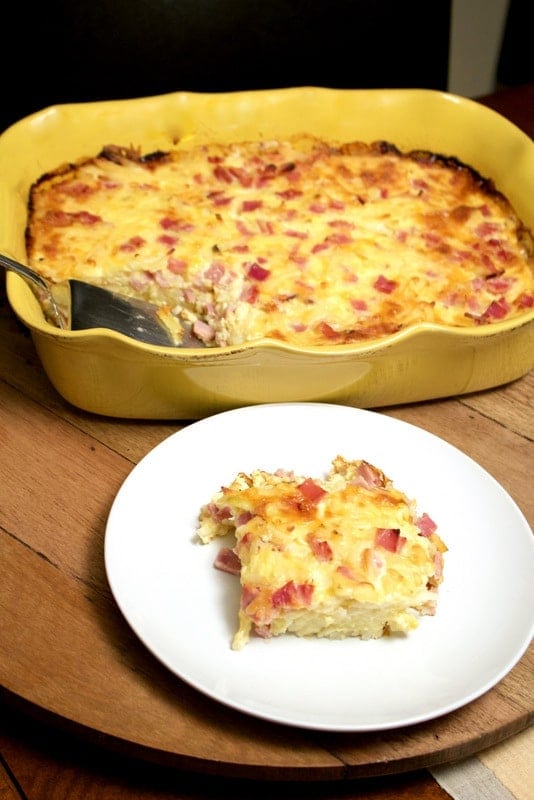 4. EASY PEANUT BUTTER CHICKEN RECIPE
My daughter always loved this super easy peanut butter chicken recipe. As a matter of fact, I think she was the one who gave me the recipe and showed me how to make it. As the majority of my recipes, we always went for easy to make, delicious ones, that would use simple, natural ingredients. This recipe is no exception to the rule.
3. CHARLOTTE RUSSE CAKE- CLASSIC EUROPEAN RECIPE
I usually make this Charlotte Russe Cake for the New Year's Eve. A classic European cake, the Charlotte Russe recipe is a very old one. It is still a very popular cake in Romania especially around the New Year's Eve but not only. Birthdays, anniversaries and other family and friends reunions are always a good occasion to make this delicious dessert.
2. MEXICAN CALDO DE POLLO OR CHICKEN SOUP- MEXICAN STYLE
We love soups. I do not know about you, but there is no week in our household without a pot of soup that we enjoy for lunch or dinner.
Also, we live in Minnesota where the winters are so cold that all we want to eat is homemade soup. This recipe is one of our favorites and in heavy rotation from November to April. It has some incredibly devoted fans. The combination of simple ingredients, the rice, the cilantro and the chicken drumsticks make the soup a real comfort meal.
AND FINALLY, THE NUMBER ONE RECIPE OF ALL TIMES (DING, DING, DING!!!):
1. AUTHENTIC MEXICAN TINGA DE POLLO OR CHICKEN IN CHIPOTLE TOMATO SAUCE
This recipe can be made any day of the week. It is easy to make, cooks fast, feeds a crowd (which makes it awesome for a potluck or a big party), it is full of flavor, the leftovers are great, goes well in tacos or just with simple rice (you can try this Mexican rice recipe here) OR you can eat it just like that. It even makes a good option for a low carb diet, especially after the holidays. This being said, it is no wonder why this recipe is so loved!
This is it, my friends! How many of these recipes have you tried already?
Interested to join The Bossy Kitchen Group on Facebook?
The Bossy Kitchen Group on Facebook is a community of people who share the passion for cooking and baking and where everyone is welcome to share ideas, tips and culinary experiences. Click HERE if you would like to join!